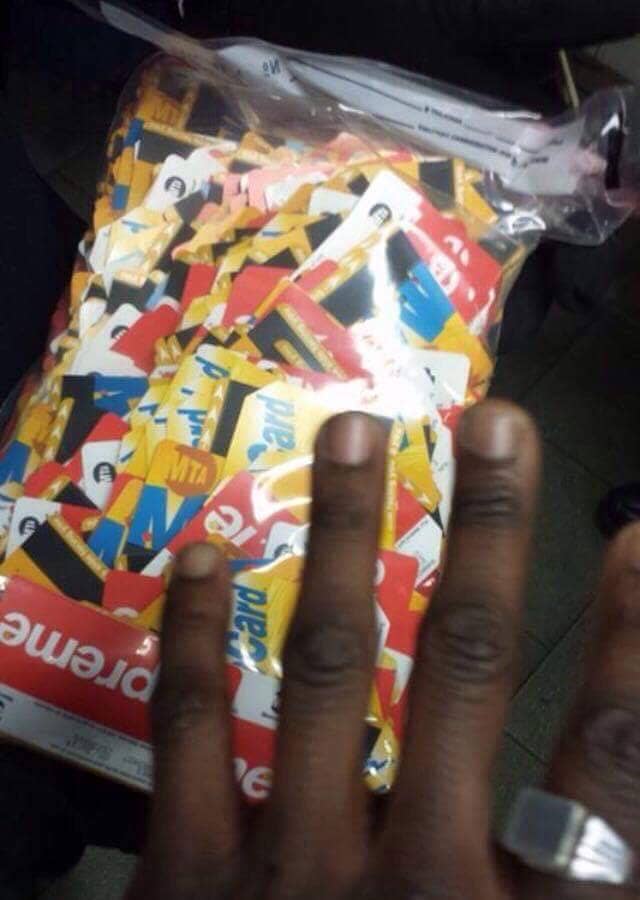 As expected, people are going crazy over the new Supreme x MTA collaboration. We've seen hypebeasts of all ages swarm to NYC subway stations in an attempt to get their hands on the highly coveted Supreme-branded MetroCard. Though the red and white cards are dispersed from MTA machines at random, there have been reports some people have taken fate into their own hands.
According to claims made on Reddit, a reseller and a group of friends reportedly broke into a MTA machine Tuesday night at 125th Street and Lenox in Harlem. The thread included photos of the alleged break-in, showing a mix of standard MetroCards and the Supreme iterations scattered on the floor.
"[The] dude who did this posted in a local buying and selling group," a Reddit user wrote. "He and his friends broke open the machine and started gathering shit, and then the MTA guys came in, shut it down, and cleaned it up in 20 ish minutes. Everyone who was there got like 80 cards tho."
Eighty cards per person could result in a big payoff. The Supreme x MetroCards, which are valued at $5.50, are popping up on eBay for up to $5,500. 
The Reddit poster later added that no one in the group was arrested, which makes some question the legitimacy of the story. How did a group of people, in a busy subway station, have enough time to pry open the machine without a clerk or passerby taking notice? The most suspicious element of the story, however, is that someone was able to successfully break into the MTA machine—a crime that has never been reported. So it's no wonder some people were immediately skeptical.
But for those who are still convinced the burglary went down, MTA spokesman Kevin Ortiz confirmed to Complex there were no reports of any machine being breached.
It's an entertaining story, for sure, but it's almost certainly bogus.