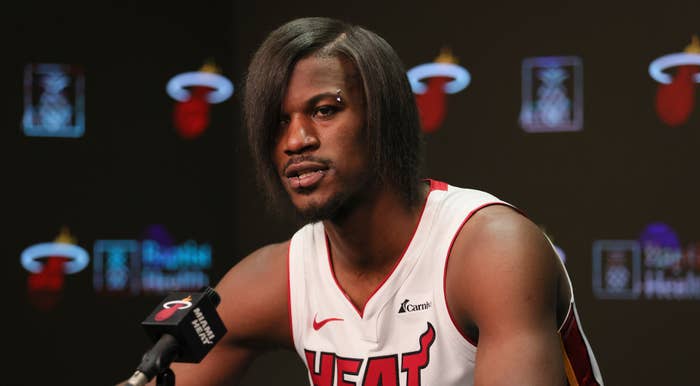 A year after showing up to media day with dreadlocks, Jimmy Butler delivered another legendary hairstyle at the Miami Heat's 2023 media day.
On Monday, Butler showed up to Kaseya Center sporting an "emo" look featuring straightened hair, as well as lip and eyebrow piercings.
"I feel like I'm very emotional right now," Butler told reporters. "This is my emo state, and I like this. This is me. This is how I'm feeling as of late."
When asked if he has plans to move forward with his new look, Butler said: "You never know how I'm going to wake up. This is how I feel today. We'll see tomorrow. Tomorrow might be in all yellow."
Of course, it isn't the first time Butler has debuted a new hairdo at media day. Last year, the Heat superstar showed up sporting dreadlocks, which then mysteriously disappeared by the time Miami started its season weeks later.
Aside from his new look, Butler didn't shy away from expressing confidence for the Heat's outlook this season, as the team is coming off back-to-back appearances in the Eastern Conference Finals. After losing to the Boston Celtics in Game 7 in 2022, Miami returned the favor last season, before bowing out to the Denver Nuggets in the 2023 NBA Finals.
"It's a new year. It's a new season. We came up short. I didn't do my job. We didn't do our job as a whole last season. But it's a new season and I'm excited for it," Butler said. "We'll see y'all in the Finals in June. This is our year. This is the one. And this one's gonna feel real good."
Check out some of the best reactions to Jimmy Butler's new hairstyle in the tweets below.