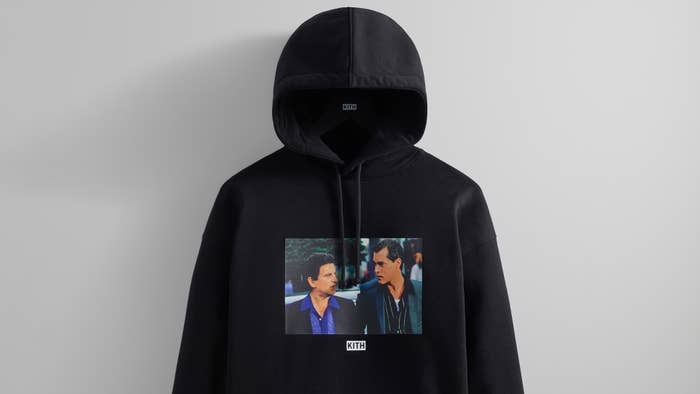 Kith is paying tribute to Martin Scorsese's 1990 gangster classic Goodfellas with a new collection of apparel.
The collection comprises multiple Vintage-style t-shirts, two cotton-fleece hoodies, long sleeve t-shirts, and a Goodfellas cap. The collection arrives on Monday, May 9 at all Kith shops worldwide, and is available online. The pieces highlight standout scenes from the iconic film, paired with Kith's penchant for minimal graphics on shirts.
"Goodfellas is not only one of my favorite movies ever, but it's also one of the greatest movies in history," read a caption on KITH's official Instagram. "It's an all-time classic and has been a staple in my life since the first time I saw it. Being able to work on collections centered around the things that shaped me growing up is the basis of what the Kith brand is built on. I look forward to sharing this moment with you."
The new Goodfellas drop isn't the first major collab to come from Kith this year. Earlier this year, the brand debuted an Aaliyah-focused range featuring never-before-seen photos of the singer, and followed up that with a collab with hip-hop legend Mase. Kith also paid tribute to another classic film with a collection inspired by Rocky, which debuted alongside a freestyle video featuring Cassidy.
Check out photos of Kith's Goodfellas-inspired collection below.