Not long after revealing his plans to leave Adidas and Gap, lawyers for Kanye West sent a letter to Gap on Thursday to terminate his partnership with the company.
Per The Wall Street Journal, Ye informed the company of his plans to sever their relationship amid his public complaints regarding the arrangement. According to his lawyers, Gap breached the partnership agreement by failing to release apparel and opening promised retail stores. Gap will be permitted to sell existing Yeezy Gap products before retiring the brand name, and any merch made with Ye and Balenciaga sold at Gap will remain unimpacted.  
On his Instagram Stories, Ye posted a screenshot of the letter that was apparently sent to Gap.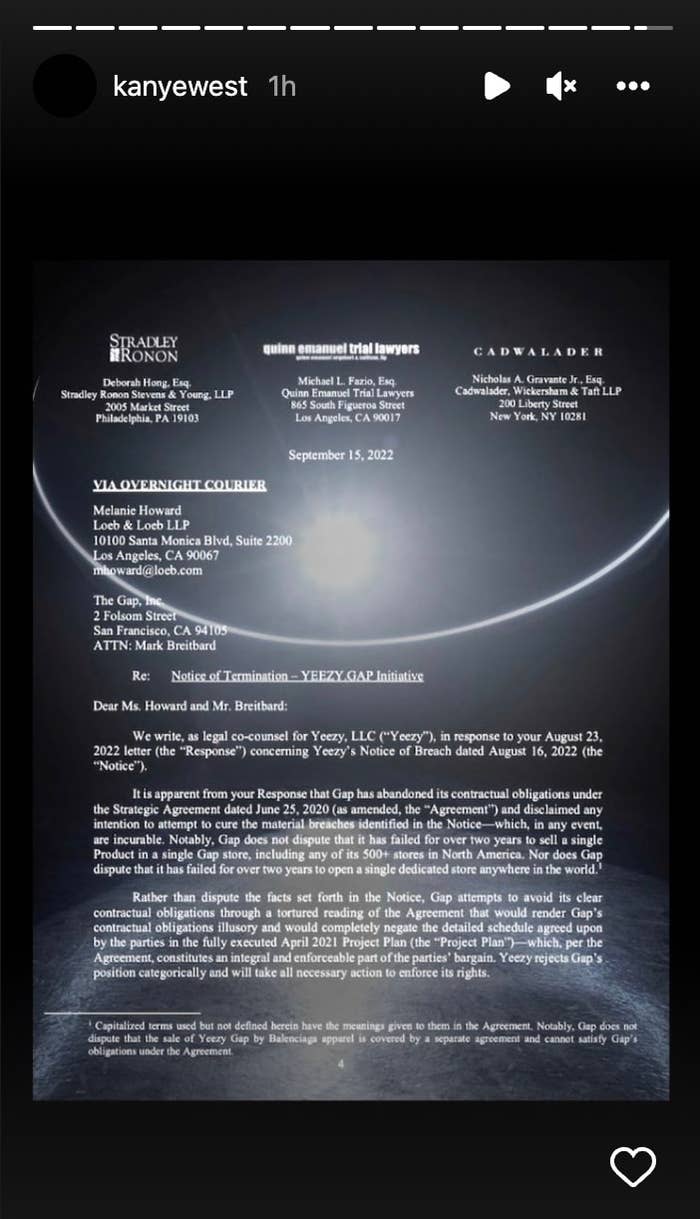 Gap announced its Yeezy deal in June 2020 with a 10-year-long contract. Prior to the launch of the partnership, Kanye had expressed his desire to pursue a collaboration with the company. Per the letter Ye's lawyers sent to Gap, the company was required to sell 40 percent of Yeezy Gap stock in retail locations in the last two quarters of 2021. However, the first Yeezy Gap release, the hoodie, was only made available online.
New Yeezy Gap products are still expected to arrive in stores this fall, and the items are set to be priced under $100. Per the agreement between the company and Kanye, Gap was required to open five retail stores dedicated to Yeezy Gap items by July 31, 2023 but no such stores have been opened or announced yet. 
In a recent interview with Bloomberg, Kanye confirmed plans to branch out from corporate partners for the Yeezy brand following the conclusion of his current deals with Adidas and Gap, in 2026 and 2030, respectively. 
"It's time for me to go it alone," West said. "It's fine. I made the companies money. The companies made me money. We created ideas that will change apparel forever. Like the round jacket, the Foam Runner, the slides that have changed the shoe industry. Now it's time for Ye to make the new industry. No more companies standing in between me and the audience."
No word yet on whether Kanye will inform Adidas about a similar decision, but the contract with the German sportswear company is set to terminate in 2026. "It's going to cost you billions to keep me," said Ye in one of his many since-deleted posts on IG. "It's going to cost you billions to let me go."