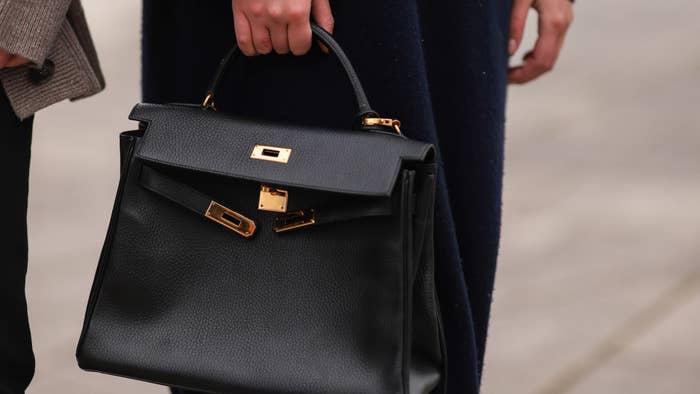 Mason Rothschild, the artist behind MetaBirkins NFTs, claims he was hit with a cease and desist letter from Hermès and has issued a statement on Instagram about the matter. 
The NFT collection features 100 digital Birkin-inspired bags, and was formed after Rothchild and artist Eric Ramirez saw success with an initial NFT, which sold for $47,000 USD. The artist now claims that the collection has a trade volume of $1.1 million USD, per MetaBirkins Rarible page, but all is allegedly in jeopardy. 
Rothschild says the brand behind the popular bags is alleging trademark infringement, but argues that he's protected under the First Amendment, per The Fashion Law, which quotes Hermès as saying it "did not authorize [or] consent to the commercialization or creation of" the NFTs.
"So I got your cease & desist letter," the artist writes. "While I am sorry if you were insulted by my art, as an artist, I will not apologize for creating it. Now, as you are aware, the First Amendment gives me every right to create art based on my interpretations of the world around me. There are countless examples of artists who reference the world and the products and cultural artifacts in it."
Rothschild goes on to call the collection a "playful abstraction" of the bag, and compares it to selling "physical art prints." He argues that it isn't his job to "educate" Hermès on the "advancements in the world and the culture of art."
"There is a moving tide of innovation of fashion and evolution, and it is your role as a fashion powerhouse to amplify young creatives and artists rather than stomp them out," he explains. "Your actions can help determine the future of art in the Metaverse."
In another connected letter, he writes to OpenSea about the collection being removed from the platform "before any legal action was taken, and without due process," before writing to the MetaBirkins community that the alleged order marks a "pivotal moment" for NFTs. 
As of now, Hermès has not filed a suit against MetaBirkins, per TFL.