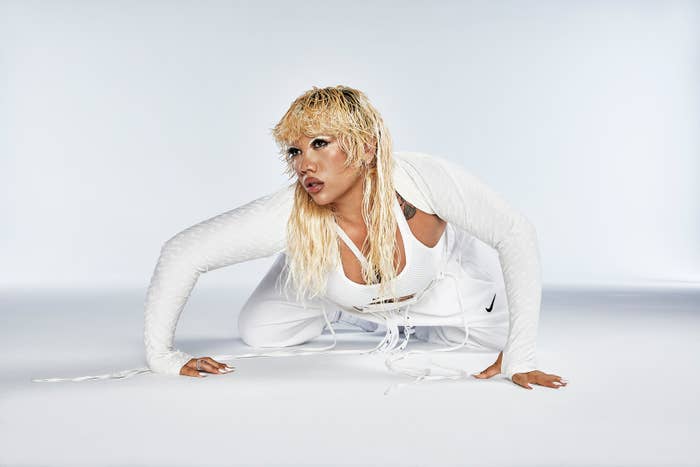 When choreographer Parris Goebel prepares for a big project, whether that's creating the movements for Rihanna's Savage X Fenty fashion shows or coming up with dances for Justin Bieber's music videos, she spends two to three months training with a group of dancers for eight hours a day.
"I don't think people really understand what it takes to put together the projects that I do," says Goebel over Zoom. "It's on the same level as any other athlete."
Nike, whose partnerships typically include professional athletes, designers, or music artists, is starting to reconsider the traditional definition of an athlete and partner with women like Goebel, artist Megan Thee Stallion, Peloton instructor Tunde Oyeneyin, and Chinese dancer Da Ting. This is a move by Nike to expand what it means to be an athlete and tap into their communities.
It seems to be working. According to Footwear News, during Nike's "One Nike Marketplace" media event, Steve Scarpetta, the VP of North America Nike Direct digital commerce, said the wellness content Megan Thee Stallion launched on the Nike Training Club app drove record high engagement. Her workouts led to a 2x increase in daily active users on the app, and the looks she selected saw more than double the demand compared to other product content pushed during the same time period. 
Much like Megan Thee Stallion's Nike campaign, Goebel's Own the Floor ad tells the story of her journey as a dancer and athlete. The first chapter of the series, "Dance Declaration," shows Goebel performing her powerful choreography alongside music and a voiceover that speaks to the significance of movement through dance. After all four chapters are released, Goebel will invite dancers to share their own movement. 
"Own The Floor is us opening our arms to the world. Inviting everyone to own their floor. To me that means owning your story, owning your identity or your style, owning the way you move, and being unapologetic about it," says Goebel, a self-taught dancer from New Zealand who opened The Palace Dance Studio and competed in dance competitions before she got her first big break choreographing for Jennifer Lopez in 2012. "It's our call out. It's the start of a new conversation. It's a new community."
Here, Goebel talks about why she thought it was important to partner with Nike, what it takes to choreograph for some of the biggest artists in the world, and how she defines success—it has nothing to do with likes on IG.
As a choreographer, what's the process for putting together a big project like a tour or a fashion show?

It's a lot of work. Usually when I'm doing a project that big it's maybe around two or three months of work. I don't think people understand that it doesn't stop. We train and we create every day up to the show, the video or whatever it is. It's usually around eight hours of training. Dancing, moving and sweating for that entire rehearsal time. As a choreographer and a creative, I'm sweating just as much as the dancers, creating the movement, workshopping. As a collective we are pushing, stretching our bodies for eight hours a day and sometimes longer, every day with an off day every now and then, but, I don't think people really understand what it takes to put together the projects that I do.
And for the dancers there's the conditioning that it takes and staying on top of your body. Having to take Epsom salt baths at night after rehearsals and use Theraguns when you warm up. It's on the same level as any other athlete and sometimes it's more because we are training for much longer. And on top of that, it's not just physical, it's emotional. When you move, you express yourself emotionally as well. So, I'm excited about this collaboration because I have the opportunity to start talking about those things and bring awareness to that because people won't respect your sport if they don't have an understanding of what it takes to do what we do.  
Yes. It's the physical training and then for you, it's coming up with movements for completely different artists. How do you tailor your choreography for each individual person?

It's always about showcasing someone at their best. What celebrates their personality? What celebrates the way they naturally move and express themselves? I definitely feel like that's a gift of mine. I'm able to look at someone, it doesn't have to be an artist, it can be dancers, and identify their strengths in their performance and the way they move. And that's kind of what it's about when you're working with an artist. It's observing them and kind of magnifying what they naturally do already and just making it bigger and stronger. Everyone has a natural groove and a natural way that they move and express themselves that's true to their personality. And I feel like once you can kind of identify that and help them bring that out, that's where the magic is. 
I'm always really intrigued by reference points. I know that you've brought up Bob Fosse and that you grew up watching Missy Elliott videos. I am curious about your reference points and how you keep them fresh and stay inspired to create new things?

The older I get, the more I challenge myself to not use reference inspiration from other things so much. And so for me, where I'm at as a creative, I just work from the library of inspiration that lives within me. From life experiences, to things I've seen, and things in the back of my head. So I'm not really the type of artist to really pull specific references. I kind of just like to create and let the influences within me come out in whatever way they do. I'm just very particular about making sure it's unique and it's fresh. 
You definitely have a unique visual signature. Can you talk about your Own the Floor partnership with Nike. What can we expect?

This is definitely a dream come true for me just being a Nike girl for my whole dance life. So when this collaboration came about, it was an absolute no-brainer. It was a big yes for me. I feel like it is a step in the right direction for dance. And even just for myself as a creative and as a woman. The collaboration really spoke to me. Own the Floor is us opening our arms to the world. Inviting everyone to own their floor. To me that means owning your story, owning your identity or your style, owning the way you move, and being unapologetic about it. With how the world is right now, there's so much influence. I always try to help the next generation to just stay true to yourself. Speaking for myself as well, things that I felt were floors or setbacks ended up being things that made me special. That's exactly what owning the floor is about. It's about celebrating the things you thought made you weird or an outcast and actually using them to your advantage through movement and dance. And you don't have to be a dancer to be a part of the journey and be part of the family. If you love dance and you love to express yourself through dance, then join us. Own the floor. It's our callout. It's the start of a new conversation. It's a new community.
A lot of athleticism and movement requires training which requires discipline. How do you push yourself when you don't feel motivated?

For me, dance isn't a job. It's a lifestyle. It's the way I speak. It's the way I live. It's my heartbeat. So thankfully I don't have to try too hard to feel inspired or motivated to dance or create because it's what makes me happy. It's what makes me feel safe and what makes me feel like I'm living in my purpose and in my truth. I definitely get creatively stuck sometimes or uninspired in general. But when it comes to dancing, that's my therapy and it's my safe place. 
What are some things you want to accomplish in the future? 

I feel I'm kind of slowly doing everything that I wanted to do. I was lucky enough to experience and do things that I dreamed of at a young age. So, you know, when that happens it allows new dreams to form. I'm slowly branching out and getting into TV and film and directing. I'm also being a representative of a Polynesian woman, representing Polynesian women more through fashion, through collaborations. 
The video you directed for Own the Floor is really impactful. Can you talk about that film?

I created this short piece with Nike. I choreographed the whole film and collaborated with Nike on the creative and the music and also the manifesto that I speak in the voiceover. It's something very personal to me from what I'm saying to how I'm moving to the whole intention of the piece. The inspiration is sharing the different sides of me as a dancer. The different shades and the different colors that I feel when I move. You know, as dancers, we don't just have one way or one style of moving. We have so many layers, and even just as a woman, too, there are so many layers through my personality and my emotions. So it was really beautiful to be able to kind of express that through the film, through color and through music and movement. It really is like a roller coaster. I felt like that was a really beautiful way to kind of celebrate dance and dancers and we each have our own story and through dance we can own that and express that and essentially own the floor.  
I want to talk about some specific scenes from the Savage x Fenty show because I was so inspired by it. Can you talk about the opening scene, specifically the dancers moving like string puppets. What was the thought process behind that? 

That scene in general was inspired by an opera. A lot of Broadway and musical theater inspiration came through. So when I selected the song, it had such a theatrical energy. That puppet section was actually the last section I created a couple of days before the shoot. It was very last minute, but I knew something was missing. I felt like it was this kind of theatrical element. I thought maybe it needed a prop, and then it kinda just came to me like a light switch. I was like, "What if we do like, a puppet section with the boys and it's like puppets controlling each other?" It ended up being really cool, but I just felt like it fit within the story of this opera.
And I saw you rehearsing the Normani scene on your Instagram. And that choreography was so good in that red box. And I loved the section where the gentleman pulled her legs up. It was sexy but super powerful. I'm just curious how you came up with that. 

We had the red cube already built for it. And I just kind of played off her energy that she already had within the song. I also believe in simplicity. So I felt like her doing really abstract, cool poses, and then like adding in boys in the second half to really amplify the performance. But again we did that very last minute with only a day to put it together. So when you're in that position, you just go, you don't think so much. You're just like, look, we've got to finish it. So I think I ended up with a really cool for sure, for sure, it looks like a music video.
I have to ask about the Rihanna scene in that lounge area with Busta Rhymes' "What's It Gonna Be?!" song featuring Janet Jackson. Those subtle moves looked amazing. It seems like these things just come to you, but I'm still curious how you got to that.  

You're right. It just kind of happens. I just played the music and I just go, but I definitely know I wanted to keep it quite simple and visual with the girls in that lounge area we created. And I think Rihanna has such a presence that you almost don't have to do too much. I just felt like I wanted to strip it right back, have like, some simple movement that really you'd never forget. And I think it looked great.