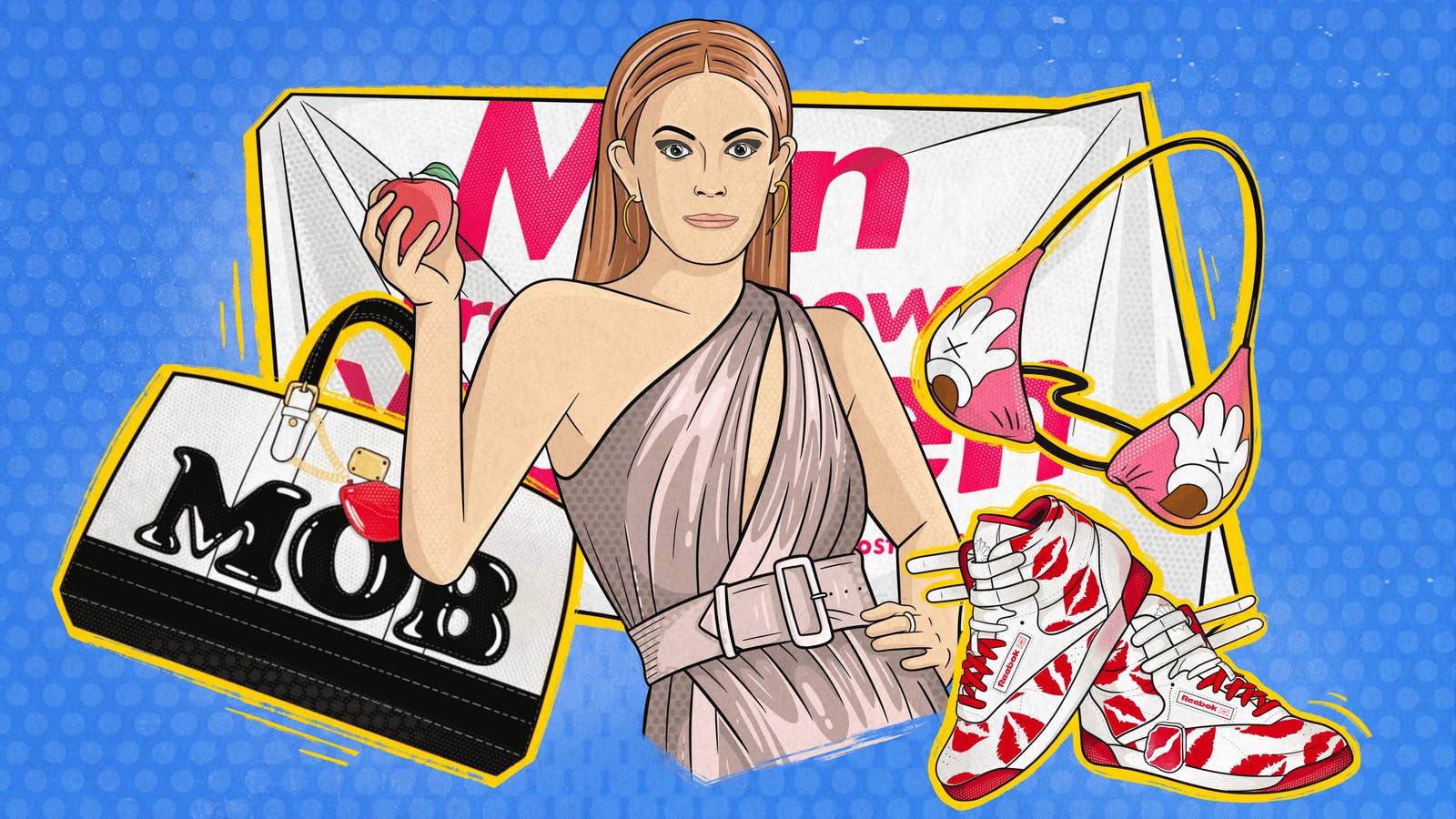 If you've never watched the hit reality series The Real Housewives of New York City, it's a non-scripted soap opera that documents a group of women who are navigating marriage, divorce, addiction, parenting, and their evolving relationships with each other. Bravo usually casts a specific type of woman for the New York franchise. She's typically over 40, lives uptown, and has, or has had, a lot of money, whether via marriage or her own career.  
Leah McSweeney, who is 37, lives downtown, and founded the streetwear brand Married to the Mob, doesn't fit that description. So when rumors started to swirl last August that McSweeney was spotted filming scenes for the Bravo show with socialite Tinsley Mortimer, it was surprising but not entirely unexpected—McSweeney appeared on an episode of Bravo's The Millionaire Matchmaker 10 years ago. 

But last November, Bravo finally announced that McSweeney was an official "housewife." She says Bethenny Frankel, a former RHONY cast member who left after last season, suggested her to Bravo. And after a process that McSweeney says she can't really discuss, she became official. Her tagline, something each Real Housewife has every season, is, "Float like a butterfly, sting like a bitch." It's fitting. McSweeney boxes regularly at Trinity Boxing Club in Tribeca and has a penchant for the word "bitch."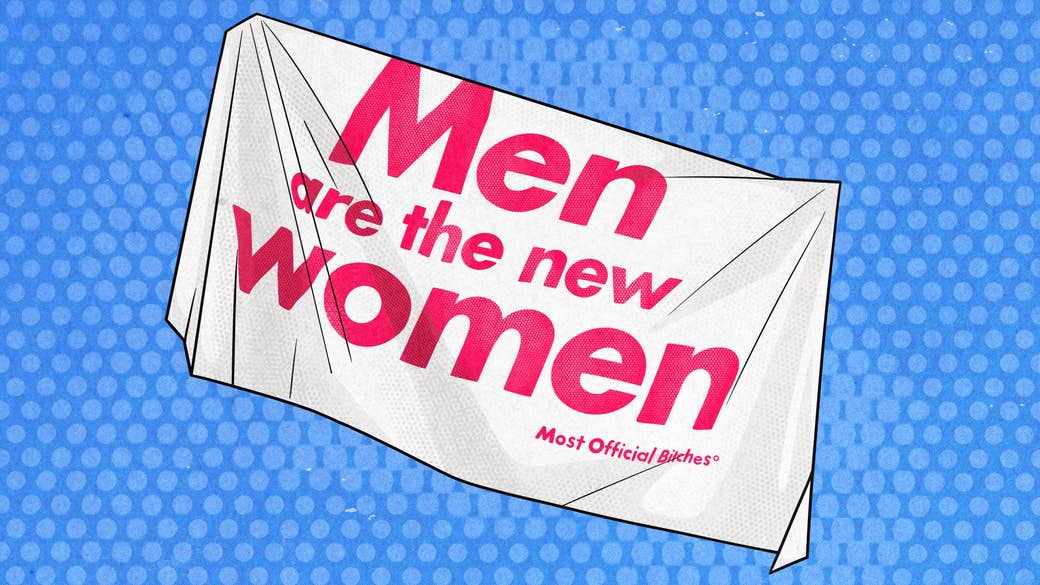 McSweeney is a pivot for the show, and probably a much-needed one. If you watch the second episode of this season—RHONY is on season 12—it centers on her fellow cast members ostracizing her because she has tattoos. RHONY's Ramona Singer says she doesn't talk to people who have tattoos, while Dorinda Medley made a rude and inappropriate joke about McSweeney's "tramp stamp." Even for longtime viewers who know these ladies well, their reactions were jarring. McSweeney's presence, whether intentional or not, is helping the viewer consider how archaic the cast members can be—in the latest episode she had to define the term "fuckboy."
It's a position McSweeney is used to. When she started Married to the Mob in 2004, there weren't many streetwear brands for women. X-Girl, which was started by Kim Gordon, ran from 1993 to 1998 (it relaunched in 2016). Baby Phat was introduced in 1999. And over the years, brands like Hellz Bellz, MadeMe, and Melody Ehsani emerged. But throughout her career, McSweeney has operated in a male-dominated industry and used her T-shirts to challenge its ways. One of her most popular sayings is "Men are the new women." That didn't always make things easy for her. 
"I think I had a lot of people in my corner, but as a whole, a lot of people were not, like, with it. And I am not going to blame that on me being a woman or whatever," says McSweeney, quarantined in Amagansett, on New York's Long Island. "Maybe it had something to do with it. I don't know. I also didn't really give a shit."
While her being cast on the show could be described as unconventional, in many ways it aligns with how streetwear has evolved. It's no longer an industry relegated to downtown New York or Fairfax Avenue in Los Angeles. And it's no longer a category concerned with being too mainstream or "selling out." But McSweeney understood early that streetwear had the ability to permeate multiple spaces. Outside of MTTM, she hosts a podcast with Hot 97's Laura Stylez called Improper Etiquette and she writes an advice column for Penthouse magazine. And if you look at her long and varied list of MTTM collaborations, McSweeney was working with luxury brands like MCM and David Yurman before it became a normal thing within streetwear.
"Leah could've gone into politics and become a senator. If she went into tech, she'd have developed a big app. But, she fell into streetwear," says Bobby Hundreds, a longtime friend who was starting The Hundreds on the West Coast as McSweeney was building up MTTM. "She has used that platform to be heard on a pretty wide scale, but I think for the next chapter of her life, we're about to see her transcend."
"She proved there was a community of girls looking for the streetwear to wear with the cool sneakers." —Sarah Andelman
After graduating from high school, McSweeney wasn't sure what she wanted to do. She took a year off and then had a brief stint at the Fashion Institute of Technology. She moved on to assisting the fashion editor at Mass Appeal, quit that job, and then assisted stylist Rebecca Weinberg, who worked on costume design for Sex and the City with her then-wife Patricia Field. She also quit that job. She says she didn't like working for anyone. She started dating Rob Cristofaro, the co-founder of Alife, and noticed the perks that came with having a streetwear brand, particularly the free trips. She also felt like there wasn't a brand that spoke to women. In 2004 she launched Married to the Mob with a partner, who left a year later. McSweeney was able to focus fully on MTTM with help from a $75,000 settlement from the state of New York. In 2001 McSweeney says police officers were beating up her friends and she intervened by throwing an empty water bottle at one of them. That officer then proceeded to punch her and slam her face into a subway grate—she lost a couple of teeth and years later put her mugshot on a T-shirt. She sued the NYPD after that, and the settlement came just as she was starting MTTM.
MTTM was a part of the Retail Mafia, a collective of downtown New York streetwear brands (Alife, SSUR, aNYthing, The J.Money Collection, Frank151, and situationormal) that helped form the foundation for what the market would become. MTTM was known for its graphic T-shirts with a feminist tilt—this was before the #MeToo movement and brands like Dior started to put "The Future Is Female" on T-shirts. Union was MTTM's first stockist, but she sold to other stores including Huf in New York and Informants in Hawaii. 
Tabatha McGurr was 13 when she met McSweeney. Her father, Futura, brought her a gift home from the former Missbehave store on Eldridge Street in downtown New York.  It was one of MTTM's first T-shirts. McGurr described it as a parody on the Louis Vuitton graphic that was hot pink and baby blue with a big MTTM logo. She eventually met McSweeney at the MTTM launch party, which took place inside the Rivington Hotel when it was still under construction.

"I immediately thought Leah was the coolest fucking bitch I had ever seen," says McGurr, who remembers McSweeney having tattoos, a Monroe piercing, and wearing a big nameplate necklace. "There weren't a lot of chicks in the scene at the time, and if they were around, they played more of the traditional, quiet chick role."
MTTM's first major collab was with KAWS in 2005. McSweeney met Brian Donnelly, aka KAWS, at a New York City party for the launch of Pharrell Williams and Nigo's Louis Vuitton Millionaire glasses, which were released in 2004. She told Donnelly she wanted to do something with him he hadn't done before, but McSweeney isn't sure whose idea it was to make a bikini. But he was down, and in 2006 they released 100 hot pink bikinis covered with KAWS' Companion character's hands. They released another style that was black and gold with a subtle rattle snake motif in 2007.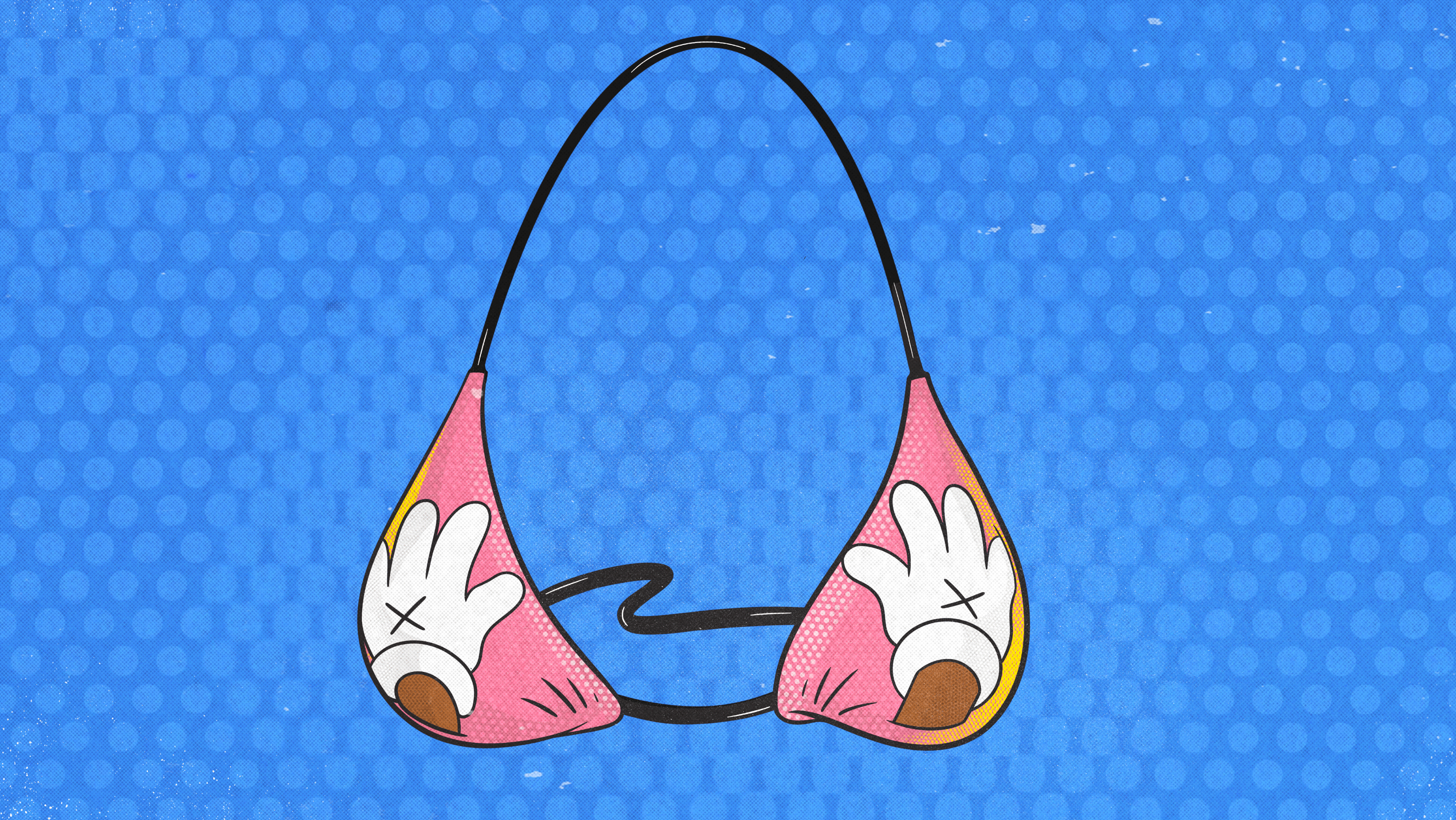 "I think that just opened the door for me so much," says McSweeney. 
The KAWS bikinis were sold at Colette, the influential, now-shuttered, Parisian boutique that was owned by Sarah Andelman and her mother Colette Roussaux. Andelman was intrigued by Married to the Mob. "She was on this streetwear shit early," says McSweeney. McSweeney remembers Andelman emailing her to request a lookbook, which she sent. Andelman, whose first language is French, responded with something like, "This is quite trash, actually, but I'll take a couple of these shirts for my personal use at wholesale price." McSweeney declined, but Andelman then emailed back to make a store order. 
"I was immediately seduced, and I remember the lips logo was very strong," Andelman says about Married to the Mob over email. "And she had cool messages. She proved there was a community of girls looking for the streetwear to wear with the cool sneakers."
Andelman became a connector for McSweeney, partnering her with brands like MCM, Barbie, and Reebok. For the launch of the Married to the Mob Reebok Freestyle sneaker, which was covered in the MTTM lips logo and released in 2008, Andelman decorated Colette's store windows with Married to the Mob product, a major cosign. McSweeney says she was so grateful for her help that at one point she considered naming her daughter Kier after Colette.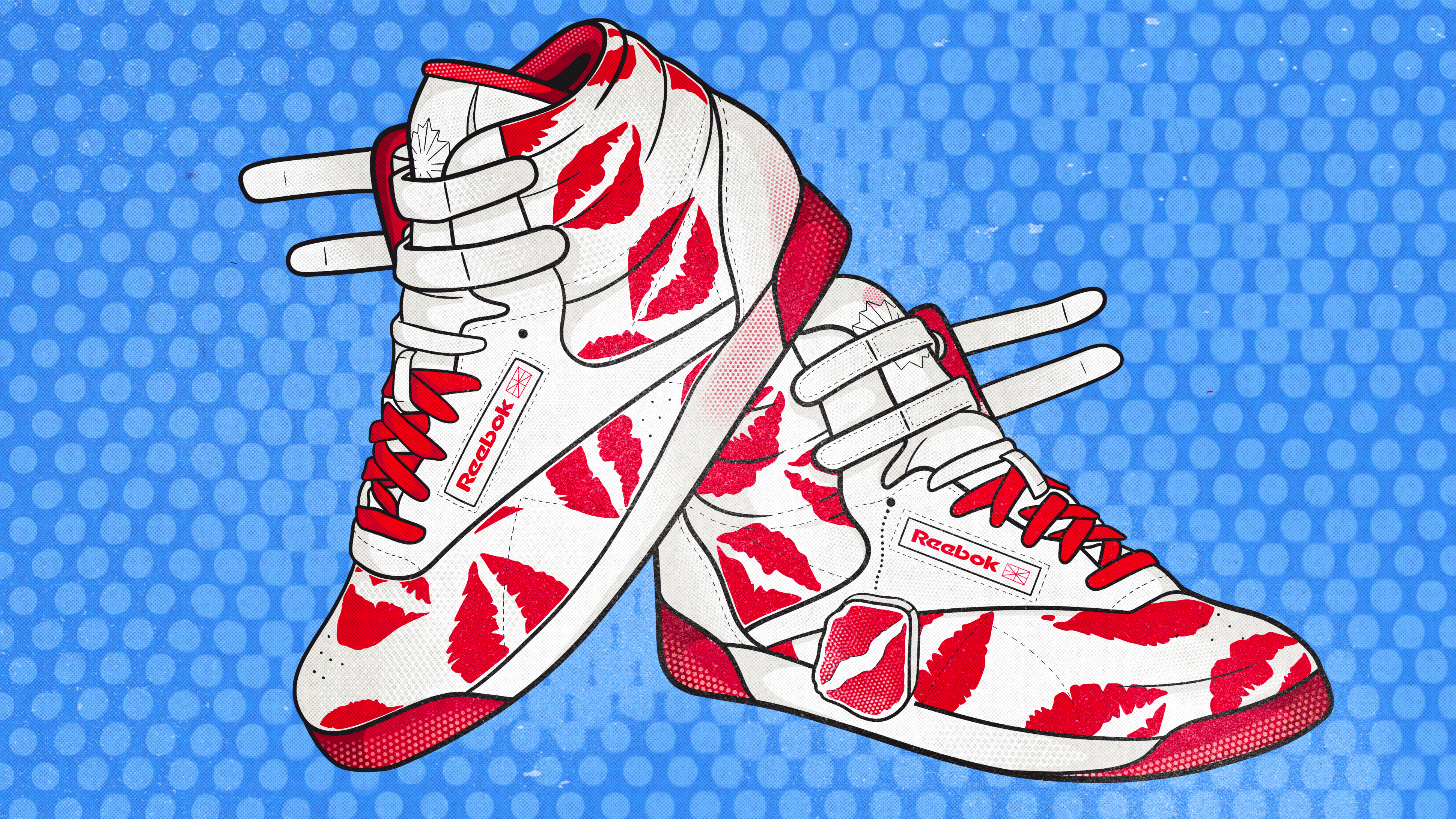 "That relationship was so freaking meaningful. She really was championing me and the brand so much that I even wanted to give my daughter Colette as a middle name," says McSweeney. "But then I thought, 'No, that's just too hypebeast. I can't do that.'" 
MTTM blew up quickly at a moment when lots of money was funneling into streetwear and lots of retailers existed to sell it—at its height MTTM was sold in 100 different shops. McGurr started blogging for MTTM in 2005, but joined the team officially as a full-time employee in 2008 when she was 18. MTTM signed its first business partnership and was working out of the Empire State Building. McGurr continued to write for the blog and helped with the e-commerce site and MTTM lookbooks and visuals. McGurr says at first MTTM was a very in-the-know brand. Women in the streetwear scene would wear it, but around this time they started to see larger companies knock it off.

"It was obviously flattering," says McGurr. "Other brands saw it as an opportunity to ride on the coattails of a niche market. And as far as women's brands are concerned, to me, MOB has been the only one that you could say honestly had a substantial impact on the female side of the streetwear world."
McSweeney had a clear vision of what she wanted it to be from the start, and that resonated with brands like Nike, who let McSweeney design a Nike Dunk High, which was released in 2008 and inspired by a tweed Chanel boot. It was one of Nike's first collabs with a female designer. She emailed Sandy Bodecker, the legendary Nike exec known for starting the SB Skateboarding division who passed away in 2018. He connected McSweeney with Jesse Leyva who she designed the sneaker with. She went on to work with companies like Bearbrick, Lacoste, G-Shock, and Burton. MTTM's campaigns became the cool girl tracker.  McSweeney frequently hired her sister, model Sarah McSweeney, to star in the shoots, but she's been early on spotting female talent tapping everyone from Teyana Taylor for the fall 2009 campaign, to the Clermont twins for the fall 2015 campaign—they would go on to model for the Yeezy ads.
But like most brand owners, McSweeney has gone through her battles, whether that be with financial partners or the biggest streetwear brand in the world. Her first partners were garmentos that she had a business partnership with from 2008 from 2011. She ended things with them because they didn't see eye to eye on how to grow MOB. She ran the brand independently from 2011 to 2016 before getting into a licensing deal with another company that lasted through 2017. That was a relationship that almost made her want to quit the brand altogether.
"That was a giant mess," says McSweeney, who owns 100 percent of Married to the Mob today. "They were stealing from me, and after that debacle, I probably was in bed for a week. I was like, 'I'm done. I want to move in with my parents. I was just so tired of not winning.'"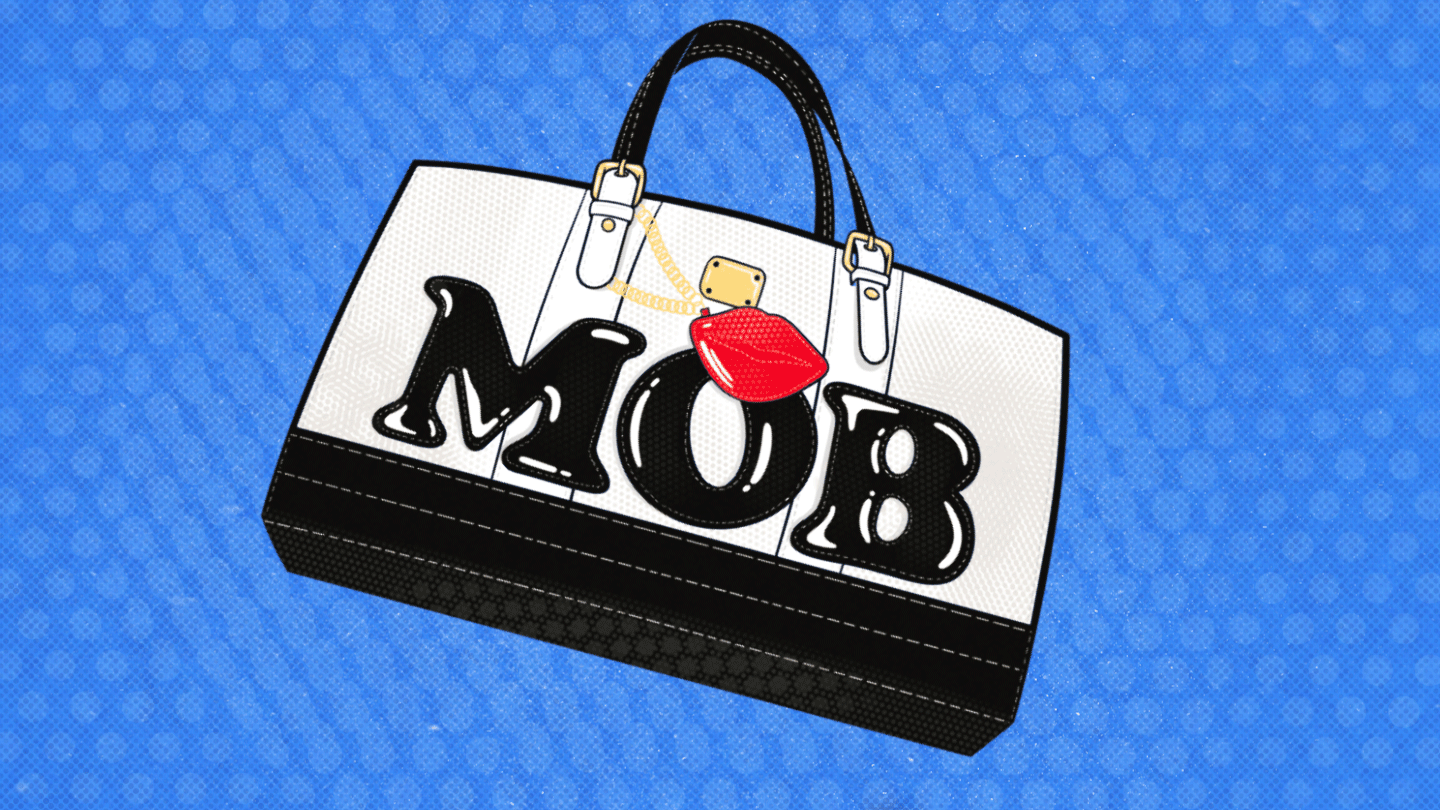 In 2013, she was sued by Supreme for her "Supreme Bitch" T-shirt, which mimicked the Supreme box logo, a design inspired by Barbara Kruger's artwork. Initially James Jebbia sold the shirt out of his Union store in 2004, but it's been said that he didn't expect McSweeney to continue to produce pieces with the logo—Rihanna was photographed in a MTTM "Supreme Bitch" snapback on a yacht in 2013. Supreme sued MTTM for copyright infringement and McSweeney countersued, alleging that the power of unchecked capitalism was used to block free speech. They both ended up dropping the suits and agreed that MTTM wasn't able to use Supreme in a red box. It was an expensive fight for McSweeney, who now makes T-shirts that just say "Bitch" in a red box.  
When asked if she's surprised by how big Supreme has gotten, McSweeney says, "No. I'm not. James is a really smart guy."
At one point, she wanted MTTM to be really big. She envisioned being a CEO who looked over a staff of 100 employees—at its peak, MTTM had 12 people on staff. But she soon realized that wasn't going to make her happy.
"I felt like I was banging my head against the wall with the business, because I had this idea of what it should look and should be," says McSweeney. "I wanted a private plane that said 'Married to the Mob.' I wanted to be like Juicy of the East Coast—kind of a bad bitch style. And then I'm like, 'I would actually be terrible at that.' That's not what my strength is. That's not what I should be doing.''
"I wanted a private plane that said 'Married to the Mob.' I wanted to be like Juicy of the East Coast—kind of a bad bitch style." -Leah McSweeney
So in 2017 she regrouped. She had spent the last 13 years juggling MTTM with raising her daughter, who turns 13 in June and makes appearances on the RHONY. She remembers having to breastfeed her in the MTTM office during a meeting with Kangol. "I think that some of the guys were like, 'Oh my God, oh my God, oh my God.' But what am I going to do? I have an infant." McSweeney wanted to scale things back and decided to sell directly through Zumiez. She knew it was a risk to depend on one retailer, but she went with her gut. And because of that setup, she was able to run MTTM without much overhead—she doesn't have an office or a salesperson, and she drop-ships merchandise to Zumiez directly from her manufacturer.
"There were years where I was so freaking stressed with MOB, financially and in every way. And even when I was doing my highest numbers, it was actually my worst year personally because I was so stressed out and busy. So the grass is always greener," says McSweeney. "But the last couple years have been the happiest years of my life. And it's not because MOB's been doing amazingly. It's because I just changed the business model, so MOB's not running my life."
McGurr says reality TV offers were always in the peripheral when she was working at MTTM, but she didn't think any of them were the right fit for McSweeney. But when she found out she was joining RHONY, McGurr was thrilled.

"If you are going to be on a reality show, that's the one," says McGurr, a longtime RHONY fan. "I watched the first episode on the app and I laughed and I cried. The thought that my long time homegirl is chilling with Sonja [Morgan], Ramona [Singer], and the Countess is still kind of surreal to me. It was refreshing to me that after all of these years of Leah always being her fucking self and never taking the easy route and caving for people, it ultimately landed her here."
With the debut of The Real Housewives of New York City, which happened earlier this month, McSweeney did relaunch the MTTM e-commerce site. It's currently stocked with a lot of classic MTTM graphic T-shirts and hoodies covered with slogans. She also has plans to introduce an athleisure line that will be completely separate from the Zumiez collection but have MTTM branding. During the quarantine she's been posting what she's calling anti-influencer workouts—they are non-polished, get in what you can workouts she does with her sister. MTTM is mentioned on the show, but McSweeney says she didn't view RHONY as an opportunity to push the brand. She is, however, promoting streetwear, or what streetwear has become 15 years after she started MTTM. She's worn Off-White for promo events like BravoCon and photo shoots, including a white suit that was straight off the runway for a New York Post story. In the first episode of the season, she carries an Off-White leather handbag covered with astroturf.
"I wanted to wear stuff that was high end but still gave streetwear vibes, so I called up Virgil," says McSweeney.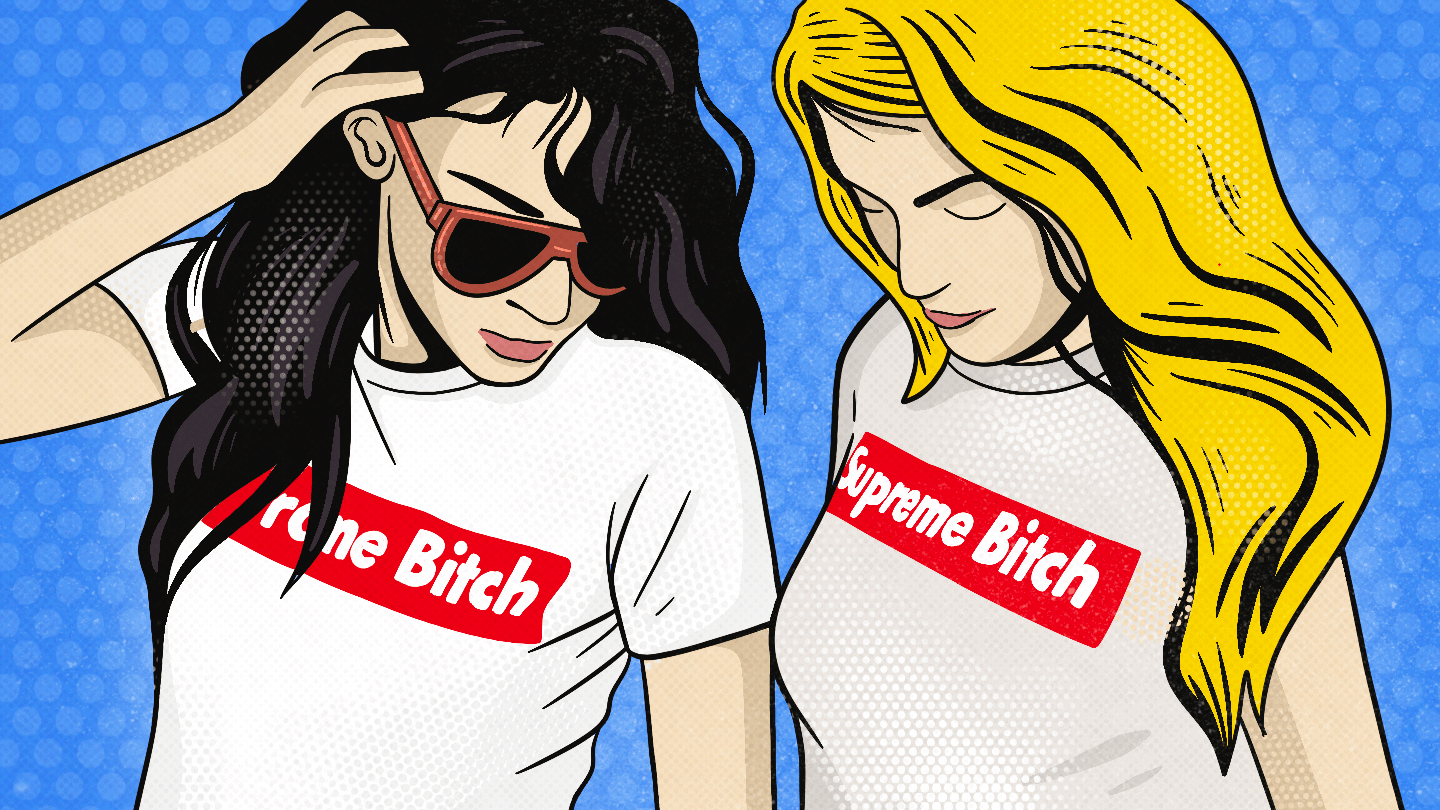 Today, McSweeney, who is in the midst of writing a memoir, finds streetwear hard to define. She mentions liking Pleasures, and questions whether Omweekend, a brand her daughter is into, could be classified as streetwear. And she recalls reading about a brand that received funding from LVMH, but couldn't remember the name. She was referring to Madhappy, a line that calls itself an "optimistic lifestyle label."
"OK, so this is the opposite of streetwear," says McSweeney as she scrolls their Instagram account and notes the ridiculousness of the happy brand collabing with Curb Your Enthusiasm, the HBO series that stars American's biggest curmudgeon, Larry David. "I don't really know anything about them, but they look like young businessmen that had an easy start and that's not what streetwear is. Because streetwear has really been about the struggle. It's about the scrappiness."
So far, McSweeney hasn't had to get too scrappy on the show, although the trailer does hint at her standing up to take off her fur coat when a fellow cast member, Medley, gets too close for comfort. But for now she's just being herself,  opening up to the ladies, and trying to forge relationships. It's hard to hide anything from this franchise—she mentions an issue with her mother that she wanted to keep off camera but couldn't—but she's not concerned about how it will affect her brand. In fact, McSweeney says that if MTTM went away tomorrow, she'd be OK with it.
"This is the thing: I'm not a person whose ego is wrapped up into MOB. It's just not," she says. "A lot of my male counterparts, their egos are so wrapped into their brands. Mine isn't. I'm Leah with or without MOB."