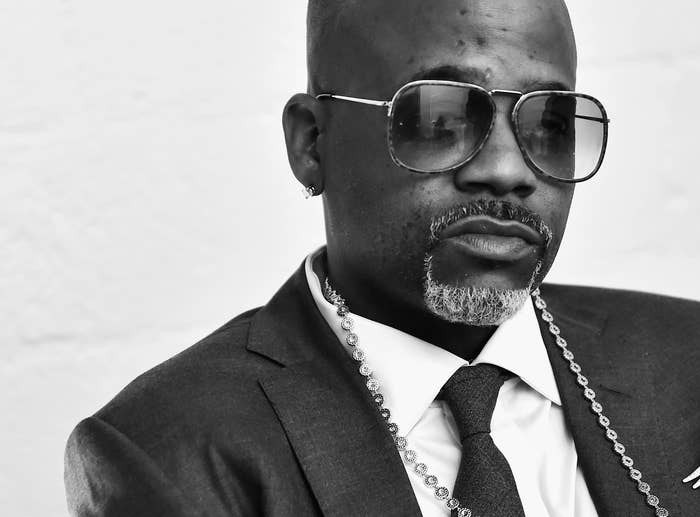 Damon Dash wants to be called Billy Pablo the Third.
It's his new name that accounts for the Instagram posts featuring Dash playing a guitar in his recently opened DDS33 studio in Burbank, California.
"I have an album coming out; it's called Billy Pablo the Third. Do you want to hear some music?" he asks over the phone. "Mary"—he says to the publicist who is moderating the call—"can you send her the link right now?"
The purpose of the interview is to chat with the Roc-A-Fella co-founder and entrepreneur about DDTV, a shopping network, and Dame Dash Studios, a streaming service that relaunched this week with new programming from artists including Talib Kweli, Kanye West, comedian Torrei Hart, and Hassan, a new artist Dash is pushing. But Dash, as expected, has other things on his mind, and he addresses them seamlessly while shopping at an Adidas store in Los Angeles and offering salutations to whoever recognizes him.

Here, he talks about his many new endeavors; his attempts to buy back a majority interest in Rachel Roy, the line he launched with his ex-wife in 2004; and what wanted to achieve with Rocawear but wasn't able to.
(This interview has been edited and condensed for clarity.) 
How long have you been working on Damon Dash Studios and DDTV? It looks like you also launched this in 2016. Is this a relaunch?  
Well, it has constantly been an evolution. So I've been aggregating content and putting it out for years. I had an internet television station in 2005. I invented the term "webisode," so every time I do something, I launch it, but in this respect, it's just a more evolved version with more content, and it's with a lot more consistency.
What's the new content?
There are docu-series like the Anthony Bourdain-type of thing where we run around the world and we went to China. We went to Jamaica. We have scripted premium programming, and that's Honor Up. Then there's Rocky [Ed. Note—Raquel Horn, Dame's girlfriend], who has a cooking show. There is so much. There is music. There is everything that everyone else has, but way more swaggier and without a filter. More authentic. I've got the OG series where I'm interviewing everyone that defines me and my mentality and people I respect. In the first episode I have Calvin Klein. I got Dash Diabetes, which is all about me as a diabetic and the evolution that comes with it and making sure people understand how to evolve their care. As I learn something, I teach it. Then there's the Culture Vulture stuff. There is everything. Then there's a lot of the history and the things I was doing before.

What about the shopping network?
No one ever mentions the fact that I own Rachel Roy, and that bugs me out, too, because I've been owning that for the last 10 years. It's fashion and it's a $100 million company, but for some reason, everyone just sweeps that one under the rug. I don't know why. But the reason why I was getting to that is phase one is the streaming, but phase two is the shop-and-buy, and that's where while you're watching programing, you can actually buy what you see. That's the second phase. Then the third phase is cable, just for perception for the old heads, but I really think that's a dinosaur. I think it's important to have a direct-to-consumer relationship. You know what I mean? My new name now is Billy Pablo the Third.
OK.
That's what I want you to start calling me. I have an album coming out called Billy Pablo the Third. I'm on my rockstar shit because I'm sick of telling everybody how to do it and then they end up looking corny and R&B. Not to say that R&B is corny. It's just not me. I'm a rockstar. At 47, I decided to show everybody how to do it. Real instruments. It's kinda hot, so you can listen to it right now and pass it around. I'm on some Pink Floyd shit.
But back to the shopping platform.
I'm sorry. With the shopping portion, so that's just going to be integrated into the streaming service. As you watch the programming. Everything you're watching, I make. I make the clothes. I make the music. The jewelry I wear, Tiffany's sponsored. Adidas. Whatever I'm wearing, you can buy. The idea has been in effect, but just nobody could do it. I'm the only one that's that nice.
What's going on with the Poppington label? What is your goal with that?
I'm that guy. Like, all of the cats came under me and they know that. You know what I'm saying? Not in a disrespectful way, but I'm just that classic guy. I look back at pictures and I see Virgil Abloh in my house in London and Kanye, and the head of Versace [footwear, Salehe Bembury]  used to work with me and then worked with Kanye. I've been making bespoke stuff for years. I was trained in Savile Row to make suits. I love the fashion. Who else do you know that's in urban that actually has a designer line? I was in Bergdorf Goodman in a year with Rachel Roy, so I do the fashion thing. I make my suits. I make my sweats. I make everything. It's all made in America. Also, Poppington is. When you see a suit and a collared shirt, I made that.

What model are you going for with Poppington? I heard you don't hold inventory. Is that still what you're doing?
Yeah. I mean, if I don't like the whole inventory thing, I'll cut the order. I don't like everybody wearing my stuff. Really, I just want women to wear my stuff. I don't want dudes to wear it so much. I just make a little bit of it, so when they ask, I'm like, "Yo, I ain't got none." You know what I'm saying? It just seems the girls around me got it. The women. The queens.
Rocawear was one of the urban streetwear brands that was doing really well in the early 2000s, and now a couple of those brands are reentering the market. What do you think about Fubu and Baby Phat relaunching?
I think somebody took a brand in distress and now they're going to license it. You know the game. I make new brands and I sell new work, so I'm not bringing back Rocawear. See, once I left, that shit went to the Titanic because it was corny. I'm not disrespecting nothing. It's just I'm not about old work. I look to the future. I think it's vintage. When I see that, I know the business model. Somebody bought the brand; they're going to license it out. Period. It's probably someone that is not of the culture. Period. Then they're going to try to get some of us to be the face of the brand, but it ain't going to be our money that's going to be made. You know what I mean? Unless it's, like, something that is cut and sew, and unless it's made by the people that were the original point of view of the brand, I'm not with it.
With Rocawear, didn't you have a vision for it to be more elevated? You brought in Victoria Beckham and Naomi Campbell for campaigns.
Well, I had the vision for Rocawear to be the umbrella company and then I was bringing upscale companies underneath it, like Rachel Roy and other things like Charlotte Ronson. I started that. I had Ryan Kenny and State Property. I wanted to do what I'm doing now. I was just trying to be LVMH, but with a communications component because we make the swag. We make the drip.
Right.
I'm not giving it to somebody else to sell from me, so I'd rather just do everything myself. That's always what I was going to do. LVMH, they cop luxury brands. I am a luxury brand. I breathe luxury brand. I sweat luxury brand. I am luxury. I've been luxury. I was never not luxury. Do you know what I'm saying? Now this streetwear thing is luxury. I invented that. I was the first one doing it, and now, if you look on the runways and all over the world, I was there in Adidas track suits and basketball shorts. I started the basketball short trend, and I know I'm starting the boxing robe trend. I was the first guy wearing that ski hat with the pom pom. Everybody was laughing at me and calling me Urkel when I was wearing Gazelles. Everyone was laughing when I was wearing the Russian hat. Now look at it. I haven't changed my steeze. Everybody is doing what I used to do to what I do now.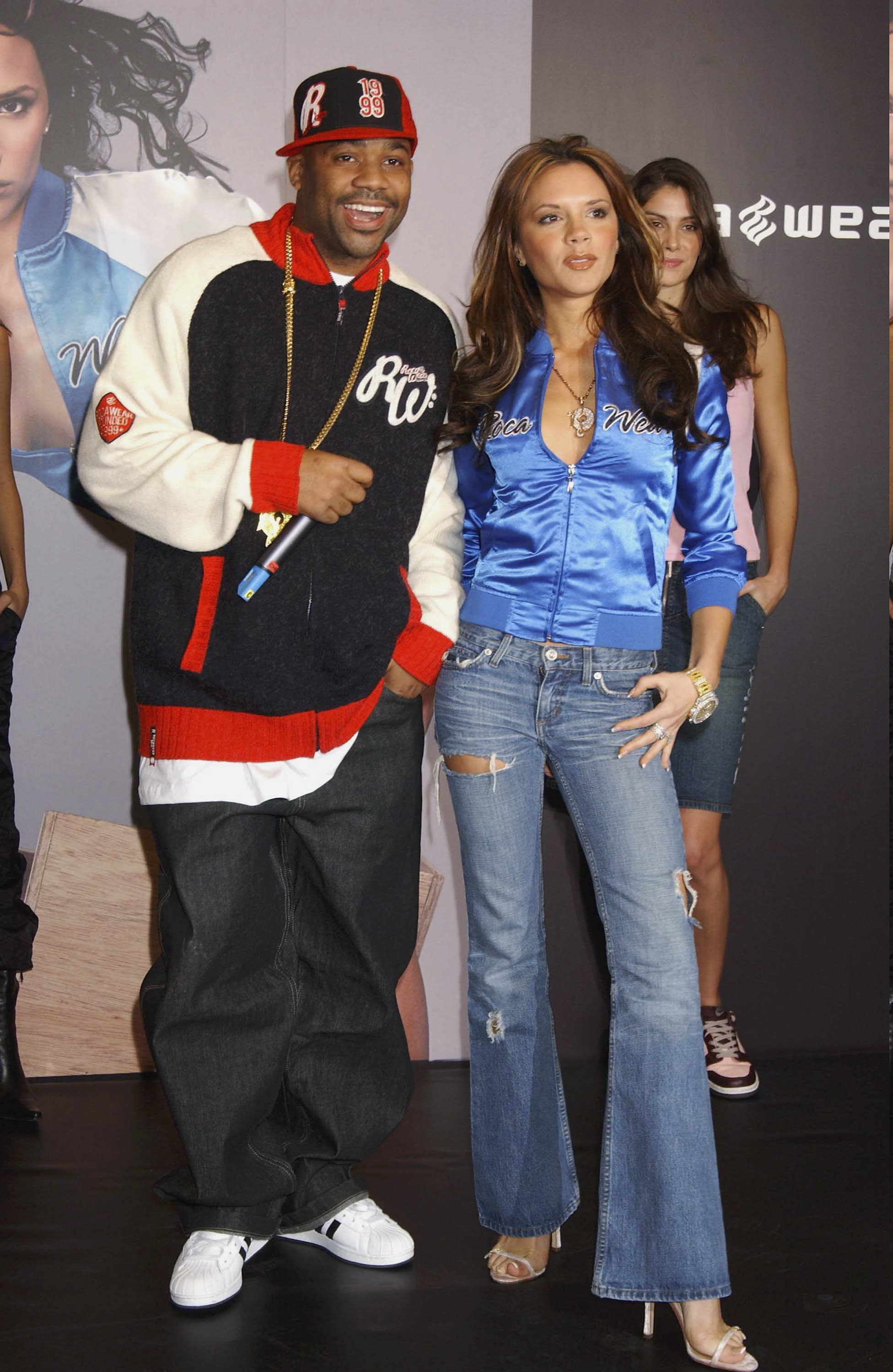 Do you think urban streetwear brands made a mistake by going mass and entering Macy's?
I mean, as long as they have a designer line, you can go Macy's. Rachel is in Macy's. Where we fucked up is we're not in Bergdorf Goodman. So Ralph Lauren does it all the time. As long as you have a designer line, you can license the shit out of anything else, but you've just got to have something that showcases your point of view. You know what I'm saying? All this mass stuff is licensed.
Are you shopping right now?
Yea. I'm at Adidas right now, getting fresh. You know, Adidas had been sponsoring me for years. If you talked to Jon Wexler [head of global entertainment and influencer marketing at Adidas], he'll tell you all the divisions that they developed came from me making things that they didn't know how to exploit because I was doing all that shit in 2009. The funniest shit in the world is when someone comes in and tells me how to market and they tell me shit I invented. I'd be like, "That shit is hilarious." Then, also, there's a lot of music. I got my man Hassan, who has a good record coming out called "Sand N****." It's crazy. I know I bounced around, but I meant to talk about Hassan, too.
Let's talk about Rachel Roy: Are you currently trying to buy majority interest?
No. I bought that shit back. What happened was, they had been cooking the books for a long time.
You are talking about the manufacturing company Topson Downs, right, which acquired a majority stake in the business in 2014?
Yes. Topson Downs. They had been killing it, man. It's crazy what's going on. At the end of the day, I arranged to get the company back, but they didn't want Rachel to sue them, so Rachel was like, "Yo, I'm not going to sign off not suing them unless you give me 80 percent of the company." I'm like, "Yo, you bugging." I put in $6 million and you all have been robbing me for $8 million. I lost $10 million already. I let her run with the company, and look at it. It's just in Macy's. Now I've got to take it back, pay for it, make it re-luxury, and get it back to where it was. Anna Wintour told me, "Yo, you mess with Jones [an apparel and accessories manufacturer that acquired the Rachel Roy line before Topson Downs] or you mess with any one of these dudes, your brand is going to be a dud." Now look—we're just known to be Becky with the good hair. You know what I mean? Now I've got to relaunch the shit with my daughter as the face.
I made the company for Rachel. I invest in my queens, so even when they walk away, they got a $100 million company and they have independence and my daughters have something to look up to. But at the end of the day, I've got to get my bread back. It's short money to me. I'm not going to be running for it. You see I didn't go chase Lee Daniels? I ran into him. When I get to it, I get to it. Until then, it's just like I'm going to do this television network and then I'll get back to it.
OK. So that deal is not finalized, but that's what you're working on.
Uh huh.

Ed. Note: Complex reached out to Rachel Roy's publicist for a statement on who currently owns the brand and they declined to comment.
What advice would you give to young entrepreneurs who are trying to start clothing lines and want to do it independently but don't have the capital?
I would start small, like with ties or with buttons. Like I did it with socks. You can do a whole line, but it's going to kill you to develop it and you can't sell it but to one place. Like, you have to lose so much money in the beginning to establish yourself as a brand, so if you're going to lose, don't lose so much money. Make it one piece, but do it well. Do the best buttons, but if you have to do a six-piece collection, it costs, like, a million dollars to develop it or whatever it is, and that's what kills you. Don't hold inventory and don't worry. Just build your brand and be your brand, and don't think a brand is putting your logo on a T-shirt. A brand is a lifestyle, and it has to have a point of view. You understand what I'm saying? Don't think it's going to be easy. To really get credible in fashion, it takes 10 years. Because to be a brand, it means you have to be consistent in something, right?
Right.
That's what it is. You have to take losses. Also, to be a brand, you have to be exclusive. You don't want everybody to have your shit. That's why I don't want everybody to have my shit. I have a brand, so I don't want everybody to have my shit, period.
And I see you were supportive of a burn Gucci event. Were you not satisfied with the apology?
I didn't really give a fuck. I just liked the statement that if you fuck with us, we're burning your shit. Like, fuck it. I don't care about that shit. You know what I'm saying? I like that somebody stood up, and I'mma stand up. I thought it was gangster. I thought it looked good, and I just liked standing up for our culture. Gucci is Gucci. What do we expect? That's why we got to make our own shit. The way I get back at that is I make my own shit. I had a pair of Gucci boots because I don't make shoes. I burned them shits, so I don't give a fuck. But I did go and buy some Prada loafers. I don't make shoes, so I had to get some.
What else is going on? What's next for you in terms of fashion?
Poppington launches. The shopping network launches. Everything launches. I'm taking over the whole world. I'm Billy Pablo the Third—I'm doing basketball teams, football teams. Oh, I've got a NASCAR team. I did a NASCAR team for the year, but I'll make that official announcement later.  I'm only doing big boy shit. No little stunts. Everything else is in my rear-view. Everything moving forward is Billy. If it ain't Billy talk, I don't get it.