Joe Freshgoods Isn't Focused on Hypebeasts
Joe Freshgoods' streetwear brand could be bigger if he lived in New York or Los Angeles, but he's invested in Chicago and doesn't plan on leaving.
Publicist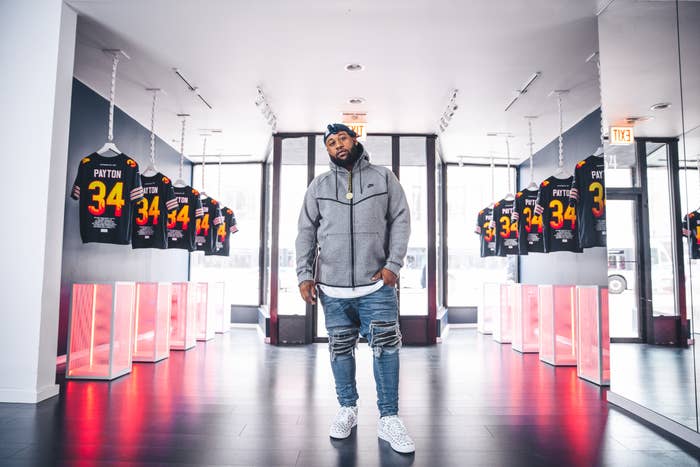 It's March 12, a fake holiday in Chicago (3/12, like the area code. Get it?). To celebrate, a massive branded event in the West Loop neighborhood is absolutely humming. It's warm for this time of year, and the city responds to the decent weather with a full-force turnout. From local celebrities moving through the crowd snapping photos to regular folks in head-to-toe Bulls gear clearly trying to maximize their time at the open bar, the party is packed but manageable. The event provides a truly stacked lineup featuring local food faves and an Avengers-level panel of Chicago's creative talent, including Lupe Fiasco, Vic Mensa, Don C, and Dreezy. But the event's highlight, ironically, is not the free Harold's chicken, drinks, or performances: It's an on-site T-shirt printing station. The line for it never shrinks.
Why the hype? It's simple: Joe "Freshgoods" Robinson is giving out T-shirts.
When asked why she would ignore an open bar and free pizza—and this pizza, from Pequod's, is the good stuff—to stand in line for 90-plus minutes to get a T-shirt, one attendee responds with noticeable pride in her voice: "Joe is real. His stuff is authentic Chicago, so we want to support that."
"I've always wanted to focus on that regular guy or girl, and it's worked for me. That's who I make stuff for."
-Joe "Freshgoods" Robinson
It's the type of brand loyalty and marketing clout that *insert cool brand here* would happily commit small felonies to achieve a fraction of. Freshgoods is not as popular as some of his peers, since he lives and creates in Chicago, as opposed to New York or Los Angeles. But this July, when ComplexCon lands in the Windy City, he's hoping to leave an impression as one of the most prominent streetwear designers in the area.
"I feel like all eyes are going to be on what I got going on because this is my backyard," Freshgoods says. "I want to make sure that I hold the city down creatively and do something that's like, 'Oh, wow.'"
For Freshgoods, holding the city down also means putting others on.
"I plan on working with a lot of other creatives in Chicago and doing things that can bring spotlight to a lot of other people out here," says Freshgoods. "I'm trying to have ComplexCon this summer kind of be a moment that everyone can look back to as the start of something: 'Yo, you remember when Joe did THAT two years ago at ComplexCon and it was just, like, it changed everything?' That's what I'm aiming for."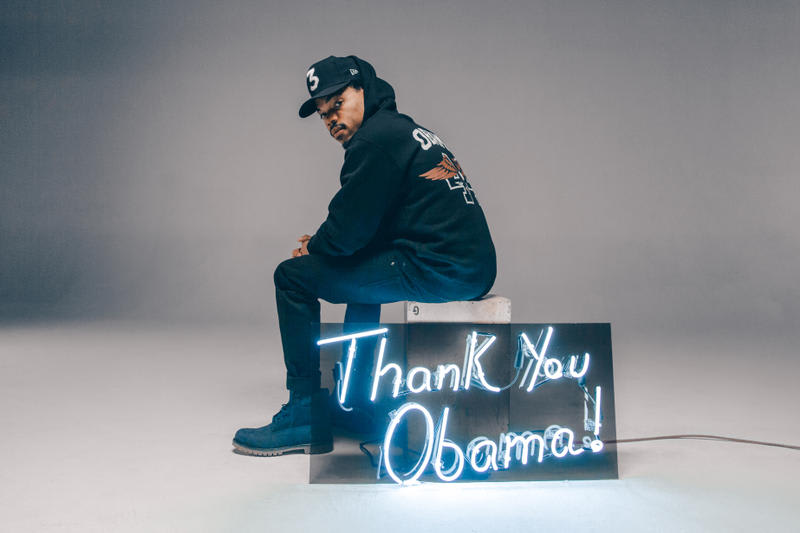 In a local culture that almost expects it best and brightest to leave for the coasts—from big names like Kanye West, Don C, and Virgil Abloh to comedians, actors, and more—Freshgoods' success and consistent support for Chicago are frankly unprecedented. He says that's intentional.
"My narrative is growing up and being from Chicago, making it in Chicago, and then making things in Chicago."
While Chicago is his home base, he's drawn crowds all over the country with the pop-up stores he opens in conjunction with larger events. Last year, for example, at ComplexCon in Long Beach, Freshgoods didn't have a booth. Instead, he set up a spot a few blocks from the Long Beach Convention Center, reminding designers—especially designers of color—of their inherent value within the fashion establishment with a collection he called "The Power of the Black Dollar." In his IG post announcing the collection, he made the theme clear: "We influence the influencers."
Freshgoods did 10 more pop-ups in 2018, in locales ranging from Miami to NYC to venues in Japan. Still, he's remained largely under the radar.
"The big thing is being unpredictable," he says. "When I have one good idea, I don't release that until I have two more ideas in the chamber. I don't want to be predictable. A lot of people fail that way. Their stuff gets predictable. Example: I got invited to Agenda"—the skate, surf, and streetwear trade show—"and I made a booth that said "F*** Wholesale,"  and then, two days later, I'm doing a pop-up inside of Fred Segal with Mastercard."
Along the way, Freshgoods attracted the attention of larger companies. His brand collaborations to date read like a Harvard Business Review editor's wet dream: McDonald's, Nike, Adidas, Chicago's Museum of Contemporary Art, the Chicago Bears.
His original collections have ranged from a tribute to the Obama Presidency—Chance the Rapper modeled the collection and wore it onstage as he received his Grammy—to a collection of shorts fashioned after vintage luxury towels to a riff on the Mexican national soccer team's uniform with a nod to Joaquín "El Chapo" Guzman.
Each had a story to tell. The Obama collection included shoutouts to Malia Obama and Michelle Obama's alma mater Whitney Young, as well as a play on the classic Biggie crown photo using Barack Obama. The Bears collection featured a white-hot take on Walter Payton's jersey as an homage to Hall of Famer's 1977 game in which he set the NFL single-game rushing record while sick with the flu. That product sold out immediately.
"Joe's good at telling stories via his clothes, and I think people need to do a better job of looking into those stories and soaking up game, because he has a lot to say about knowing your worth as a creative and supporting black businesses from Chicago to the rest of the world," says Vic Lloyd, one of Freshgoods' partners in Fat Tiger Workshop, the streetwear shop they opened in 2014, and the unofficial "big brother" of the Chicago streetwear scene.
The local love for Freshgoods' work is apparent. He just released a collaboration with Chicago's high-end streetwear destination Notre, designed Def Jam signee Valee's first merch collection, and did a collaboration with fellow Chicagoan Hebru Brantley that sold out almost immediately.
Freshgoods accomplished all of this in under six years without outside financial help.
"No drug money, no investors," says Freshgoods. "Just hard work."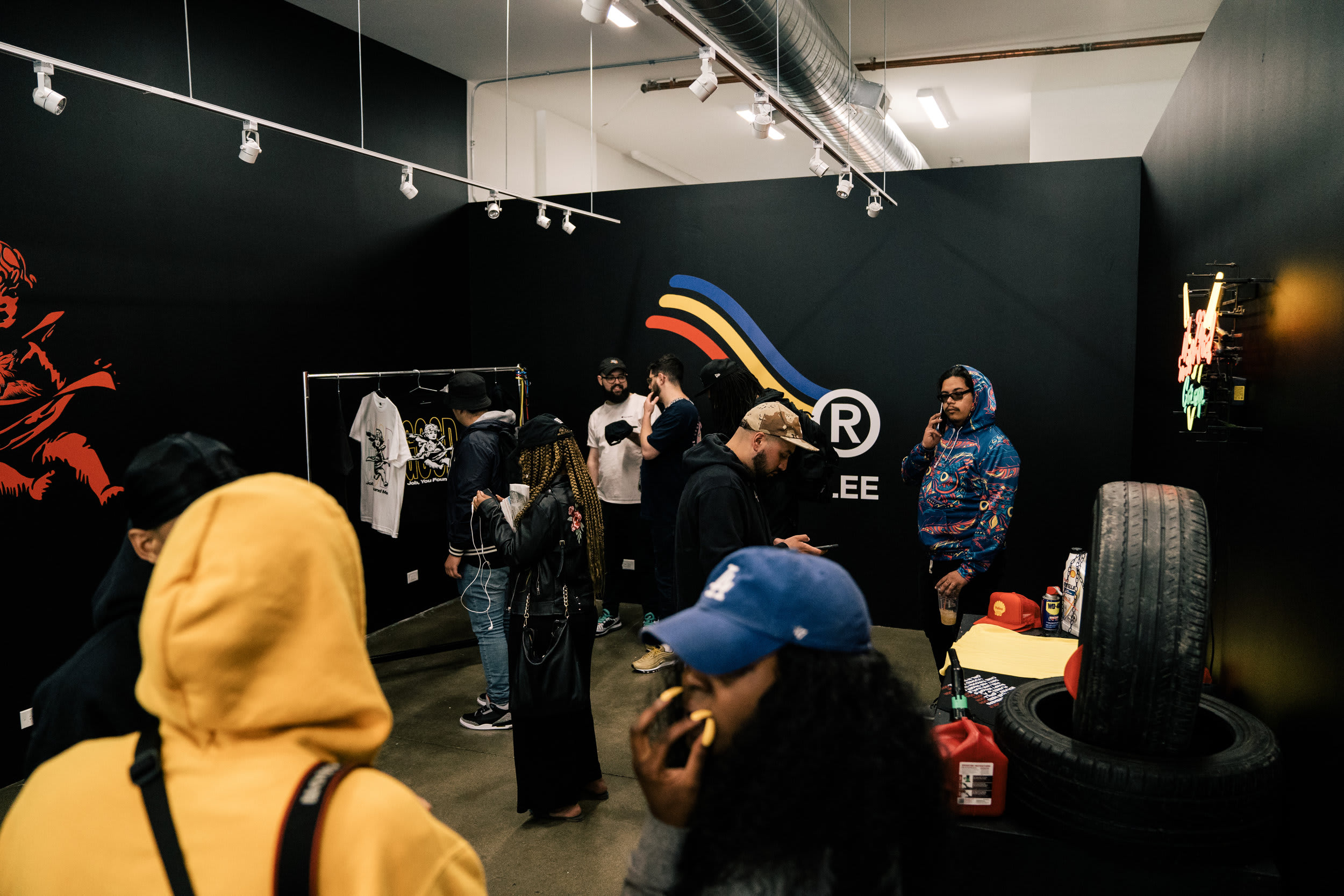 A native of the city's West Side, the 32-year-old Freshgoods attended Chicago's prestigious Lane Tech College Prep High School.
"I used to want to be a writer," Freshgoods says. "This was early on—like, grammar school. I wasn't really good at math, but I used to always write. I never really put this out in any interviews, but I used to write chicks love letters. That was, like, my thing. I learned to be very descriptive."
After high school, in 2005, Freshgoods went to the influential streetwear store Fashion Geek and worked in sales. The next year, he and longtime creative partner Terrell "Rello" Jones went to work at Leaders 1354, where, under the guidance of store owner and Chicago streetwear innovator Corey Gilkey, they learned to combine retail and youth culture. The vibe around Leaders was always jovial, nurturing the larger creative scene in the city via in-store performances and an open, laid-back environment in which newcomers felt welcome, unlike the oft-too-cool streetwear shops found on the coasts.
"People act like Joe just appeared out of nowhere," says Lloyd. "But he is a direct legacy of a whole part of Chicago streetwear history and culture that people don't know about."
It was at Leaders that Freshgoods began in earnest to make his own gear, including his first real mover, 2009's "Money & Clothes & Cars & Hoes" tee. He'd made one-off items—a T-shirt here, a crewneck there—but for the first time, he understood how the business worked. He also learned how to create a scene that people wanted to be a part of.
"People act like Joe just appeared out of nowhere. But he is a direct legacy of a whole part of Chicago streetwear history and culture that people don't know about." -Vic Lloyd
"I come from that barbershop environment where it's like we don't really care if you buy nothing; you're really coming in for the personalities more than the clothes. The clothes are like bait. You're coming in to see the people that work behind the register," he says. "It's not a situation where it's like working at Macy's or a department store, where we getting a commission, you know? So we take it like, 'Yo, you need help or anything?' OK, cool. Now we let them shop while we're still talking about eating ass or something crazy, you know what I'm saying? I think I come from that generation where the personality sells the product."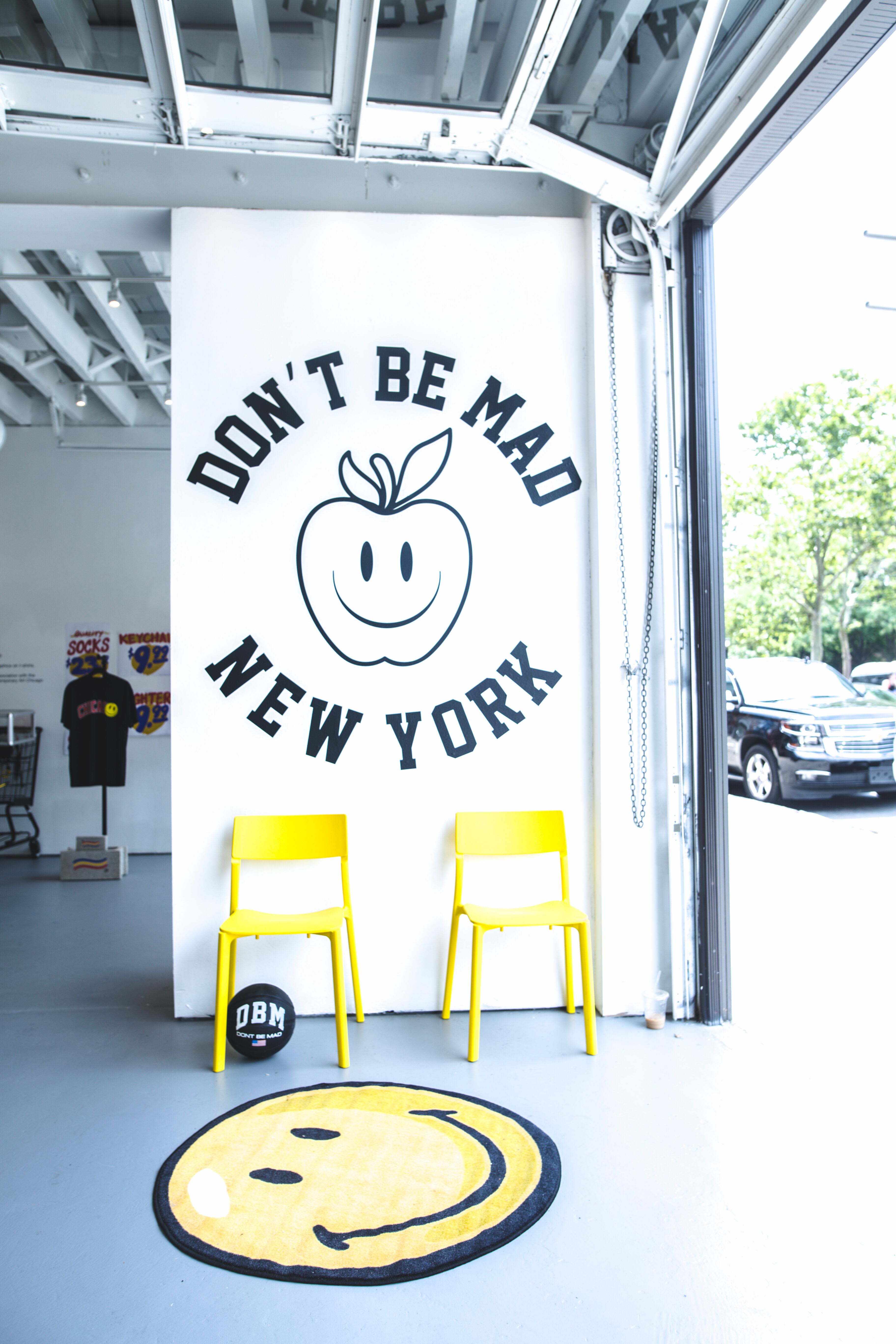 The approach worked. It wasn't uncommon to see people like Chance, Vic Mensa, and Rockie Fresh, all pre-fame, hanging out in front of Leaders. It was there that Rello and Freshgoods met Lloyd. Lloyd took the two under his wing and helped guide their nascent brands: Rello's VITA, likely best known for the now-iconic Chicago Over Everything collection that you can find knockoffs of throughout the city, and Freshgoods' DBM—Dope Boy Magic, until a lawsuit from Los Angeles brand Dope Couture forced Freshgoods to change the name to Don't Be Mad, a wink (and middle finger) to Dope.
In the beginning, Freshgoods made small runs of clothes inspired by pop cultural moments and sold them under the counter while working at Leaders. This practice got him fired but encouraged him to continue tapping into the culture at large. One of his first breakout items was a simple beanie he released in 2012 featuring four words: "I Wanna F*ck Rihanna."
The beanie, which sold out of multiple runs, was bootlegged. It invited a cease-and-desist from Rihanna's team, but it brought Freshgoods attention from outside of Chicago. He doubled down on DBM and began selling clothes out of his garage in Chicago's Pilsen neighborhood with his then-roommate, influential Chicago photographer TrashHand.
Two years later, he, Jones, and their partners (Lloyd, who left Leaders with them, and Desmond "Des" Owusu) established Fat Tiger Workshop, their first store in the rapidly gentrifying Logan Square neighborhood. The original space was a community hub, holding album listening parties for local rappers and touring acts that were still on the rise, like the late Nipsey Hussle, whose Crenshaw album meet-and-greet was the first event in Fat Tiger Works history. The store overlapped with Chicago's post-2012 rap boom, and Freshgoods was outfitting now-surging acts like Chance and Mick Jenkins with DBM clothes for national tours and live performances. The Tigers did photoshoots in Paris and all over Ghana, and Freshgoods held a pop-up fashion show in a random alley, with models wearing racing-inspired gear that other brands quickly co-opted. They had to expand to a larger storefront to accommodate increasing traffic in 2016 before moving again, in 2017, to their current location in the Goose Island neighborhood.
In addition to creating clothes, Freshgoods and the Tigers have prioritized educating younger people with a passion mirroring theirs, offering in-store talks about entrepreneurship and the business of being creative. Freshgoods takes time at pop-ups to chat with almost everyone who shows up.
"I know I'm successful, but I think people don't look at my success the same way because I'm actually still around," he says. "I don't ever want to climb up on some hill and become unapproachable. If you go to my pop-up shops, I'm there. I'm not just shipping my staff out there—I'm there. I'm greeting the customers, I'm going to all the parties, I'm actually outside. At that same time, it does get a little difficult. I finally reached that point where I'm understanding why people move, you know? I still just enjoy being Chicago's child."
Whether it be Chicago, L,A., NYC, ice planet Hoth, it shouldn't matter: A streetwear store that has to move into a bigger physical space three times in five years should put Freshgoods and the Tigers on a shortlist of "People to Watch in Fashion" (with the checks to match). And although Freshgoods is landing major brand partnerships, being in the Midwest makes him easy to overlook. "I think being based here is important because Chicago drives culture, low-key. I just think, you know, sometimes people who aren't from here take what Chicago is known for, put some salt, pepper and seasonings on our culture and package it back to the world. It means more to succeed here and have a physical store that's not something out-of-towners built or something rich hedge fund kids built," he says.

A few days after the 3/12 party, the vibe at Freshgoods' headquarters, Fat Tiger, is relaxed. It's St. Patrick's Day weekend in Chicago, which means means two things: The river is kelly green, and everyone is moving a little slower than usual, including Freshgoods. He just arrived back in town after time away locking in a new deal that, in his own words, is going to be "some very big shit."
Nonetheless, the market that built his business remains his focus. "I really have a real big base of black and brown people—white people as well, but, altogether, it's a very blue-collar base," he says. "I think companies tend to want that cool guy or the hypebeast guy or girl. They don't focus on that regular person, and there are way more regular people in the world. Yeah, there's some cool guy that wants to spend $1,000 on a T-shirt. I don't make clothes for him. I've always wanted to focus on that regular guy or girl, and it's worked for me. That's who I make stuff for."
That approach might also explain why Freshgoods still somehow seems to be slept on. Fashion is like most businesses in the world, where there's less attention paid to creatives of color due to systemic reasons that are bigger than this piece can hope to address. For those who might disagree, consider this: Freshgoods' work has been featured in publications like Allure, Adweek, Esquire, GQ, and The Fader in the last four years, but he's yet to get a write-up in local business publications.
Freshgoods isn't worried about clout, though, in his city or otherwise. He's focused on a larger purpose—one that may explain why he doesn't plan to leave Chicago anytime soon. "I want to use myself as that reference point for other creatives here," he says. "Because I feel like I'm just like a lot of people in Chicago. Not to be cliché, but I just work hard. We all do. No one here has rich parents. Ain't no drug money propping us up. This is all here because of hard work. You look at everything that we built and do, it's nothing but hard work. There's a lot of people that I have to be responsible for. I'm focused on the work."