Rihanna Is Reportedly Launching Her Own Luxury Fashion House Under LVMH
The potential collection would include elements of ready-to-wear, leather goods, and accessories, and could be released with her ninth album.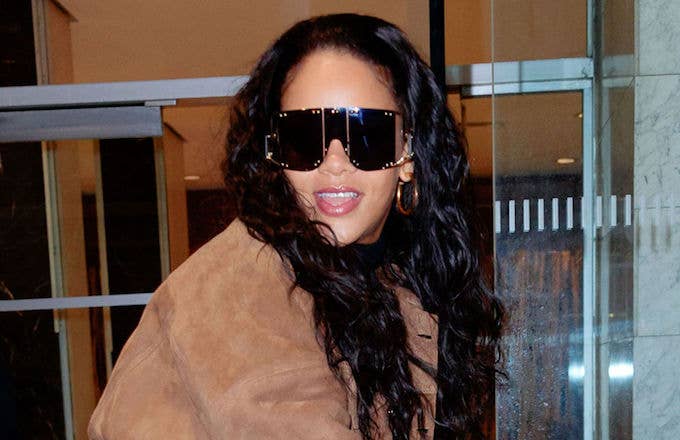 Getty
Image via Getty/Jackson Lee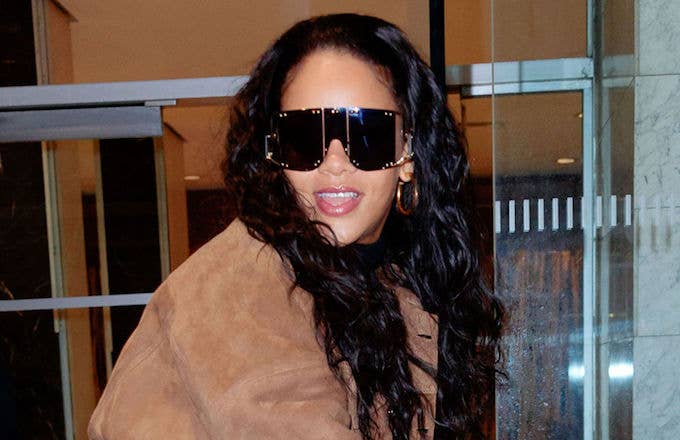 The days of Rihanna the pop star feel like a distant memory. In the past two years, we've seen RiRi give more speeches at places like Harvard or do Steve Jobs-esque Fenty Beauty launches than we've seen her performing any of her many bops on stage. She stays busy keeping our faces beat (with 50 shades of foundation!), our lingerie tight, and our sneaker game on point—all while working on her next album, which we can only hope comes out sometime this year.  
And as Rihanna the pop star transitions into her role as Rihanna the international business mogul, we've come to expect that she always has something bigger and better up her sleeve. This time, she's is reportedly taking her brand to luxurious new heights by partnering up with LVMH to launch a luxury fashion house under her name, WWD reports.
For those unversed in the fashion industry, LVMH, or Moët Hennessy Louis Vuitton, is the largest luxury group in the world. As you might have guessed, it is the parent company of Louis Vuitton, but also Kenzo, Dior, Fendi, Givenchy, Marc Jacobs, Celine, and the list goes on.
The company also owns Sephora, the makeup retailer that sells Rihanna's Fenty Beauty line. Her products made over $100 million during the first month of its launch, and was instantly praised for shifting the beauty industry when it comes to quality and diversity.
Most of those luxury brands were created outside of LVMH before being brought under its umbrella. As WWD points out, if this deal goes through, Rihanna's line would be the first fashion brand launched from scratch under the company since Christian Lacroix in 1987. 
While she's been working with the luxury company in a variety of ways since 2015, the details of discussions between Rihanna and LVMH are hush-hush. WWD reports that LVMH enlisted some employees from Louis Vuitton and Celine to help work with Rihanna, assembling her fashion team about six months ago in Paris. The project is being overseen by Sidney Toledano, chairman and chief executive officer of LVMH Fashion Group.
The singer has already been spotted sporting some potential designs.
The potential collection would include ready-to-wear items, leather goods, and accessories. According to a source, its launch could coincide with the release of her ninth album.
Rihanna is hardly a newcomer to the fashion world. She transformed Puma as the brand's creative director, helping design one of the most popular sneaker silhouettes in recent memory. She's presented her designs in London and Paris, and recently showed her lingerie line, Fenty Savage, at New York Fashion Week.
In every business she's launched, her collaborators and business partners have praised Rihanna for being extremely hands-on. Her luxury house is reportedly no different. If the launch is successful, Robyn Rihanna Fenty from Barbados could cement her name among those like Dior and Givenchy, rooting her legacy in a brand that will be around for generations to come.