In a spacious dressing room beneath the Microsoft Theater in downtown L.A., YG is busy trying on a few different outfits. First it's a luxurious buffalo plaid jacket he rocks without a shirt. He stops to admire himself in the mirror. A few minutes later, he changes into a long-sleeve white tee, khaki shorts, white socks, bright red army boots, and a red bandana firmly cinched around his neck. YG wants his outfit to be just right.
It's a big night for the rapper, who just released his third studio album, Stay Dangerous, last week. In roughly an hour, he'll present his new collection for his brand 4Hunnid at his first-ever fashion show.
The brand name, which stands for "forever one hundred" and shares the name of YG's record label under Interscope, began in 2016, releasing graphic tees and hoodies as merch. But YG and 4Hunnid's creative director, Gavin Mathieu, never saw the brand as only artist apparel. "It's a lifestyle," YG told Complex last year.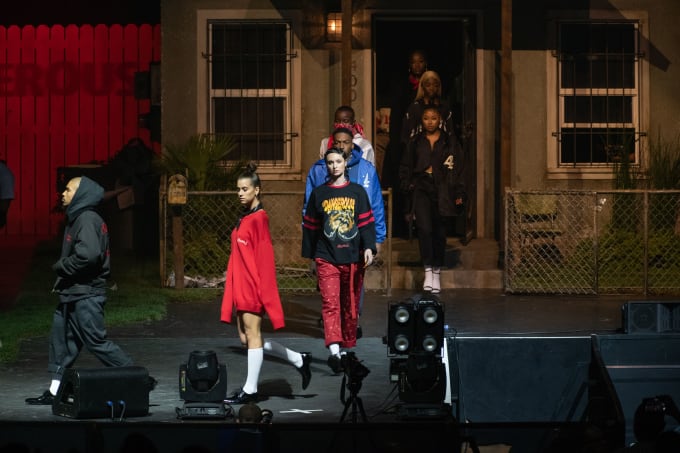 That was made loud and clear this past Sunday. Taking a page out of the Kanye West book, YG hosted a hybrid show that gave 6,500 fans—and plenty of celebrities—a look at pieces from 4Hunnid's new collection, called "Kut & Sew." Inspired by gentlemen's clubs, with a dose of West Coast vibes, the line includes tees, sweaters, and more cut-and-sew items than in previous 4Hunnid offerings, including shorts, a red jumpsuit, a coaches jacket, and camp shirts.
In typical West-like fashion, the show started almost an hour late, and there was album-inspired merch available for fans to buy. In atypical West fashion, the presentation was seemingly concise and organized. The stage was mocked up to look like YG's neighborhood in Compton, complete with two '64 Impalas and YG's boys hanging in the yard. It was detailed and authentic. The best part of it all: YG didn't spend 20 minutes ranting about how the fashion industry is against him.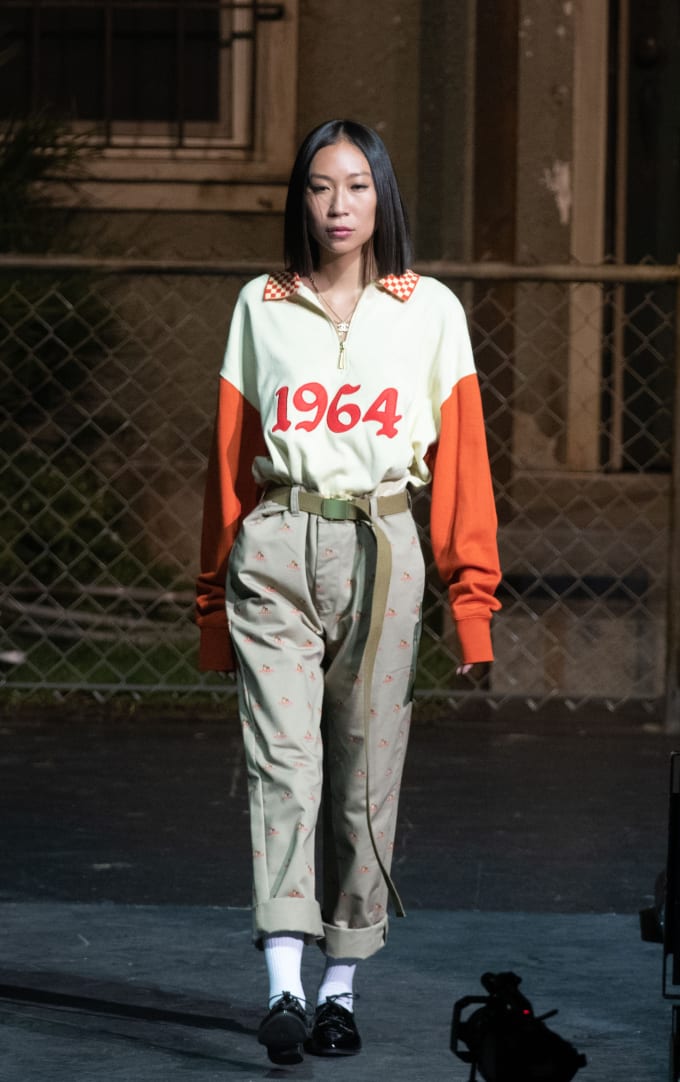 Between the actual fashion show that opened the evening's proceedings and the concert that saw YG run through most of the album, the 28-year-old rocked his "favorite color," red, and took the mic to announce that 4Hunnid will be available in Barneys New York come November. He also made sure to praise all his supporters, shout out his homies, and fire a shot at his social media haters.
"For all you n**** making memes about me and how I dress, go buy my shit in Barneys, bitch!" YG shouted. The crowd, featuring a ton of his family and friends—including Diddy, Tyga, Russell Westbrook, Big Sean, 2 Chainz, and Kyle Kuzma—erupted in response.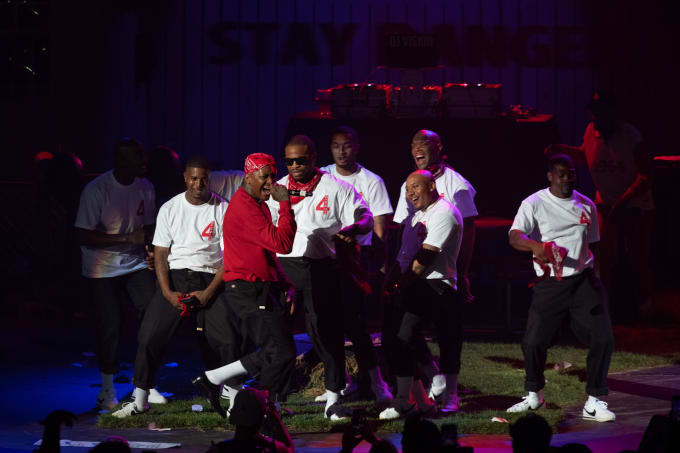 When celebrities attach their name to fashion lines, eye rolls often ensue. But YG and Mathieu, who've been conceptualizing the fashion show/concert idea for months, insisted the rapper plays an integral role in 4Hunnid.
"We talk every day. Blood, sweat, and tears," says Mathieu, himself a native of South Central. "As much as he's into his music, he's into fashion. He runs the brand with me."
Onstage, in front of thousands of people, YG makes it clear he's invested in 4Hunnid. "I just know what look good," he says. "I don't know how to talk about this shit, I don't know about none of that. I just know, yeah, that's tight, that's wack, that's weak as fuck, that's tight."