I was 8 years old when Jurassic Park came out, and while I don't think I even knew what a crush was in those days, I'm pretty sure I developed one on Jeff Goldblum almost immediately. The combination of his eccentric humor, scenes like this, an impossibly cool all-black wardrobe, ever-present shades, and dinosaur-fighting abilities make Dr. Ian Malcolm one of the sexiest movie characters of all time in my book. And if you need any further proof of his Jurassic appeal, look no further than that famous shot of Jeff on a table with his shirt open; it was appropriately memed a million times and was the subject of so much love that someone turned it into an an oil painting. That image may also have been my phone wallpaper for some time. But I digress.
And now, Goldblum's recent spreads in magazines like Icon El Pais and Interview make it very clear that on top of being, as Twitter users calls him, a "daddy," he's also a style icon. While one doesn't necessarily have to be a sex symbol to be a style icon, Jeff commands both posts with maddening and destabilizing ease. While perusing photos of him from the last few decades as inspiration for this piece, it was honestly so hard to find a photo of him where he ever looks bad. Look at how he wears a Prada shirt and pants in the El Pais spread; it's like he was born wearing them. And in Interview, he wears his own Saint Laurent motorcycle jacket with the swagger that only comes from someone who doesn't think twice about how great he looks.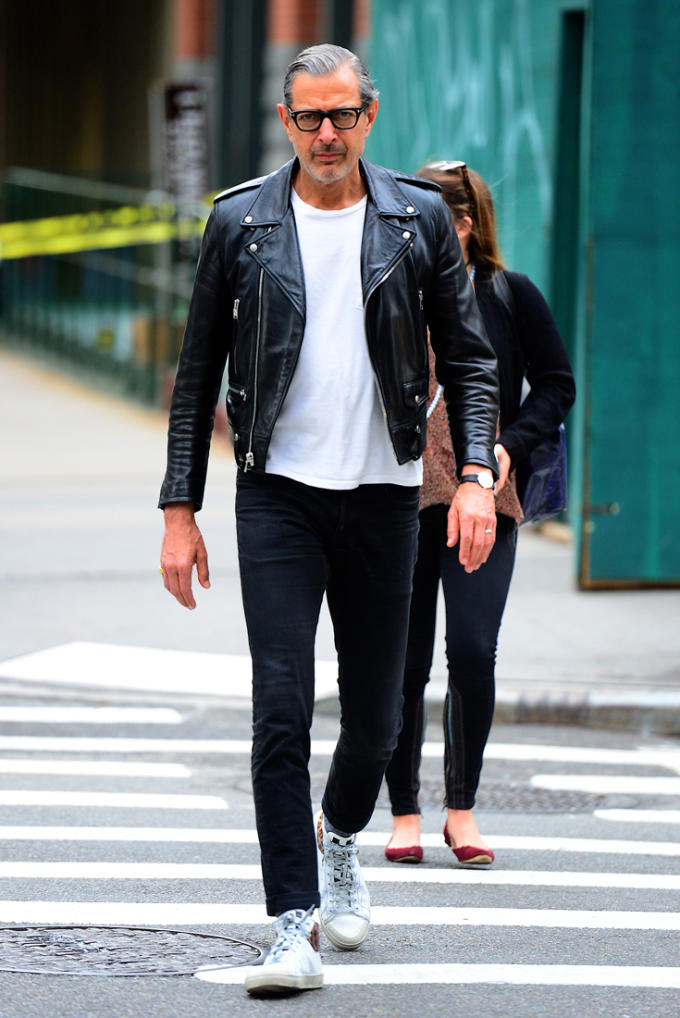 Seriously, his hotness is so off the charts it's kind of shocking, even for me, whose fangirldom spans over 20 years. He's always had a flair for simply wearing clothes well (look no further than his appearances in Nashville or Annie Hall for evidence), but the last few years have seen his sartorial game really kick into high gear. He's putting the "sex" in sexagenarian and proving with each on- or off-carpet look that—at 63 years old—he's aging so well famed wine critic Robert Parker is about to write him up.
He just became a father for the first time last year, but you won't find any busted dad bod happening here. Need a quick refresher of what that 60-year-old body looks like? I got you. At 6'4, Goldblum's tall, slim figure is an amazing canvas for clothing, and is especially suited to the rock-and-roll style of his favorite label, Saint Laurent. He is said to be a fan of other brands well-dressed guys love, including Lanvin, Acne, and Patrik Ervell. He's also been known to visit Los Angeles' streetwear staples like denim haven Self Edge and Undefeated, where a few of his purchases included a visvim Hawaiian shirt and Converse Chuck Taylors in a whimsical "sunflower" colorway.
Perhaps his greatest style strength is that he also knows what works for him and he goes with it: Stylist Andrew Vottero helped Goldblum pare down his closet and fill it with sophisticated, functional pieces that work in a variety of situations. Chances are, on any given day, you'll see him in some permutation of the same outfit. He doesn't follow the bizarre Hollywood trend of disposable clothing and isn't afraid to wear his same favorites time and again, namely Carhartt Work In Progress "Sid" pants (which he has in a bevy of colors), a couple of custom Nick Fouquet fedoras, and a moto jacket, Chelsea boots, and leopard-trim high-top sneakers, all by Saint Laurent.
While he knows the power of good basics, Goldblum also isn't afraid to take some risks once in awhile—this is a man, after all, who saved the world from both dinosaurs and aliens—and they always seem to pay off. Whether they are in the form of pattern-on-pattern, metallics, animal prints, or colored pants, he understands that fashion is supposed to be fun, and a reflection of your personality. Even the smallest quirks like exposed colored socks or his many statement spectacles are a perfect sartorial tribute to the trademark eccentricity that makes Goldblum so irresistible.
Most of all, this is a man who is never trying to be something he's not. He's 63 years old and wearing trendy labels like Saint Laurent and visvim, but it's not forced. He's just using fashion exactly as it should be—to act as the outward reflection of who he is on the inside. Speaking to GQ earlier this year on the subject of aging, Goldblum had so many awesome bits of advice about growing old gracefully that I feel like we should all bookmark this piece and read it when we are experiencing insecurities about the years ticking by. He said that he's never had plastic surgery or used Botox, and that "when you try to be youthful, it only makes you look older." Being cool and sexy has nothing to do with wrinkles or going gray. It's not about having great style, great hair, or a great wardrobe (though Jeff has all of those in spades). It's about embracing yourself and everything that comes along with it; even those things that might make you feel self-conscious. Jeff Goldblum is proof that just being yourself— even if you're an oddball—never, ever goes out of style.