The latest BAPE and Dragon Ball collaboration is long gone, but you didn't need a sold out notification on the brand's site to tell you that. When it was first announced, fans flocked to see what the duo had cooked up, and it was clear that what they were looking at was going to be snapped up quickly. But why? What it is about Goku that stirs something in the heart of a guy dressed in BAPE?
The image, like many things we remember fondly from our childhoods—Tang, Tamagotchis, maybe JNCO jeans—is drenched in nostalgia, buried deep in our hearts like a Diglett. And when nostalgia speaks, we tend to listen. One of the first brands to incorporate anime into its design was the now-shuttered Triumvir. The brand first worked with Capcom and created streetwear items emblazoned with the video game's characters in 2008.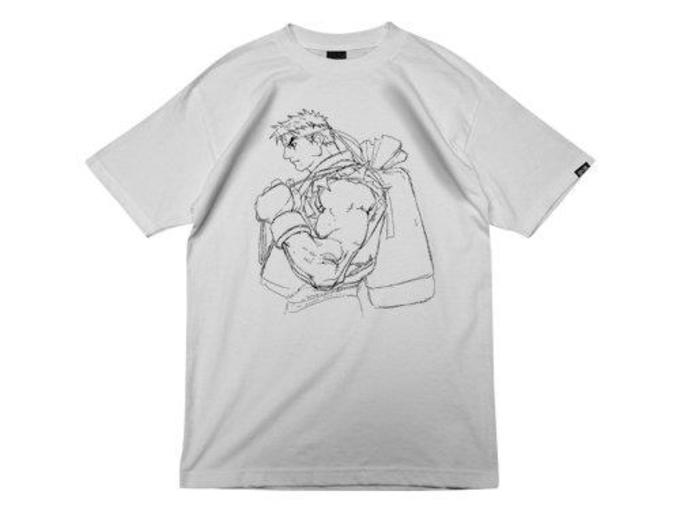 "For us, that generation, Street Fighter was just...you spent your money on it every day and became entrenched with that character, and then the whole culture of hanging around at the arcade, putting your quarter up at the arcade," Triumvir founder Brandon, who requested we refer to him by first name only, told Complex. "That was why I wanted to do Street Fighter so bad, because it was part of my lifestyle."
Fast-forward almost a decade and Brandon's sentiment is echoed by people who see a part of their childhood in Dragon Ball Z merging with their current interests in streetwear. "It's recontextualization of these things that you were into as a child now," WGSN's senior menswear editor (and former Complex staffer) Jian DeLeon says. "It's stuff you liked before coming together with stuff you like now—so, that's kind of cool."
The first notable crossover between anime and streetwear came back in the '90s when artist Jeremy Klein put Hentai-style drawings of women's body on Hook-Ups' skate decks. (Hook-Ups did not respond to requests for comment.)  The brand won over skaters by appealing to much more base interests. "It was cheesecake voluptuous imagery on skate decks," DeLeon said. "People were probably more attracted to that in the same way people would be attracted to a Betty Boop x Supreme bomber jacket."
"That was awesome—those school girls were awesome," Brandon concurred. While this may have been less about pushing anime into streetwear, it opened up the industry to this type of imagery and served as an introduction for both sides to one another. Klein just so happened to nail the timing when he debuted his Hook-Ups brand in 1994. Two years later, in 1996, Dragon Ball Z appeared in the U.S. for the first time on the FUNimation channel before eventually making its way to Cartoon Network and exploding in popularity.
Now, the kids who tuned into anime after school are all grown-up, creating brands and spending money on clothes. "That was just natural for us," Brandon said. "I watched Dragon Ball Z when I was younger, I watched other Japanese animes growing up, but like I said, it's just part of that generation. Anime was just a part of it."
DeLeon's explanation for the crossover between anime and streetwear is much more pointed—and you might want to avert your eyes here. "It's nerd behavior," he said. "It's a subcultural thing. There are always nerds that are into other things and as people become nerds about clothing, it's only natural that you'd see some of that stuff manifest into other references. You see the references get broader and broader to include anime stuff."
Streetwear brands historically rely heavily on bringing other, disparate touch points into their designs to define their viewpoint about what they think is cool. Supreme, for example, collaborates with Playboy, Betty Boop, the Yankees, and a whole museum's worth of artists. These are all ways for Supreme to inform its customer about what is worth exploring outside of skate culture and clothing.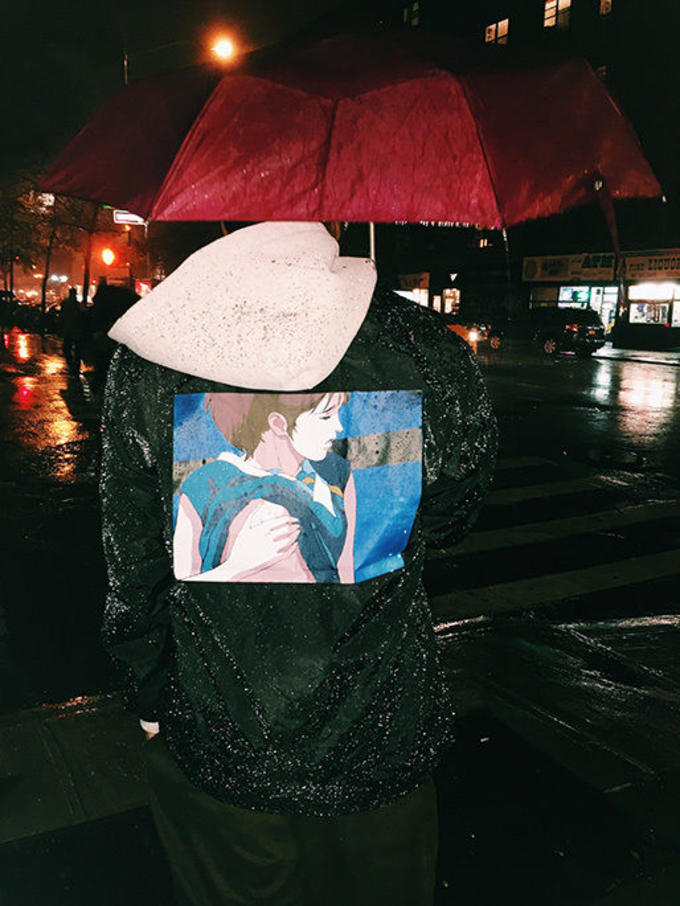 Triumvir was doing the same thing when it collaborated with Capcom, the company that owns and makes Street Fighter. "I can tell you this: It wasn't meant for profit," Brandon said. "It was just something where I said, 'Hey, I want to do it. Is it going to be received well? Who the f*ck cares?' It's Street Fighter, we have to, because it's part of my life. Street Fighter literally babysat me when my parents were out."
Brandon said that at the time, he and the rest of the people working at Triumvir saw the Street Fighter collab as a risk, but he had faith it would sell well. "Even though I know everyone around me thought I was taking a risk, deep down inside I was like, 'I know people will buy this,'" he said. "I was just thinking how many guys my age were influenced by that game."
Comments initially written about the collab prove that Triumvir touched a nerve with some people. "I only like this caz im a og streetfighter player," a Hypebeast commenter wrote.
Now, brands like A Bathing Ape, The Hundreds (with Hook-Ups no less), Supreme, and Mastermind have all released anime-themed collections catering to this audience, to success more or less across the board. The reason these might be even more successful than your run-of-the-mill collab is because it speaks to an audience that doesn't often get the attention it deserves.
"When there's some sort of nerd reference, it validates [fans'] own interests in that way," DeLeon explains. He also says that the proposition of any potential crossover in Asia is less at play here. "Japan is a radically different nerd culture," he explains. "I would think that this stuff probably hits more abroad than it does in Japan because there's such church and state. You have a lot of cool people there that don't want to be really associated with this stereotypically nerdy type of stuff."
We end up back at the nostalgia argument—which hopefully you remember well. Nostalgia is a powerful weapon; we've already seen brands, like Doc Martens with its Adventure Time collab, seize onto childhood themes for younger generations. Anime and streetwear is about people who remember watching these cartoons or playing video games as a child fondly. Fans and brands are now finding ways to bring back these warm fuzzy feelings in the form of 100% cotton.