Recently, we published an interview with Roc-A-Fella Records co-founder Kareem "Biggs" Burke on Complex Music, in which we spoke at length about the company's influential legacy. In that same sit-down we talked about what Biggs is up to these days. Turns out, he's picking up where he left off with Rocawear—his former label's clothing company—with his latest venture. Fourth of November is a clothing line spearheaded by Biggs, a childhood friend, and a brother and sister. The idea behind the company is an interesting one: Carlos Rodriguez and his sister were born in Ecuador to clothing makers who happened to meet on an Ecuadorian street that translates into "Fourth of November."
Carlos paints on the jeans by hand, then sends them out to the factory to be replicated. They also have a very dope raw indigo denim varsity jacket with a huge embroidered pelican on the back. Art is at the center of the brand, and they have events called National Artist Series to showcase their collection, using local artists as vehicles and their clothing as the medium. The line can be found exclusively at your local Footaction and the Fourth of November webstore. Below, Biggs speaks more in depth about his new line and the events he's planning around it.
Tell us about your new clothing line Fourth of November and how you got involved.
It was a situation that was put in place already. A childhood friend of mine, Radu, had a situation where he had partnered with Footaction to do some things and was looking for the right partners. Me and him grew up together and worked together at Rocawear. It's funny because I told them, "Look I'm not 100 percent sure I can do this, but I'm 99.9 percent." The next day we went to Greenwich, Conn. with a best friend of mine and we kind of put the company together and shook hands. It was actually a week before Nov. 4 and the company got formed then.
Talk about the designs. There's a unique story behind them, right?
The designer Carlos Rodriguez, his sister—who's the head of production and a partner in the company as well—their parents were born in Ecuador on a street called Fourth of November, so they wanted to pay homage to that. It's a love story that created the art and design behind Fourth of November. We also incorporate the pelican in many of the designs because it's a symbol in Ecuador.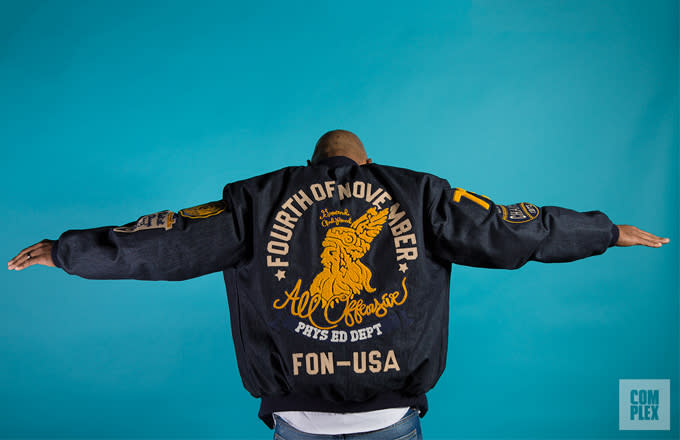 With your experience with Rocawear, this opportunity was a no brainer.
Back then everything was for the first time. This is the only thing I got back into that I had some experience doing before. But not only that, my friends and my partners have more experience than me because they've been doing it for 20 years.
Is there a difference from how the clothing business is now versus back then?
It's definitely different. When we got into fashion before, there weren't a lot of brands out there in that space—only about five or six. Just like the music, now every corner you can go on and somebody has a label. Same thing with the fashion, there are a bunch on independent companies now. As we opened those doors, a lot of people jumped through thinking it was easy. But it's a lot of hard work.
You have a deal with Footaction. How are the clothes moving over there?
We're having more success than we did with Rocawear this early on, which is a surprise to me. They're selling so fast that we're having trouble keeping up with the demand. We're even seeing stuff on eBay for sale higher than retail.

Tell us about the events you're planning.
We want to do an art series. Fourth of November is love, art, and design. Carlos does everything by hand in his garage before it's replicated in the factory. We want that process to show through the events we're planning throughout the country. We collaborated with the Eastman Collective to help get local artists involved. The plan is to give them a piece of clothing and they'll paint on them, and then they'll explain what inspired them. We'll have the Fourth of November collection on display as well. At that same event, we'll have a build out of the Fourth of November collection so people can get a taste of the clothing. When they walk in, it'll be an art-curated, cool mixer type of event.
Where are these events going to be?
We had one in New York, we had one in Atlanta, the next one is going to be in L.A. some time in May, then we're coming back to New York. On June 25, we're doing Fourth of November presents Reasonable Doubt 20th Anniversary.

What else do you have going on?
Me and my partner Chip have a non-profit. It's about helping prisoners. With me being in jail, I got to know guys on a different level by going through it myself. Right now we have a group called the New Canaan Society that we partnered with. We started NCS-Inside, where we're going to fellowship the men inside and connect them with members on the outside. As the men transition into society they have relationships that are already built that can help support them whether its a job, whether its getting through tough times, etc. We hope we can curve the recidivism rate with this, because we think the system is broken. So the company isn't just about the clothing business—we want to help people in everyday life as well.