Supreme doesn't really need to advertise anymore—even its campaign posters end up on eBay for hundreds of dollars now. However, the legendary New York street brand was once an up-and-coming shop in need of generating buzz. These vintage ads from 'Preme show that it always had an eye for design and knew how to create a cool brand image. 
We found (shout out to the black hole that is the Internet) one of Supreme's earliest ad, from 1995, which depicts an X-ray of skateboards with stickers of brand's box logo on them. The ad appeared in an issue of Big Brother, a publication that was vital in bringing skateboarding culture into the mainstream. Artist Sean Cliver was one of the founding editors of the magazine and ended up collaborating with Supreme over a decade after this advertisement ran. The same year the X-ray ad ran, Supreme released another featuring skater Danny Supa associating themselves with the figure the same way the brand has gone on to use celebrities like Neil Young, Kate Moss, and Lou Reed over the years. 
In light of this finding, we decided to dig up a few more vintage Supreme ads you may or may not have ever seen. 
This ad, which ran the very same year Supreme was founded, appeared in the June 1994 issue of Thrasher. Just a couple months later, Supreme ran another ad in the September 1994 issue of Thrasher. Here's the 1995 ad featuring Danny Supa. A 1996 ad featured the late skater Justin Pierce alongside Peter Bici, Mike Hernandez, Giovanni Estevez, and John Keeffe. This collage style ad from 1996 features Pierce and the inmate ID of fellow skater Harry Jumonji's time on Rikers Island. Supreme teamed up with Ecstatic, the short-lived design studio that also worked with Stussy, Steven Alan, and Vibe, during its 2000 to 2002 run. The following two prints appeared in the Fall 2000 issue of Fader. Another ad from Ecstatic that must have been too risqué even for Fader. Travis Bickle, the character from Taxi Driver who appeared in Supreme's original collection, stars in this ad again designed by Ecstatic. Here's a similar style Supreme ad featuring Notorious B.I.G., who Supreme would go on to immortalize on a T-shirt. Supreme turned to Studio 191 for this 2003 print.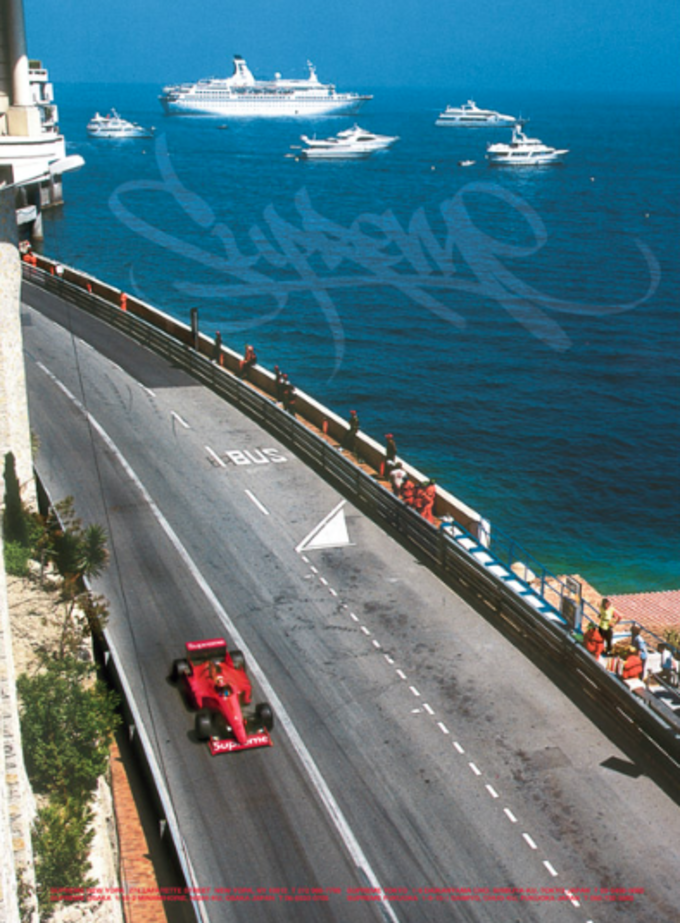 In the words of A$AP Rocky: