For a new exhibition that opened Sept. 27 on San Francisco's Alcatraz Island, "@Large," Ai Weiwei created seven new installations that come in conversation with the prison's wrought history. Weaving through the haunting space, Ai's powerful pieces explore themes of imprisonment, freedom, and justice. One of these installations is a rainbow dragon that snakes across the ceiling of a building once used for prison labor. Look closely at the black eye of the dragon, and you may see another flying creature—the Twitter bird.
Katie Jacobs Stanton, who does Global Media at Twitter, first thought she saw the company's logo in Ai's piece:
Molded after traditional Chinese dragon kites, the piece, With Wind, references 30 nations who have restricted their citizens' human rights and liberties. The dragon's vertebrae are emblazoned with quotes from political dissidents like Edward Snowden, Nelson Mandela, and Ai Weiwei himself. But what does this message of resistance have to do with Twitter?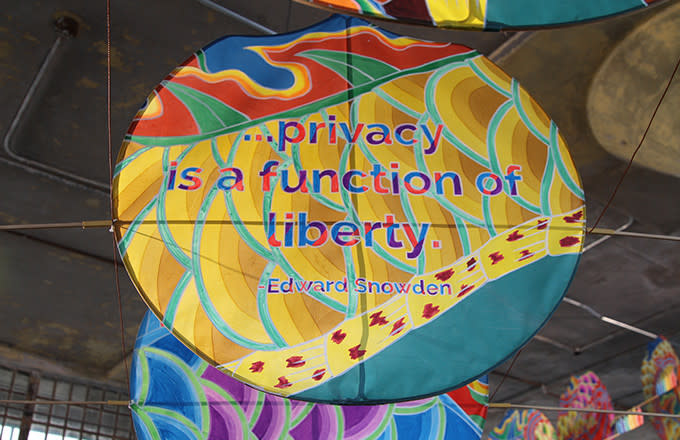 Ai Weiwei has made a name for himself as an activist just as much as an artist. His outspoken opposition to the Chinese government has resulted in physical confrontations as well as the confiscation of his passport. Because he unable to leave the country, Ai has not been able to visit "@Large" or other recent exhibitions of his work at the Brooklyn Museum or Berlin's Martin-Gropius-Bau. In order to stay connected to his fans and supporters, Ai has taken his message to Twitter.
Someone who understands the rallying power of the Internet and social media (early in his career, Ai spread his beliefs on a blog before it was shut down), Ai uses Twitter to express his issues with Chinese authorities and to point out corruption within the government. In Alison Klayman's 2012 documentary, Ai Weiwei: Never Sorry, the artist spouts the mantra, "Never retreat, retweet."
Ai has also uses Twitter's hashtags to draw attention to his cause. Ai's #FlowersForFreedom campaign lets him speak out against the government's ban on his freedom to travel. Each day since his passport was confiscated, Ai has placed flowers in basket attached to his bicycle outside of his studio in Beijing as a form of protest. Ai's followers show their support for the artist's plight on Twitter, posting their own #FlowersForFreedom images, which the artist re-tweets. In addition, AICANTBEHERE is a social media-driven movement where users post photos with the message "Ai Can't Be Here," raising awareness about Ai's inability to leave China.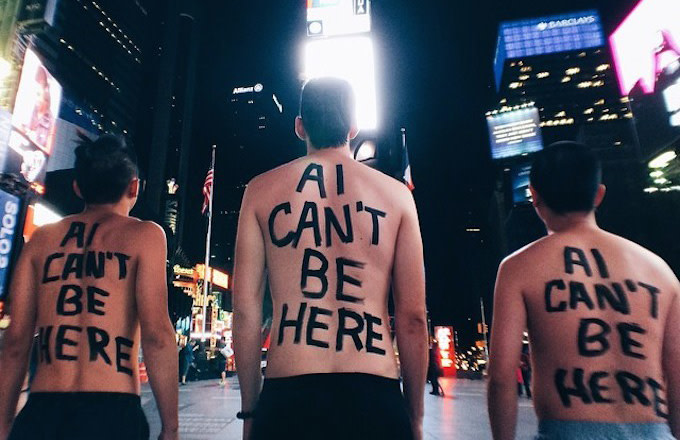 Twitter recognizes how Ai has harnessed the power of their product. An article on the women who work at the company in Vogue mentions, "A photograph with a quotation from Ai adorns the wall in Twitter's New York office: 'What is freedom of speech, Twitter is.'" If Twitter is such a powerful symbol for Ai, it makes sense that he would bring the cheerful, blue bird behind the bars of Alcatraz.