Brian Flores' Attorneys Suspect Roger Goodell's Memo Was a 'PR Ploy'
Brian Flores' lawyers responded to the NFL commissioner's statement about diversity, and say they believe his commitment to change is disingenuous.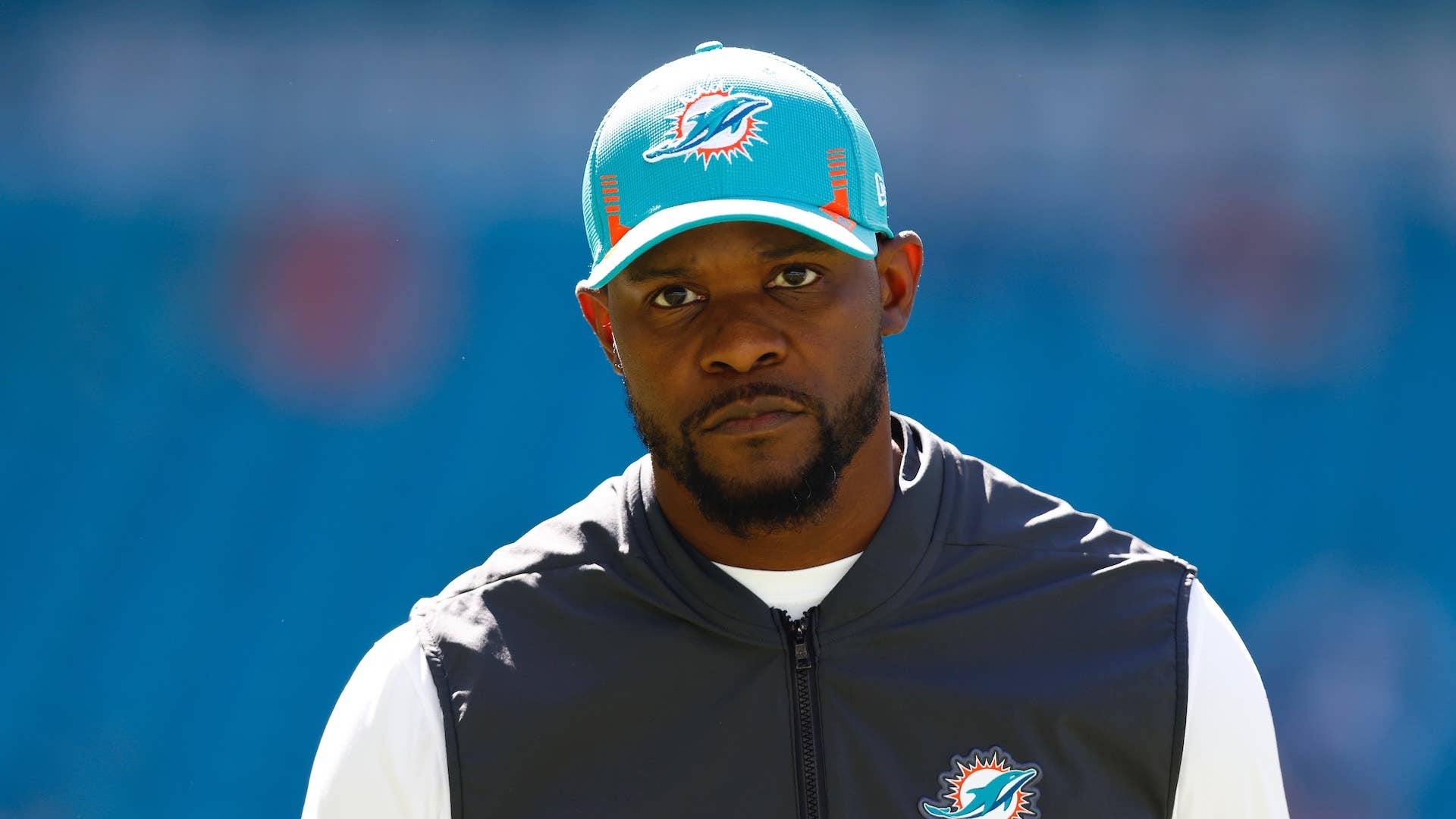 Getty
Image via Getty/Michael Reaves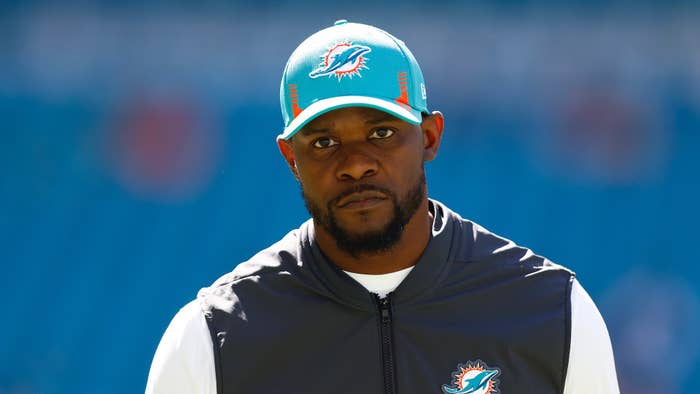 Brian Flores' legal team is questioning the NFL's commitment to diversity and inclusion.
The former Miami Dolphins coach is suing the league and three of its teams—the New York Giants, the Denver Broncos, and the Dolphins—over racial discrimination within their hiring practices. Flores filed the class-action lawsuit in federal court on Tuesday, weeks after he was fired by Miami. According to his complaint, Flores had secured multiple interviews for head-coaching positions but later realized those meetings were "shams."
Flores says shortly before he was scheduled to interview with the Giants, Patriots head coach Bill Belichick mistakenly informed him that New York had already selected a head coach. Flores also claims that when he met with the Broncos, the executives—including general manager John Elway and CEO Joe Ellis—looked as though they had been "drinking heavily the night before."
These instances led Flores to believe the interviews were just a way for the teams to abide by the Rooney Rule—a nearly 20-year-old NFL policy that requires teams to interview minority candidates for head coaching positions.
In wake of the lawsuit, NFL Commission Roger Goodell sent a memo to every team in the league. Goodell admitted that the lack of diversity in the coaching ranks was "unacceptable," and that the league will "reevaluate" its policies to ensure racial equity.
"Racism and any form of discrimination is contrary to the NFL's values," the memo stated. "We have made significant efforts to promote diversity and adopted numerous policies and programs which have produced positive change in many areas, however we must acknowledge that particularly with respect to head coach the results have been unacceptable. We will reevaluate and examine all policies, guidelines and initiatives relating to diversity, equity and inclusion, including as they relate to gender."
But Flores' attorneys aren't buying it. Hours after Goodell's statement was released, Flores' lawyers Doug Wigdor and John Elefterakis expressed skepticism over the commissioner's claims, and said they suspect the memo was nothing more than a "public relations ploy."
"The statement made today by the Commissioner is, on the surface, a positive first step, but we suspect that this is more of a public relations ploy than real commitment to change," they wrote. "For too many years, the NFL has hidden behind the cover of foundations that were supposed to protect the rights of Black players and coaches, all while letting systemic racial bias fester in its front offices … The NFL is now rolling out the same playbook yet again and that is precisely why this lawsuit was filed."
Flores is seeking unspecified damages from the defendants, which include John Doe Teams 1-29.