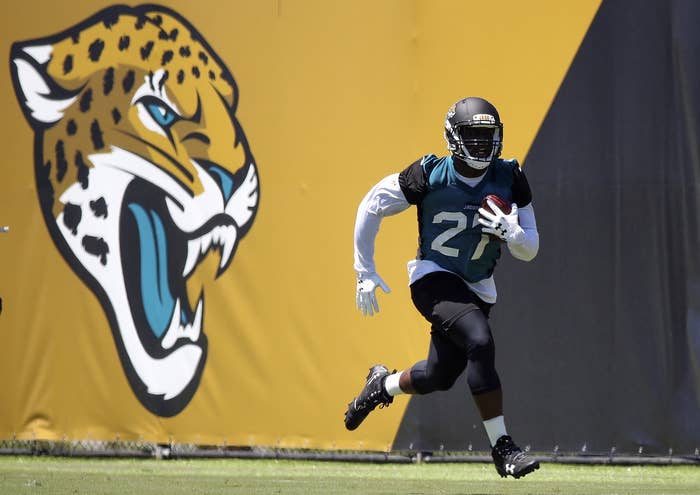 Leonard Fournette has experienced facets of life you wouldn't wish upon anyone. Despite being stranded on a bridge for four days and five nights and a close encounter with death during Hurricane Katrina, Fournette's aspiration of reaching the highest level of football wasn't deterred. Twelve years after Katrina, the running back found himself walking across the stage at the NFL Draft, ready to greet commissioner Roger Goodell as the first-round pick of the Jacksonville Jaguars.  
"Hurricane Katrina made me who I am despite of everything I went through in my life," Fournette said. "Going through that and now being a top five pick is a blessing. It was only a matter of time before things really came my way."
Fournette wanted his past experiences to fuel other aspiring football players, just as they did for him. So he partnered with MET-Rx, a company focused on sports nutrition, to give back to Raines High School in Jacksonville, Florida. They took one of Fournette's old trophies, along with 700 others, and melted them down to transform them into a set of free weights and kettlebells. After that process was complete, the fourth pick of this year's draft delivered the weights to the football team himself. Complex caught up with the rookie to discuss his donation to the community, suiting up for the Jags, and that time Coach Miles tried to get him to eat grass.  
(This interview has been edited for length and clarity.)
How eager are you to finally suit up in full pads for the first time in training camp? Why?  
I'm very eager. It's going to be fun. It's going to be very fun to go up against those guys especially guys like Calais Campbell who I love. He's my mentor. I'm learning from him each and every day. It should be exciting.
The Jaguars are a franchise that's been in turmoil for a while. They haven't been to the playoffs in 10 years. What do you bring to the table that'll help this team change direction?
The team is filled with great talent, it's not just me, but I have to play my part. Whatever they need me to do, that's what I'm going to do to the best of my ability. That's it. I'm leaving everything in God's hands. I've been working hard and hard work pays off. We're going to see it when the season comes.
How and why did you get involved with MET-Rx?
We kind of found each other. I guess a lot of things are just meant to be. We're family now, man. It's a wonderful organization to be a part of. I thank God for me joining them and MET-Rx looking for me to offer an opportunity to represent them.
You had one of your old trophies melted and molded into kettlebells that were given to a high school in Jacksonville. First of all, was it tough to see your trophy go, and what's it like knowing those kids are using your past achievement as something to better themselves so they can reach their own goals?
It wasn't tough at all. I can't remember a lot of the trophies I have because I won them when I was 5 or 6 years old. My trophy is going to good use at Raines. There's hard work in those trophies and I believe they're going to be used 100 percent so I don't feel bad at all.
Is there a symbolic message you're trying to send to the kids?
Most definitely—hard work pays off. I really wanted to give back to them and to be there to show them that you can't take anything for granted. If you're a kid and you have the talent and ability to be great, then why not do it your whole life or a whole year playing football? It's going to pay off somehow, some way.
Now that you're a multimillionaire, do you have plans to impact your hometown of New Orleans in any way?
LF: Most definitely, in due time. I'm giving back right now, but you said "multimillionaire," I'm not really that yet [laughs] but when I get that money, I'm going to make sure I give back to my neighborhood and to everyone out here. You see all these areas doing it in Florida and Texas. New Orleans is going to be the next up and coming.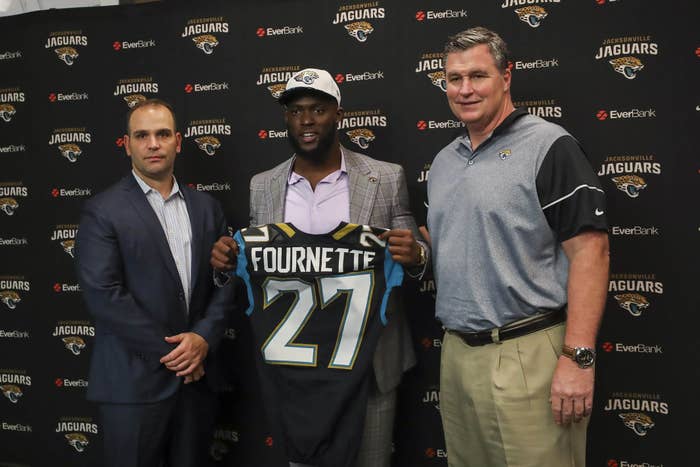 You've been through a lot in life. What's that feeling like to go from Hurricane Katrina survivor to a top 5 pick in the NFL Draft?
Hurricane Katrina made me who I am despite of everything I went through in my life. From being on the bridge for four days and five nights, seeing all the dead bodies in the water, and moving to Texas. Going through that and now being a top five pick is a blessing. It was only a matter of time before things really came my way. I always had the ability, I always kept God first, I knew where I was going to be where I am today.
You're signed to Roc Nation; what did you think about Jay Z's 4:44 album, and in your opinion, where does it rank compared his other albums?
I mean to me, it's number one without a doubt, man. He's giving you the blueprint throughout his whole album. He bought artwork for two million and a few years later, it's worth eight million. He's just switching the game up.
What does your pregame playlist look like?
Oh man. I got Shy Glizzy, Meek Mill, Ralo, Jay Z, the old Jadakiss, and I'll probably have two church songs in there.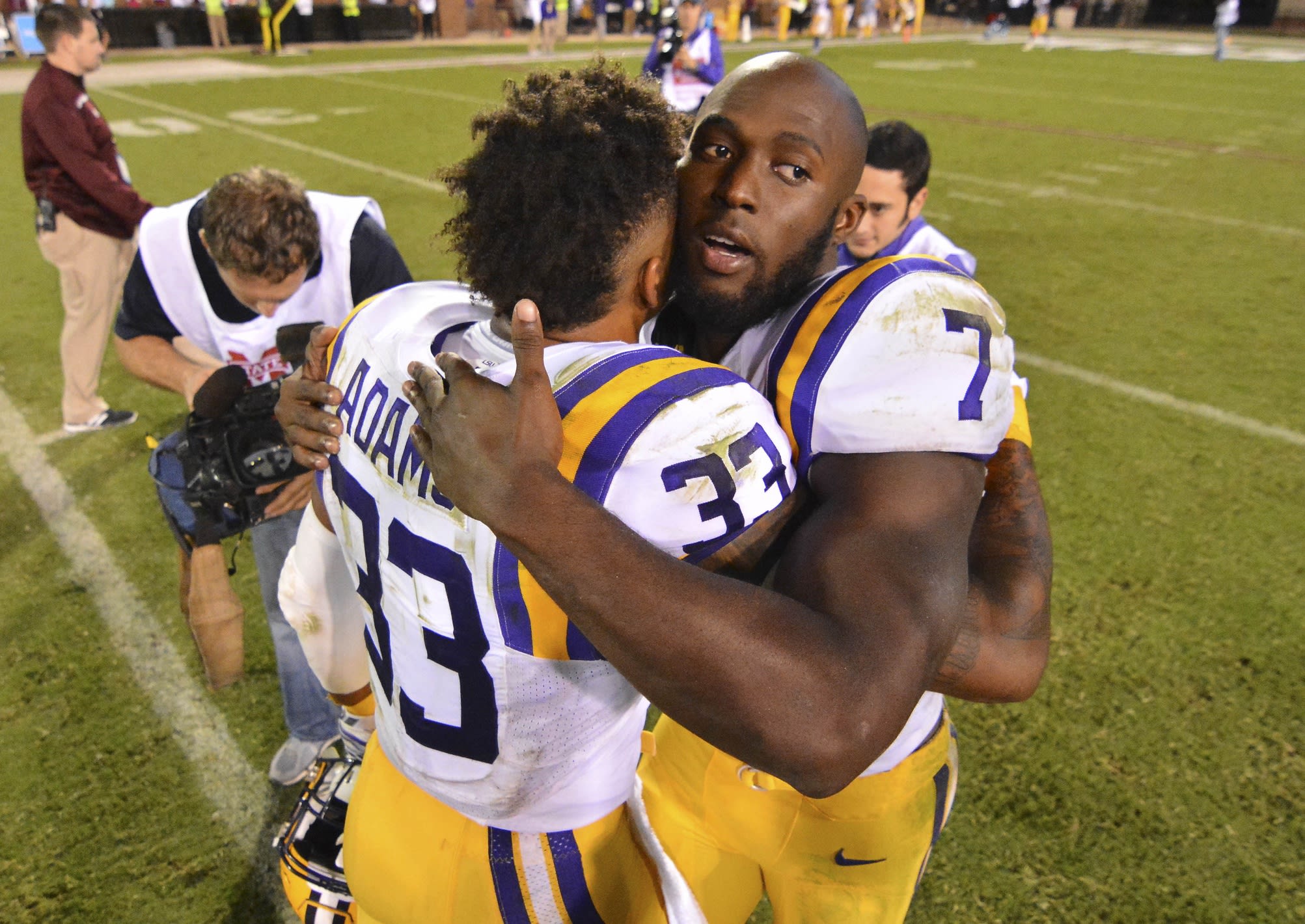 Is there any defender you're excited to go up against on the next level, a former teammate or friend?  
Aw man, the only person is Jamal Adams (former LSU and current New York Jets safety). It's going to be fun going against Jamal.
As an SEC guy, what do you think about all the ACC coaches who are claiming the ACC is the best conference in college football because there's parity?
The NFL starts with the SEC. The number one guy that was taken (in the draft) was an SEC guy. That says enough right there.  Everyone has their own opinion.
LSU has had a great lineage of NFL players with guys like Odell, Patrick Peterson, Jarvis Landry. Is there a brotherhood among LSU guys?
Most definitely. Odell is from New Orleans so we have that bond. Jarvis has been around forever, man. We all grew up to be brothers and love each other. They motivate us with the amount of things they were doing when we were in college and they were in the NFL. You are around those guys so much, so to see them do that you feel like you can do the same.
Obviously Les Miles was fired last year, what's your funniest Les Miles story?
Coach Miles is always funny. He tried to force me to eat grass and was telling me it was good. We were at practice one day and I was sitting down and he was like, "Man, you should try it," and I was like, "I'm good." I'm not a goat, I don't eat grass.