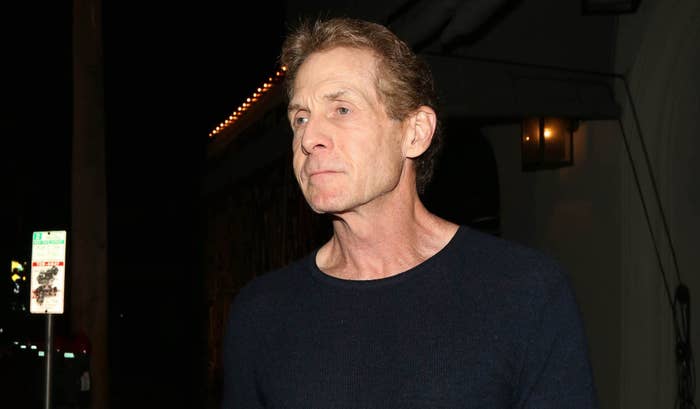 UPDATED 8/16, 11:59 a.m. ET: While on Undisputed, Skip Bayless addressed his Bronny James tweet and said the 17-year-old is poised to become a "focal point" on the FS1​​​​​​​ show and elsewhere. 
"For the record, I've always been extremely positive when it comes to Bronny James. In large part, in the biggest picture…this young man has always stood so strong underneath the burden of the name he was given," the 70-year-old said Tuesday.
Bayless continued, "It shocked me last night when my tweet exploded because I wasn't criticizing Bronny, I was merely commenting on a young man who is going to be a focal point for this show and to everybody else from this point forward."
See original story below.
Bronny James posterized an opponent with apparent ease and lit up Twitter in the process, with his dad at the front of the pack.
"OH MY GOODNESS BRONNY!!!!!" LeBron tweeted, throwing in 10 screaming emojis for good measure.
LeBron James Jr. and his 15-year-old brother Bryce James are with the California Basketball Club on the AXE Euro Tour right now. Toward the end of the second quarter on Monday, while 12 points up on the U-18 French Select team, Bronny "quickly took [the ball] from one side of the court to the other before defenders had time to properly react," per CBS Sports. As the footage shows, this led to an outrageous dunk over a defender and an instant candidate for the game's No. 1 highlight. (CBC wound up losing 97-85, with LBJ Jr. racking up a game-high 25 points.)
Skip Bayless, at 70 years young, opted to troll 17-year-old Bronny and was immediately hit with blowback.
"Hey, Bronny...impressive," the eternal LeBron hater and Fox Sports talking head tweeted. "But your dad would've dunked it left-handed. You sure got away with it, though."
NBA fans and players alike were quick to snap on Skip—who just got called out by Russell Westbrook on Twitter in June for calling him "Westbrick"—with all manner of "generational hater" burns and more. Get a look at a handful of the best tweets below.