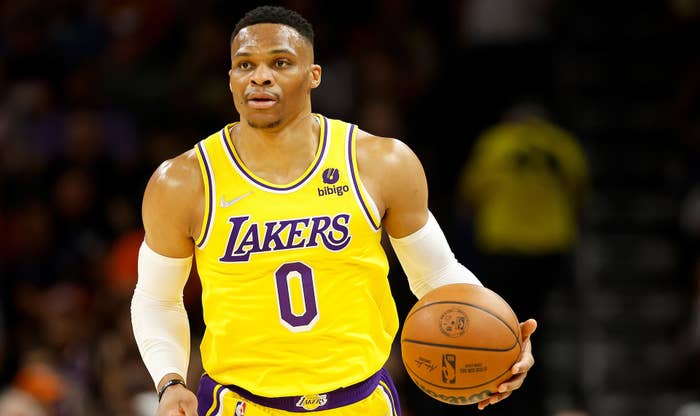 Russell Westbrook has had enough of Skip Bayless' trolling. 
Westbrook took to Twitter on Friday to clap back at Bayless after the Fox Sports personality once again referred to the Los Angeles Lakers point guard as "Westbrick."
During the NBA Draft on Thursday, Skip threw shade at the Lakers for drafting Max Christie, a former Michigan State guard who's a bad three-point shooter.
"Lakers acquire a 2nd-round pick, take Michigan State's Max Christie, who shot only 32% from 3 last season," Bayless tweeted. "Perfect! He'll fit right in with LeBron and Westbrick."
Nearly 24 hours later, Westbrook hopped on Twitter to respond, writing, "Yoooo… watch your mouth. Don't say anything here you wouldn't say to my face."
Westbrook's reply arrives just a few months after his wife called out Bayless on Twitter.
"You've got to stop calling people out of their name," Nina Westbrook responded to a tweet in which Skip referred to her husband as "Westbrick."
"You are very disrespectful and a bully," she continued. "This is why so many young people think it's okay to exhibit this type of behavior. Social media has become such heinous place because of people like you. My name is Westbrook."
She added, "I'm tired you you @RealSkipBayless calling my husband out of his name. It is extremely childish. That is my name as well, and many other peoples name. You're disrespectful, and I'm extremely offended by your behavior. You should apologize."
See Nina's tweets below.