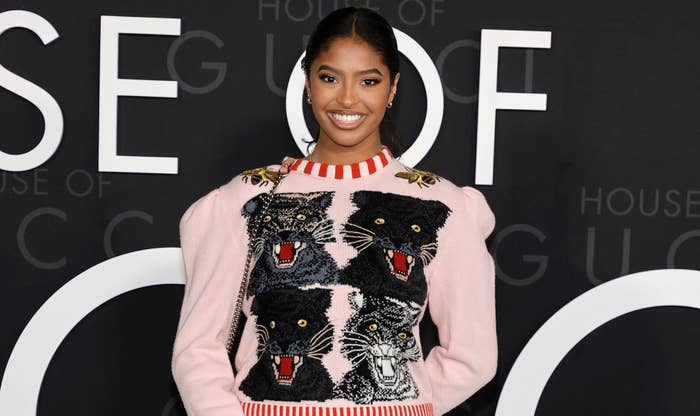 UPDATED 12/14, 9:20 p.m. ET:TMZ reports Natalia Bryant has been granted a three-year restraining order against 32-year-old stalker Dwayne Kemp.
Kemp must stay at least 200 yards away from Bryant, and cannot buy firearms. He has been given 24 hours to surrender any weapons currently in his possession.  
The ruling comes after Natalia delivered a chilling testimony today where she expressed concerns about what Kemp is capable of. Bryant mentioned one "unsettling" instance in which Kemp reached out to her eyebrow beautician, and tried to pay for recently completed services. 
See original story below. 
Vanessa and Kobe Bryant's eldest daughter Natalia reportedly filed for a restraining order on Monday against "a stalker with a criminal history involving guns," TMZ writes.
The outlet reports that Natalia Bryant has informed authorities about a man named Dwayne Kemp, 32, who tried contacting her two years ago, when the now-19-year-old was underage. "She says he's under a delusion they have a romantic relationship," per TMZ, which got a hold of court documents. "Natalia says she has never met or otherwise had contact with him."
Kemp is alleged to have recently appeared at Natalia's USC sorority house and a class she's taking.
The court docs indicate Kemp messaged Bryant expressing his desire to have "a Kobe-like child together," sending an image of her late dad and a heart with the words, "Thankful For Him Birthing You, Hopefully We Can Birth Him…'Kobe.'"
TMZ says Kemp has been arrested and/or convicted for "at least four crimes, including one involving firearms," is close to legally obtaining a new gun, and has also "threatened to buy both an AK-47 and a fully automatic Glock," per the filing.
While Natalia Bryant is waiting on the judge's approval, the LAPD is "involved in the case and clearly wants a restraining order in place."
In August, a jury ruled in favor of Vanessa Bryant in a lawsuit against the L.A. County Sheriff's Department and L.A. County Fire Department pertaining to graphic photo leaked from the site of Kobe and 13-year-old daughter Gianna's fatal helicopter crash, where six more individuals also perished in January 2020. 
Shortly after the court victory, Bryant announced she would donate the $16 million she was awarded to the Mamba & Mambacita Sports Foundation.