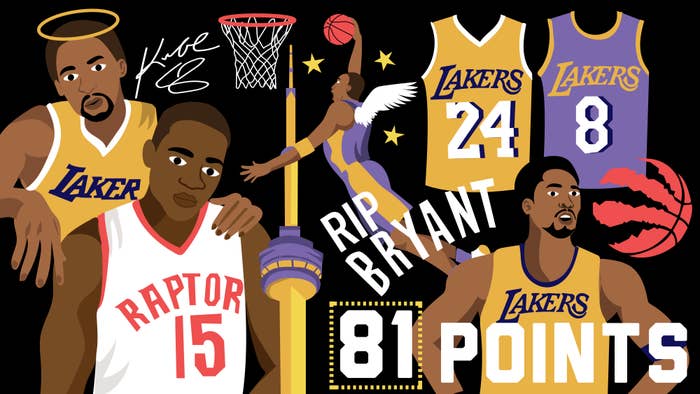 Vince Carter checked into Tuesday's game between the Toronto Raptors and Atlanta Hawks with 2:13 remaining in the first quarter to an exceedingly warm welcome. The eight-time All-Star started receiving ovations from Raptors fans (again) beginning five years ago—the team's 20th anniversary—when he represented the Memphis Grizzlies. That moment brought him to tears as he gazed up at the jumbotron and was reminded of all the spectacular plays he made during his heyday.
Tears and memories have been the theme of the week in the NBA following the tragic passing of one of their greats, Kobe Bryant, and his daughter Gianna, along with seven others. Those who gravitated toward the Los Angeles Lakers star's magnetic pull have been forced to confront the realities of life and its preciousness.
Bryant was the rare star who transcended sports and infiltrated pop culture, leaving an indelible mark all across the world. And perhaps that's why fans in Toronto, Canada, felt the need to show that they had truly let go of the way things ended with Carter, showering with him with huge cheers the first chance they got. They knew the Hawks would be returning on April 10 for what should be his final game; they knew there would be a video tribute later in the game since the Raptors have recognized former players and Canadians with every opportunity during their 25th anniversary season. But if the sad demise of Bryant has taught us anything, it's that there is no reason to wait for tomorrow to do what can be done today.
"He was a star, he was elite, he was one of the best," Carter said. "So, regardless if he played for your favourite team or not, you had an appreciation for him. It was like when Michael Jordan would come to town. Obviously, there were teams that hated him and wouldn't dare wear a Kobe jersey—Sacramento, like Michael Jordan and Detroit, or maybe even Boston—but you still respected him for his drive and for his willingness to be the best and to try to win by any means."
It wasn't like, 'Ah man, I gotta play Kobe.' It was more like, 'I better be ready for Kobe or my job might be blown up.'
In 32 games against the Raptors, Bryant averaged 27 points—his third-highest scoring average against any opponent—to go along with six rebounds, 5.4 assists, and 1.4 steals. His inextricable links with Toronto stem from his legendary 81-point performance and his final All-Star Game, the first-ever game hosted by the league's only non-American city. When the greatest showman the league had to offer brought Showtime across customs, games at what was then the Air Canada Centre saw fans with Bryant jerseys enter in droves through the turnstiles, wanting to see what was once a dream matchup between Carter and Bryant, the two heir apparents to Michael Jordan's throne before Carter's exit made Kobe and Shaq the main event. The hopes of Raptors fans usually went something along the lines of: I hope Kobe scores 50 and the Raptors win.

"I can recall games here where we're just going back and forth with him," Carter recalls. "Especially in the early years where we were, I guess, three years removed from being teammates in AAU basketball. So, competing against him, and his Laker teams were dominant, and so it was a challenge for us to even compete. It was something special and, obviously, to battle him head up was what it was all about, man. He was one of the elite players, and, obviously, his drive. It wasn't like, 'Ah man, I gotta play Kobe.' It was more like, 'I better be ready for Kobe or my job might be blown up.'"
Just a few seasons after Carter was traded to New Jersey, on January 22, 2006, Bryant put plenty of Raptor careers on the line. Toronto held a 14-point lead at halftime in the house that Kobe built, employing a zone defence that was predicated on letting Bryant get his—he had 26 points after two quarters—but winning the game. But then Bryant went into that zone: that rarified air that only the elite of the elite seem able to summon. Fifty-five second-half points later, the Black Mamba swiftly yet silently led the Lakers to a comeback victory. Eighty-one points and an 18-point win. It was the only time he crossed the 50-point plateau against the Raptors.

"If he would have been taunting in any way, shape or form, it would have all went different," former Raptor Jalen Rose, who claims he was on the receiving end of "a healthy 19," told ESPN in 2017 as he recalled the game. "When you're going against a guy like that, there are gonna be historic nights… and it's not like Luke Walton scored 20 on me—like, if that would've happened, I would have buried my hand in the sand."
The late Rob Babcock, general manager of the Raptors at the time, was fired four days later. Carter, who requested Babcock to trade him in 2004, breathed a sigh of relief he wasn't around for that historic night.
"That's the first thing: I was like, I'm glad I missed that," Carter said. "You know, and I remember talking to Jalen [Rose] and Mo Pete and obviously seeing some of the game, because I had just got traded but I still watched them play, and I still kept in contact with the guys. And just hearing and obviously watching and just seeing. You know, it's easy when you're sitting at home, watching on TV, like, just double team. But if you go back and watch it, they were trying to send double teams, and when a guy's in a rhythm like that... I mean, I can't even tell you what a rhythm like that is like]. I've never scored 81 points in the game."
Fortunately for Canada, plenty of its children did watch that and many other spectacular performances by Bryant. The Carter Effect is well documented, but Jamal Murray participated in Bryant's invite-only camp at the Mamba Sports Academy over the summer, R.J. Barrett said he wants the Maple Mamba nickname that was affectionately given to him—for his competitive spirit—to be discontinued, and the ever-fashion conscious Shai-Gilgeous Alexander wore a vintage Bryant No. 8 jersey to the arena.
"I just wanted to pay homage," Gilgeous-Alexander said after his Oklahoma City Thunder defeated the Dallas Mavericks. "He's a guy I looked up to growing up; a lot of guys in this league look up to him. He's done wonderful things for this game."
The Raptors paid homage with a classy tribute before the game that culminated with 24 seconds of silence in honour of the number he wore as a player. On the day of Bryant's passing, the iconic CN Tower that displays an array of colours on a nightly basis was seen in only purple and gold.
Time is often referred to as a social construct, and in moments like these, we expand its meaning with just how lucky we can be to have each day that would otherwise just go by. The moments Bryant provided over the course of his 20-year career were always going to live on forever, but now, everyone—including Canada—wants to hold on just a little bit tighter.