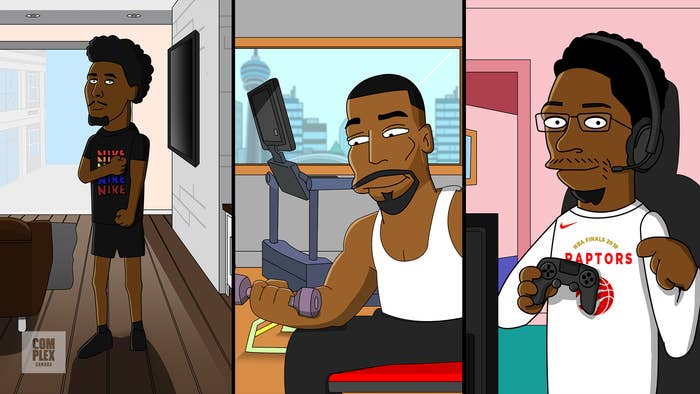 For a team as unselfish as these Raptors, self-isolation has had to be difficult. Having played their most recent game against the Utah Jazz (whose Rudy Gobert and Donovan Mitchell both tested positive for COVID-19), Toronto's players, coaching, and medical staff—all the way to media that travelled with the team—had to undergo testing for the coronavirus and quarantine themselves immediately.
We are all creatures of habit, and the Raptors players are no different. Once the NBA season begins, it is a steady diet of practices, shootarounds, games, flights, and short hotel stays. Robbed of all that, they've been forced to be creative with how they spend their time, and Serge Ibaka led the way.
Here's the best of what we were able to see via social media of what exactly the Raptors got up to.
Rondae Hollis-Jefferson
Like most of us, Rondae's first thoughts went to what governments would be doing about people's financial situations.
For those who don't know, though, Rondae LOVES to dance. You can find him dancing on the beach, at the club, on the bench after a highlight reel play, sometimes even bringing some funk to his own finishing at the rim. So, why should it be a surprise that Rondae got his groove on at the crib, too?
With self-isolation now over, Rondae has now transitioned to looking to get some fresh air on a bike.
Jon Lee
While you might be more familiar with the name Alex McKechnie, Jon Lee also plays a vital role in keeping your favourite team healthy as the strength and conditioning coach. Jon used his spare time to issue a challenge to everyone out there: the Raptor Iso Challenge.
The challenge itself consists of three rounds with exercises ranging from push-ups to burpees to jumping jacks to squats. Are you up for beating Jon's score of 271? Go ahead, give it a shot.
Fred VanVleet
And the award for most wholesome quarantine goes to Fred VanVleet. Presumably, after testing negative for COVID-19, Fred was able to be with his family and is making the most of the time he can now spend with his girlfriend Shontai Neal, daughter Sanaa, and son Fred Jr. instead of busting his tail on the basketball court.
Him re-enacting chasing Steph Curry around in the NBA Finals with Sanaa is as cute as it gets.


Terence Davis
VanVleet's protege, meanwhile, hasn't been on the healthiest of diets during the quarantine and enjoying some donuts, but I think we can cut him some slack during these troubled times. The vet who has spent the most time trying to make sure the rookie has some good habits instilled in him, Ibaka, wasn't having any of it, though.
Oshae Brissett, Malcolm Miller
Like a lot of us, Mississauga boy Oshae is playing video games all day, errday. When he's not doing that, he's making TikTok videos showing what life might have been like in the Brissett household back when he was a child.
Malcolm Miller is a huge gamer, too, openly challenging anyone who wants to come at him on Switch for Super Smash Bros.
If you'd rather just watch, you can just follow him on Twitch for his latest streams.
Kyle Lowry
Kyle, while maintaining good social distancing standards, has been pestered on a daily basis by phone calls from Serge Ibaka, at least based on the evidence of one of Ibaka's How Bored Are You? episodes.
He just turned 34, and one can expect he's doing everything in his power to ensure his body continues to age like fine wine.
Serge Ibaka
Ibaka has been doing it all, ladies and gentlemen. From working out to teaching us how to wear a scarf to reading books to staying in touch with his teammates, the centre on a contract year is not going to let a stoppage to the NBA season keep him from making an impression.
It really is a shame that Ibaka's season has come to a hold as he's averaging a career-high in scoring and three-point percentage, while still playing his reliable defence on the other end. At least we have all this content to enjoy: