Getting Back Up: Jim Kelly and the Mindset That Beat Cancer (Twice)
From four-straight Super Bowls to losing a son to battling cancer, Jim Kelly explains how his upbringing shaped his resilience.

Thomas Golianopoulos (@golianopoulos) is a writer living in New York City. He has contributed to Grantland, the New York Times, Playboy and Complex.
Mar 22, 2016 Complex Original
Image via Complex Original Hall of Fame quarterback Jim Kelly grew up in East Brady, a small Western Pennsylvania town nestled along the Allegheny River. Located about 65 miles northeast of Pittsburgh, East Brady is part of a football-mad region that has produced six Hall of Fame quarterbacks (Kelly, George Blanda, Johnny Unitas, Joe Namath, Joe Montana, and Dan Marino) along with countless former All-Pros. During a recent interview, I asked Kelly why Western Pennsylvania produced so many great players.
"No doubt it was work ethic," he says. "It was wanting to be the best, wanting to make your parents proud, and being brought up working for everything you got—nothing was ever handed to any of us."
Kelly's work ethic, toughness, and talent carried him to a spectacular run at the University of Miami, two seasons with the Houston Gamblers in the USFL, and an 11-year career with the Buffalo Bills. The numbers are, well, Hall of Fame worthy: 5 Pro Bowl selections, 237 passing touchdowns, 35,467 passing yards, and he retired as the Buffalo Bills all-time career leader in wins and nearly every passing category (attempts, completions, yards, and touchdowns). Most of all, Kelly is remembered for guiding the Bills to four consecutive Super Bowls from 1991–1994. The team lost each game but always bounced back.  
Kelly persevered off the field as well. His son Hunter was born with a rare genetic disorder, Krabbe leukodystrophy, and died from the disease in 2005 at the age of 8.
Then, in May 2013, Kelly was diagnosed with oral cancer. He had a portion of his upper jaw removed, but endured aggressive chemotherapy to beat back cancer. When the disease returned in March 2014, Kelly continued fighting. He is now cancer free.
Elected to the Hall of Fame in 2002—his first year of eligibility—Kelly now travels the country, inspiring everyone he comes in contact with, and telling his story of football, hard work, and determination. 
To see where tomorrow's great Western PA football legends come from, be sure to check out the premiere of ​'Friday Night Tykes: Steel Country' tonight at 10|9C only on Esquire Network.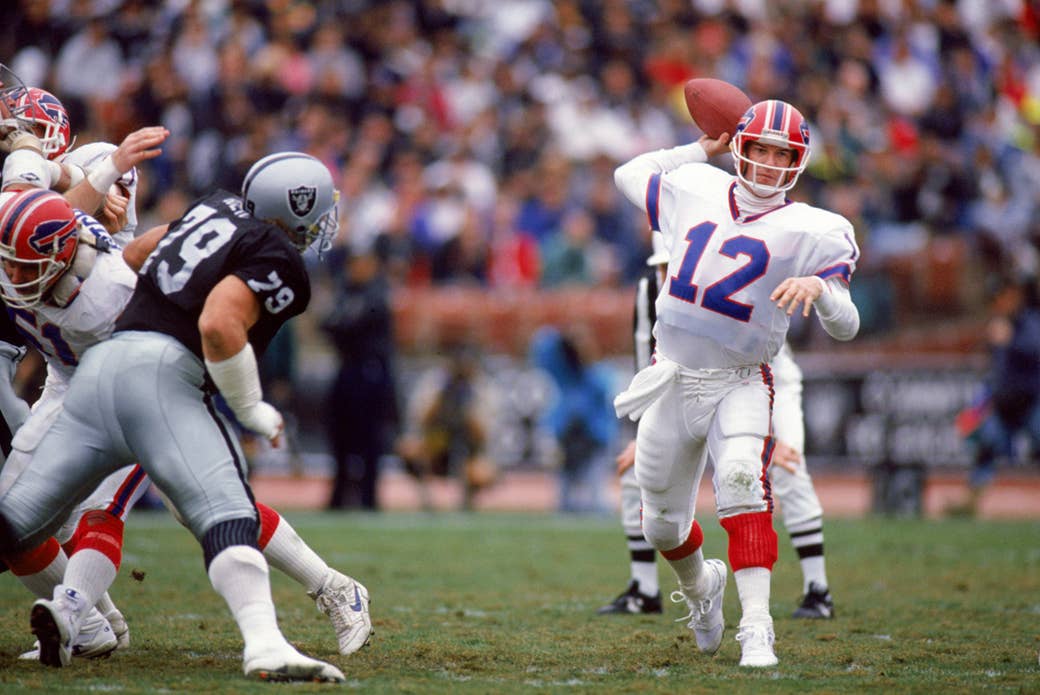 What are your earliest football memories?
Being a Steeler fan growing up, watching my idol Terry Bradshaw, and Jack Lambert, Joe Greene, and Franco [Harris], and [Lynn] Swann, and [John] Stallworth, and then being in my back yard putting No. 12 on my jersey with the magic marker, dreaming about being in the NFL and taking my team to the Super Bowl.
Was Bradshaw the reason you played quarterback?
I started out real young as a tight end, but I was never getting the football. I knew when I played basketball I loved to have control of the ball. When I played baseball, I was a pitcher. I always wanted to be the guy throwing the passes and making a difference I guess.
Did you play organized football before high school?  
I did Pee Wee. It was called Midget Football back when I played. Of course junior high. I didn't play JV because I went straight to varsity and started as a 10th grader—that was back in the day when you could not play varsity as a ninth grader. I went right from playing junior high football to varsity. I played football ever since I was a little boy. Coming from a family of six boys, I guess we learned the game of football from a very young age.
What was expected out of the quarterback position back then?
Well, when you're in Pennsylvania, it's about winning, and we were undefeated in my junior and senior year in high school at East Brady. Really for all of us, growing up where I did, it was growing up a Steelers fan watching them win those Super Bowls. I was a teenager during those days. I remember watching the Steelers win all those games and seeing the excitement. For me, it was about fulfilling those dreams. Everybody dreamt about it, but 99 percent of people who play high school football don't make it to the NFL. I was one of those guys that was blessed to have a great father who said to me, "Son, there are always going to be people who are better than you. It's what's in your heart and how much you're willing to work at it in order for you to pass them." He would say, "You can be average if you want. You're a good player. But if you want to be a great player, you have to work at it and do things when people aren't watching." I always thank the good Lord that I listened to my father. My idol was Terry Bradshaw, but my role model was my father because I saw how much he worked and how much he focused on his trade. I was brought up the right way.

"Well, when you're in Pennsylvania, it's about winning."
What were some of the things you did when people weren't watching?
I remember when I was in Midget Football around 12 years old. I was right at the weight limit and I remember running down the railroad tracks along the Allegheny River. I remember running laps around the field with my coach Art Delano. He always had me working. I was throwing the ball all the time. I had great coaches growing up, like Terry Henry who is still my best friend. He coached five of the six Kelly boys. He too told me, "Jim, you have the talent, but you have to work at it. You have to put the extra time in." I wouldn't be where I'm at today if it wasn't for Terry Henry, coach of the East Brady Bulldogs.
What was game day like in East Brady?
Everybody in that town, I'd say 85 percent of the people in the town were at our games so it was exciting. When we played some of our rivals, it was three deep on the sidelines at times.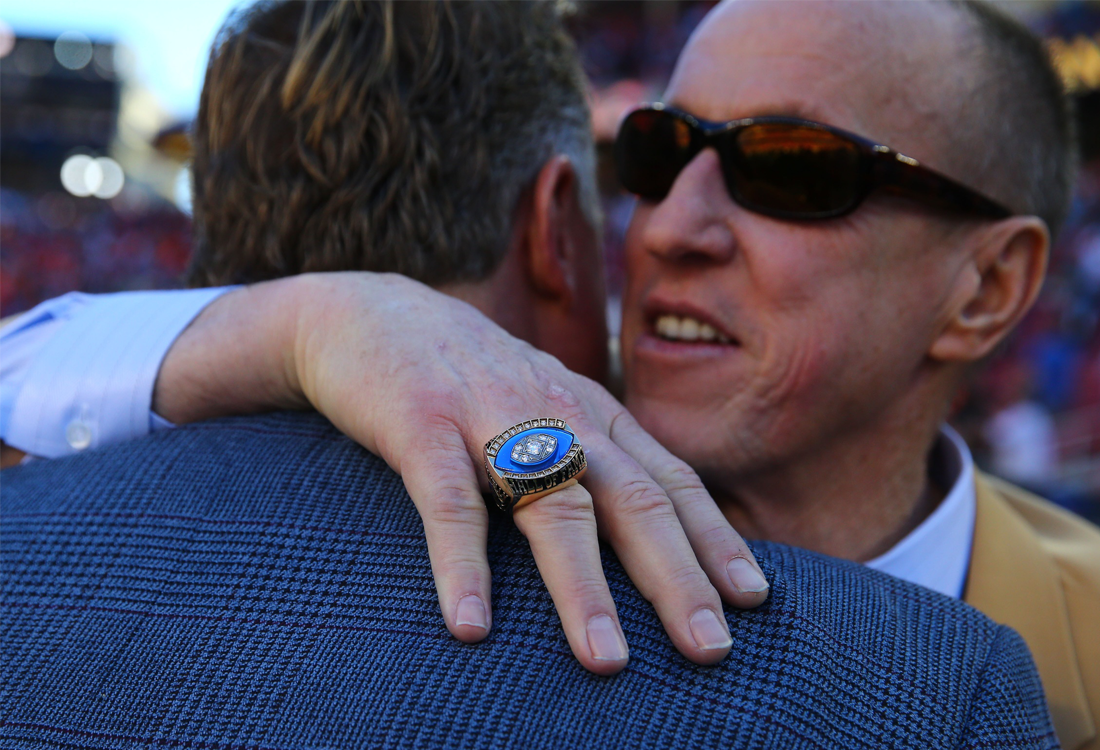 Did you put a lot of pressure on yourself to win?
I don't know if it was pressure. I threw up before every single football game I played and I did so up through my NFL career. It was good pressure. It was pressure to be good. It was pressure to be the best. It was pressure to want to win. I think that most people who are successful put that pressure [on themselves]. I don't know if pressure is the right word, but there are expectations you put on yourself to be the best. The key is for everybody no matter if it's life or business: What do you do when you don't succeed? What do you do? Do you feel sorry for yourself or do you get pissed off and say, "I'm going to learn something from this?" You make yourself better. I've been through it all, but I learned at a young age that you never give up on anything you do. Maybe that's why I was successful. Every time I threw an interception, I learned from it and moved on.
How did you bounce back from not being recruited to play quarterback at Penn State?
That bummed me out. But you got to move on. They didn't want me as a quarterback? OK, where am I going to go? I still had that dream to play in the NFL and take care of Mom and Dad. It bummed me out but I went to the University of Miami, had a good career, got my degree, and everything was good.
What do you see when you go back to East Brady every year?
Number one: Our school is not there anymore. [Ed. Note—East Brady High closed over two decades ago. Students from East Brady, Pa., now attend Karns City High School]. I still go home and see some of my buddies that I played football with in high school like Jimmy, Kevin, Paul, my center. I've always been close to my centers all the time. 
Literally and figuratively.
Exactly, they've always been buds of mine. I get a chance to see some of my buddies in East Brady. I love it. Matter of fact, the Pro Football Hall of Fame went back to East Brady, and we walked the hallways and wound up going to what my high school [would be] now, Karns City, and I presented them with a gold football and a Hall of Fame helmet to put in their trophy case.

"You can feel sorry for yourself, but that's not how I was brought up. I was brought up to fight back and I've been doing that all my life—and not only in football."
What do you miss about playing the game?
I miss being in the locker room with all my buddies. That, to me, was so much fun. As a matter of fact, and I say this with all my heart, I do not think there was anyone who ever played the game that was as close as those Buffalo Bills teams. We are still as close as we were back then. We just went to Napa Valley for five days before the Super Bowl, six couples—me, Bruce [Smith], Thurman [Thomas], Cornelius Bennett, Darryl Talley, and Steve Tasker. Our team was very, very close.
What are some of the things you learned in youth football that stayed with you throughout life?
Bottom line: If you get hit or knocked down, you jump right back up. I learned that as a young kid, even before I played organized football, from my brothers. Not one time was I ever allowed to cry. My brothers would say, "Wipe those tears away. You want to cry? I'll give you something to cry about." That's how I was brought up. If you get knocked down, it's about how quickly you jump back up and get ready for the next play.
Did that attitude help you get over the Super Bowl disappointments?
I realized that all the things I've been through in my life, the good Lord was setting me up for what I am doing now, which is speaking around the country and being an inspiration to so many other people. I've been through it all. Those four Super Bowl losses? Yeah, it sucks that we didn't win, but what are you going to do about it? You can feel sorry for yourself, but that's not how I was brought up. I was brought up to fight back and I've been doing that all my life—and not only in football. My son was born on my birthday, Valentine's Day, with a fatal genetic disease. They gave him 14 months to live and he lived to be 8 years old. He fought every day of his life. Every time I was around him I tried to bring joy into his life. Then, there was my battle with cancer and my two daughters who had already lost their little brother. I brought them up to be tough. My daughter wrote a book called Kelly Tough when she was 19 years old. It's a must read. My daughters learned that it's about how you inspire others to keep fighting. That's pretty much my message now.