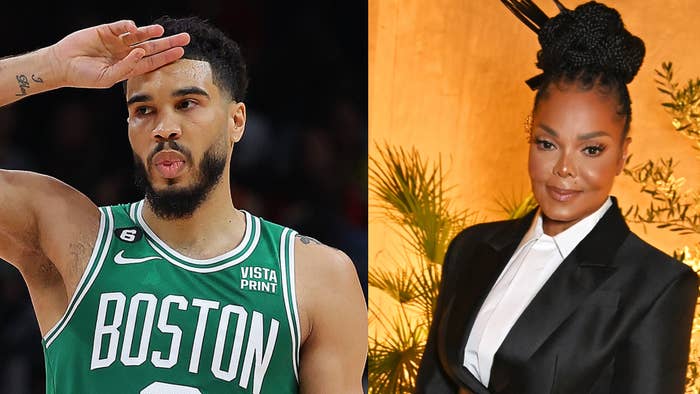 Jayson Tatum apologized to Janet Jackson for delaying her tour.
The Boston Celtics beat the Atlanta Hawks 128-120 on Thursday night to win their first-round NBA playoff series, which pushed back Jackson's Atlanta concert for her Together Again tour to Friday night.
"I want to send an apology to the legend Janet Jackson," Tatum said in a TV interview following his team's win. "We was supposed to close out in Boston—she had to postpone her show. I hope she sees this. I apologize for that. But we got it done today."
The Celtics played the Hawks in Boston on Tuesday night and lost, which meant the team had to meet again in Atlanta. The Celtics ended up winning the series 4-2 and will now face off with the Philadelphia 76ers in the Eastern Conference semifinals.
In other Tatum-related news, the 25-year-old Celtics guard recently unveiled the Jordan Tatum 1, which Jordan Brand boasts as being the lightest shoe in its performance line this season. 
"I want people to feel like they can connect to me," Tatum said back in February. "I remember being a kid, walking into the store, and looking for the signature shoes of my favorite players. The moment I saw the shoe or put the shoe on, I felt like I was in sync and closer to them in a way. So, I want this shoe to be a bridge between my fans and me to bring us closer together."