What if I told you (and your doubting parents) that you could actually make a living playing hours of your favorite video game? This week the NBA and 2K Sports made that a reality with the first-ever NBA 2K League Draft, a historic moment that changed the lives of 102 gamers.
The NBA 2K League is a professional electronic sports (eSports) league created by 2K Sports in partnership with the NBA. Here's how it works: Of the 30 actual teams in the NBA, 17 joined forces to create a corresponding eSports team made up of six gamers—one for each position that a regular NBA team has plus an alternate, based on the position they primarily play in NBA 2K18. But how did the gamers get chosen to enter this first-of-its-kind draft? Back in January, the NBA held a combine where 72,000 players participated; this was chiseled down to the 102 players who were selected to enter the draft and become the NBA's first Professional Gamers.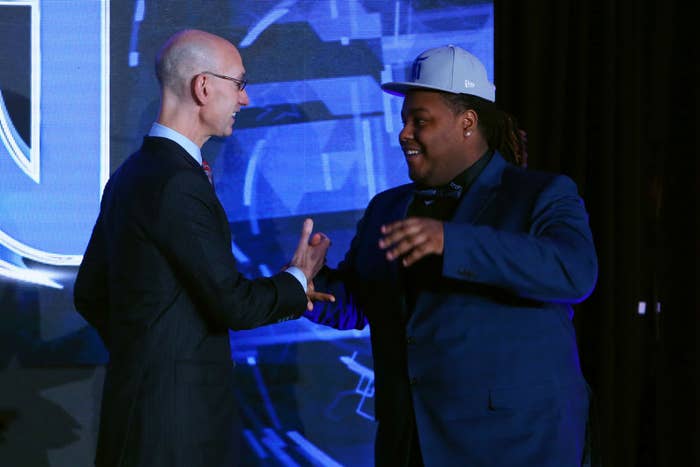 When the NBA first announced that it was invested in becoming a part of eSports, it shocked many in the sports industry because, prior to that, competitive video games had never been viewed with the same importance as traditional sports. To bear this out, on Wednesday at the 2KL draft ceremony, held in New York's Madison Square Garden, NBA Commissioner Adam Silver announced the first pick, similar to how he does at the annual NBA draft. Players came on stage wearing caps representing the team that would be their new home for the season. And each player was college-draft prospect fly, decked out like the fashion-forward hopefuls on any other NBA Draft Day.
College student Rochell Woods, aka ixsplashkingxi, became the youngest player drafted into the NBA 2K League when the Detroit Pistons GT selected him in the third round. The young eShooting guard out of Memphis, Tennessee, said he started playing in the ninth grade and normally spends seven to ten hours a day playing 2K to keep his skills sharp.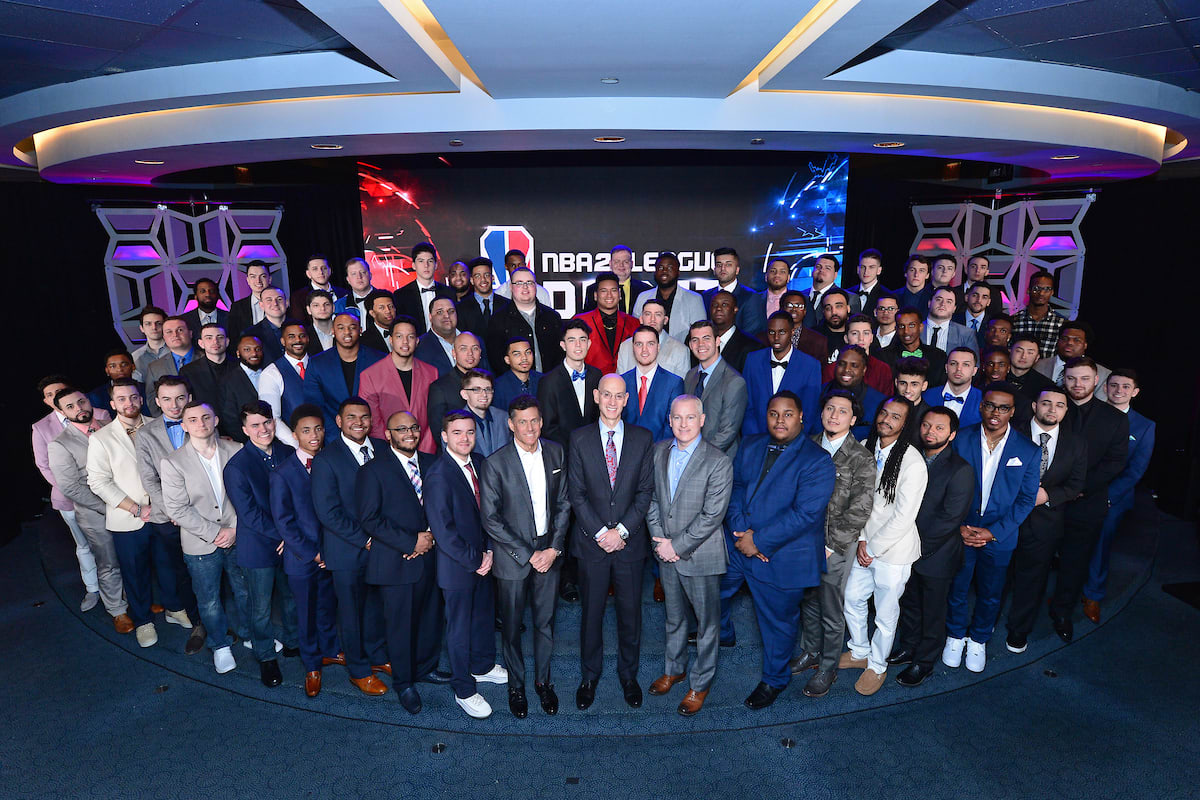 Each player drafted lands a six-month contract of $35,000 for first-round picks, then $32,000 for the lower rounds. On top of their salary, an additional $1 million is up for grabs, split among three in-season tournaments and the playoffs. In addition, players are free to sign endorsement deals as well. The league also covers moving, travel, medical, retirement, and living expenses. Each franchise will have their own apartments or dedicated house for the players to live in. When the season starts, ePlayers will be flown out to NBA studios each week to play in front of an arena crowd just like in traditional eSports settings.
Similar to draftees in the NBA, training and practice with your new teammates comes next. But how does that process look outside of playing physical basketball? The general managers of the new Philadelphia 76ers Gaming Club, Michael Lai and Ian Hillman, helped provide context as to what the players can expect.
"Right now we are focused on bringing them into the market," says Lai, who has a background in analytics. "A lot of these guys are pretty young and they might not have the experience of living in a new place, so the focus is getting them here, settled in and comfortable to then develop a training regimen."
Hillman explains that it will be a bit experimental: "In terms of the actual practice of basketball there will be somewhat of a learning in trying out different styles of practice and drills. It is a little more difficult from physical versus digital, but we will definitely try to leverage some of the best practices from the actual Sixers training staff to the staff here with the 76ers Gaming Club."
the same type of philosophies we practice with our Sixers players we will try to apply with our esports athletes.
He adds that just as with 76ers stars like Joel Embiid and Ben Simmons, full-body wellness is important for eSports players as well. "When we think about the research behind the effects of sleep and healthy diets on athletes, the same type of philosophies we practice with our Sixers players we will try to apply with our eSports athletes."
As far as the importance of the NBA 2KL, the Sixers GMs and NBA Commissioner Adam Silver agree that eSports is the perfect equalizer. Thousands of people have hoop dreams but lack the gifts to realize them. In eSports, all you have to do is show up and prove your skill no matter what your physical abilities are.
"We're opening up this opportunity to a much larger pool of players, just by definition, because in the NBA or WNBA you have to have certain physical prowess to compete," Silver says. "It's a different kind of skill here. But in terms of the gaming community, this is something where virtually anyone can set out to try to achieve at the highest level."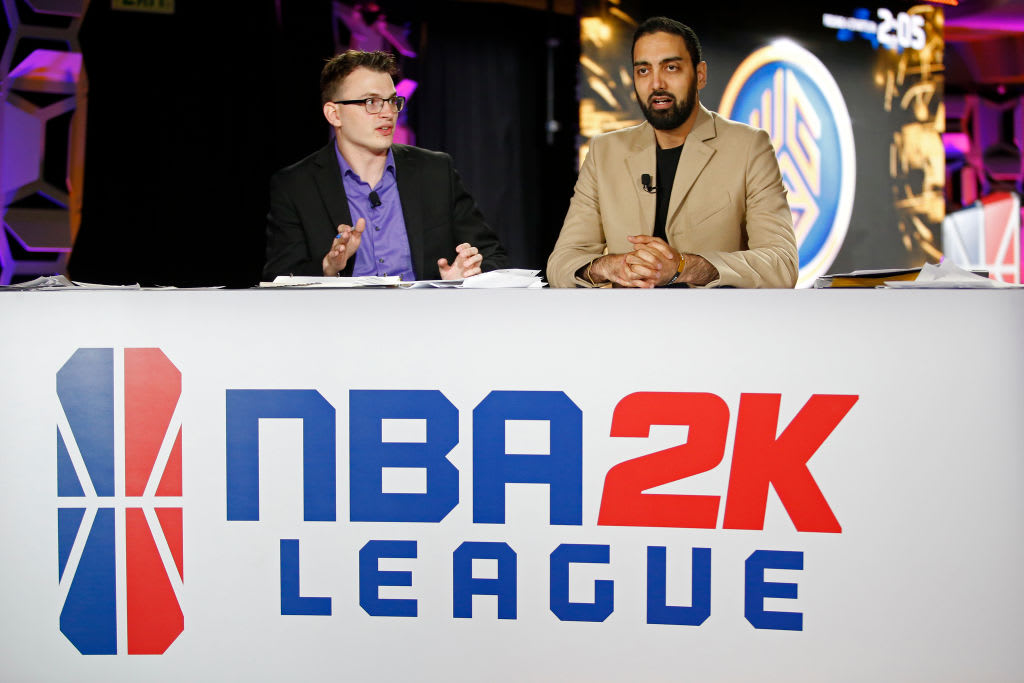 Despite the groundbreaking nature of the 2KL draft, one thing it was sorely lacking in was female NBA 2K ballers.  Representatives from the NBA noticed as well, say they want to rectify this in the future, and have already launched an initiative to focus on recruiting and developing female 2K League players.
"I'll tell you one thing just to put it on the table that's been a disappointment for all of us so far is that there are no women who are in the initial draft pool, and just to make it clear, whittling down from the 72,000, it's by avatars in essence, it's blind," Silver explained. "I'm not concerned that there was something wrong with the process necessarily... This is a much larger issue in the gaming community."
The process to get this level of professional gaming wasn't easy, but the players selected in the inaugural 2KL draft are dispelling the myth that sitting for hours in front of a TV will never pay off. Just like training for a sport in real life, people can put in the time and dedication to craft a skill digitally and take it to the bank as an eSports athlete.
The NBA 2K League season is scheduled to tip off in May.