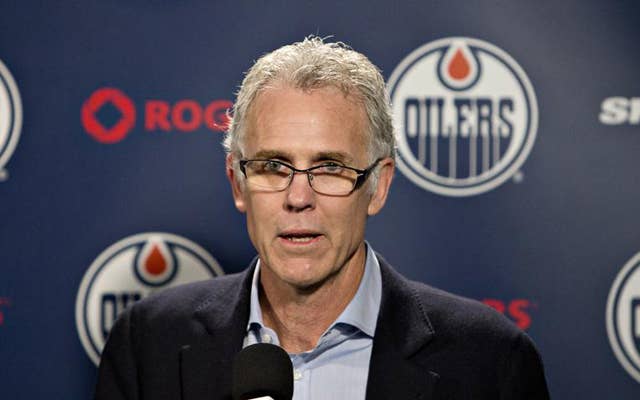 Edmonton general manager Craig MacTavish has already gone on record saying there is "No chance" the team will trade the first-overall pick in the upcoming NHL Entry Draft, which means Connor McDavid is most likely going to be playing for the Oilers at the start of next season.
That's absolutely what "Mac T" has to say and probably is how things will shake out, but between now and June 26th in Sunrise, Florida, you can be sure there will be several other general managers dialing a 780 number to ask what it would take to pry chance to select McDavid away from the Oilers.
Here are the best offers we could come up with for a handful of teams. Tell us what you think.
Buffalo Sabres
Offer: C Cody Hodgson, D Andrej Meszaros, 2nd overall pick (read: Jack Eichel), future second- or third-round pick.
Hodgson has yet to develop into the player many expected him to be when he was drafted by Vancouver or after being shipped to Buffalo, but he's a solid third-line center and was regarded as a good leader on his way up the junior ranks. Meszaros provides veteran leadership and an upgrade on the blue line and getting Eichel is an outstanding consolation prize for not picking McDavid.
This is the kind of "get better in several areas" offer that Edmonton should consider, though Buffalo may not be willing to part with this much in order to move up one spot. Again, Eichel isn't McDavid, but he'd be the No. 1 overall pick in any other draft year.
Toronto Maple Leafs
Offer: C Tyler Bozak, G Jonathan Bernier, D Dion Phaneuf, 4th overall pick, plus a prospect and/or a future first-round pick.
Edmonton gets players that can contribute at every position, including a much-needed upgrade between the pipes. Bozak is a solid second-line center to pair with Nail Yakupov and Phaneuf is better than he gets credit for in Toronto. His contract is massive and a hindrance, but he's steady and can still contribute – he just needs to get out of Toronto.
The fourth pick should yield a very good player as well, probably center Dylan Strome, who led the OHL in scoring last season. If he's ready to play right away next season, that makes Bozak a very good third-line center.
Toronto will make some kind of Godfather offer to the Oilers in hopes of landing the Richmond Hill native McDavid, but you can be sure MacTavish will make the Leafs pay a huge price if he's going to give them the superstar they've been coveting for quite some time.
Columbus Blue Jackets
Offer: D Ryan Murray, RW Cam Atkinson, G Anton Forsberg, 8th overall pick, plus a prospect and next year's first round pick.
The Blue Jackets were one of the better teams to finish with a Top 10 pick in the upcoming draft, playing well down the stretch and actually trying to win games, rather than bottoming out in hopes of landing McDavid or Eichel.
They're the kind of team that could make a really nice offer to the Oilers – already young and promising, but with more young talent that they could move as well. Murray was picked behind Yakupov in 2012 and hasn't reached the NHL level yet, but could still blossom into a No. 1 defensemen, Forsberg has been dominant in Sweden and a brief stint in the AHL and the rest is sweeter.
McDavid makes them a whole lot better, but a deal like this also benefits Edmonton long term because they're filling holes with youngsters that can grow alongside their core of twentysomethings.
Los Angeles Kings
Offer: G Martin Jones, D Slava Voynov (or Jake Muzzin), RW Dustin Brown, 13th overall selection, plus a prospect and future picks.
Los Angeles is one of those teams that should keep calling MacTavish with offers until they find something that works because last year's Stanley Cup champs are still contenders – they just tuned out Darryl Sutter this year and ended up missing the playoffs.
On the Edmonton side of things, getting some players with playoff experience and championship resumes gives the young core some veterans to learn from and adding Jones provides them with a goalie that could be their No. 1 for the next 5-7 years.
New York Islanders
Offer: C Ryan Strome, C Josh Bailey, D Griffin Reinhart, D Thomas Hickey, plus future picks.
The Islanders are already a playoff team and they're loaded with young talent, so why not see if you can parcel off some of those players in an effort to pair McDavid with John Tavares as the most insane 1-2 combo up the middle in the NHL?
Tavares is a perfect player to mentor McDavid, having traveled a similar path (exceptional players status, first-overall pick, NHL at 18) and because they were so bad for so long, New York could actually part with the assortment of young talented listed above and still be perfectly fine going forward.
Edmonton gets first- and third-line centers in Strome and Bailey and a pair of young defensemen, including one that was a star for the WHL's Edmonton Oil Kings. They miss out on the 18-year-old phenom, but get four players that can suit up for them next season where the oldest of the bunch is 26.
Expect there to be offers like this from fresh contenders who have young talent to spare.