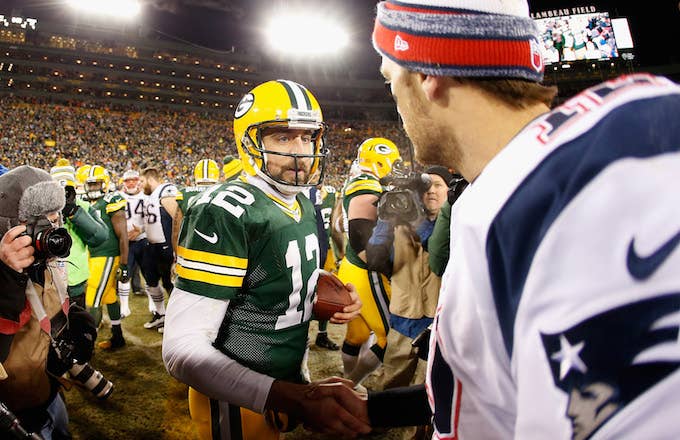 Tom Brady has only faced Aaron Rodgers once in his 18+ seasons in the NFL. They were supposed to meet in 2010, but Rodgers was inactive after a concussion. In 2014, two of the best quarterbacks finally met on the field for the first time, and Rodgers emerged with the 26-21 win. The cross-conference QBs will meet again on Sunday when the Packers visit the Patriots in Foxborough, and it's such a monumental occasion, another GOAT filmed a spot for the game. Despite the rare matchup, it's obvious from Brady's WEEI appearance this week how he feels about the star behind center in Green Bay.
"I know Aaron pretty well. We have been friends for a long time," the 41-year-old QB said. "I have always known about him. He went to Cal and grew up in the Bay Area. Then with the Packers behind Brett [Favre]. He came in when Brett got hurt up there one time. What he's done as a quarterback, I think it is is inspiring, even for me. I watch his game and it makes me want to get out there and practice and improve because I think he's so phenomenal with the way he manages himself in the pocket and his ability to throw the football is unlikely anyone probably in the history of the league. It's pretty awesome to watch."
New England's taciturn coach might not see much the two quarterbacks have in common beside their jersey numbers (their passing numbers are pretty ridiculous, too), but Brady's appreciation is reciprocated by Rodgers. Back in February of 2017 after Brady's historic comeback against Atlanta for his fifth Superbowl win and fourth Super Bowl MVP, Rodgers called him the GOAT, and we—long sigh—have to agree.
While it's obvious Brady respects Rodgers, he did give one of the more underhanded compliments we've seen for a quarterback, though completely by accident: "He throws some of the best incompletions I have ever seen." 
Is this a drag on Green Bay's receiving corps over the years, or Rodgers' supernatural ability to get a throw away despite an imploding pocket? Is it some code about footwork a non-QB would struggle to decipher?  
Anyways, check out Brady's full interview below and tune in Sunday night around 8:20 p.m. ET for kickoff.