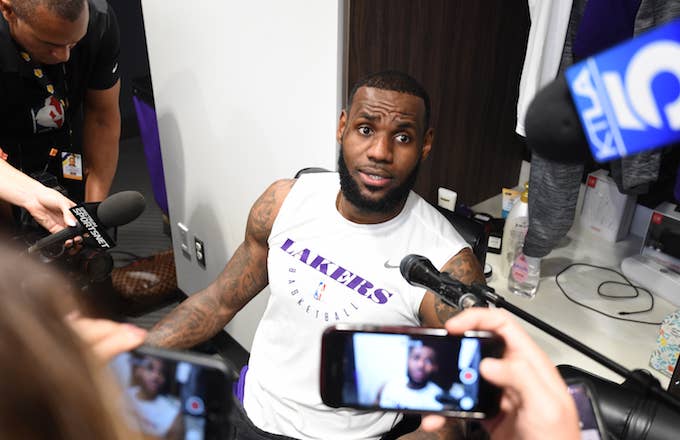 Embittered small-market NBA general managers have been privately stewing and calling their favorite scribe because the Association hasn't issued any penalties for tampering after LeBron's recent comments about Anthony Davis, ESPN's Adrian Wojnarowski reports. Those anonymous GMs informed ESPN they've reached out to Pelicans general manager Dell Demps to complain like whiny schoolchildren about the NBA's silence after James called the idea of Davis' improbable arrival in Lakerland "amazing" and "incredible."
We write improbable because Davis is locked down in New Orleans through this season and next, and the Pellies can offer him an extra year and larger raises on a supermax extension this summer. If Davis declines the supermax, the Lakers are a possible landing spot with the necessary cap space available to sign him to a max extension (though it might not be guaranteed he re-signs), but the Celtics and other teams offer the chance for a better return, and may even be a more desirable landing spot—depending on how you feel about LeBron's Lakers—if what drives Davis' decision hinges on winning a chip. But that reality hasn't stopped GMs across the league from airing apocryphal grievances to Woj.
"It's New Orleans' problem today, and a problem with a different player tomorrow for the rest of us," one GM in the East said. "It's open season on small markets and our players." Here's how the NBA's bylaws word the necessary infractions to warrant tampering charges, via Woj:
"Any Player who, directly or indirectly, entices, induces, persuades or attempts to entice, induce or persuade any Player, Coach, Trainer, General Manager, or any other person who is under contract to any other Member of the Association to enter into negotiations for or relating to his services shall, on being charged with such tampering, should be given an opportunity to answer to such charges after due notice and the Commissioner shall have the power to decide whether or not the charges have been sustained ..."
Demps and the Pelicans did not comment for the ESPN report, and there's been no indication they've made any formal declarations of impropriety to the league office. The entire report stems from rival general managers angrily calling and texting Woj to tell him the league needs to penalize the Lakers for LeBron's comments.
"If these are the rules, enforce them," a Western Conference GM said before alluding to the NBA actively pushing Davis to L.A. "If you want to push Anthony Davis in L.A., if you allow LeBron to interfere with teams, then just do it. Change the rules, and say, 'It's the wild, wild west and anything goes.' But give us a list of the rules that you're enforcing, and give us a list of the rules that you're going to ignore."
The Lakers were fined half a million dollars for violating tampering rules involving Paul George's impending free agency, and another 50 stacks for Giannis Antetokounmpo, who—somewhat ironically—has recently championed Davis' arrival in Milwaukee like LeBron, bluntly telling the Brow to "come to Milwaukee" after Wednesday's Pelicans - Bucks game.
For the most part, the NBA has allowed players to have their say and only interjected on the tampering front when it's directly connected to the team. So, if the Bucks and Lakers had instructed Giannis and LeBron to say what they did, respectively, that would constitute a violation. "Each case is assessed on its own facts," an NBA spokesman told ESPN on Friday. "In general, absent evidence of team coordination or other aggravating factors, it is not tampering when a player makes a comment about his interest in playing with another team's player."
God forbid NBA players get to speak their minds.