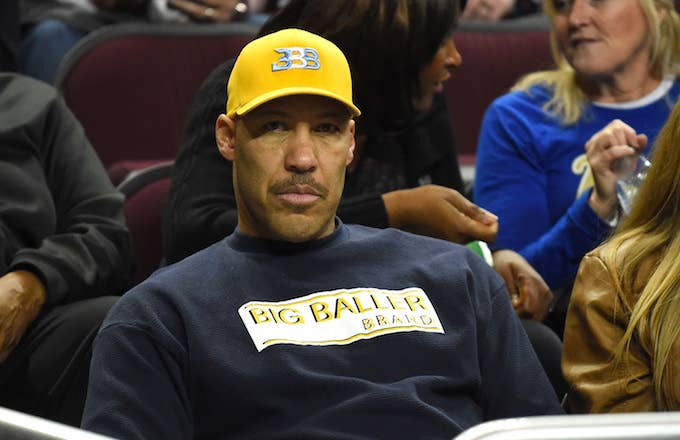 Lonzo Ball was royalty on UCLA's Westwood campus during his lone freshman season; LiAngelo Ball, not so much. The middle Ball brother, like Tiffany Trump, is usually an afterthought. But his arrest in China with the Bruins is the biggest reason patriarch LaVar Ball says his youngest, LaMelo Ball, isn't going to UCLA.
"Heck no, he won't be at UCLA," LaVar told TMZ Sports. "UCLA? Why? After what they did to my other son? Are you crazy?"
If your memory is fuzzy about that fall of the Ball's (Lonzo was a new Lakers rookie), LaVar pulled LiAngelo from school after the shoplifting incident. UCLA had suspended him indefinitely for purloining items from a Louis Vuitton store.
"We all went out one night, went through the mall, went to the Louis Vuitton store, and people started taking stuff and me just not thinking and being with them, I took something, too," LiAngelo said in an appearance with his father on The Today Show. "We left thinking we'd just get away. You know how kids think. I didn't realize until I got back to my hotel, I'm like, 'That was stupid.'"
It was. But prickly papa didn't like how UCLA handled the whole thing.
"Suspend him and don't tell him when he supposed to be able to play and all that?" LaVar told TMZ. "No, they ain't behind him like that. One mistake and now you put him to the side and act like he's supposed to come the next year?"
For what it's worth, LaMelo Ball might face scrutiny over playing college basketball at all next year. He has his own signature shoe, and played professionally with LiAngelo in what became a Lithuanian reality show before joining his father's Junior Basketball Association. In fact, some schools going against LaMelo's adopted high school, SPIRE Prep Academy, are canceling games because it might put their eligibility in danger based off their home state's scholastic rules for amateurism. 
Despite all the setbacks and a dad who just won't go away, LaMelo Ball has returned to high school action, dropping 30 points in a recent game and generally looking a lot better than LiAngelo ever did.