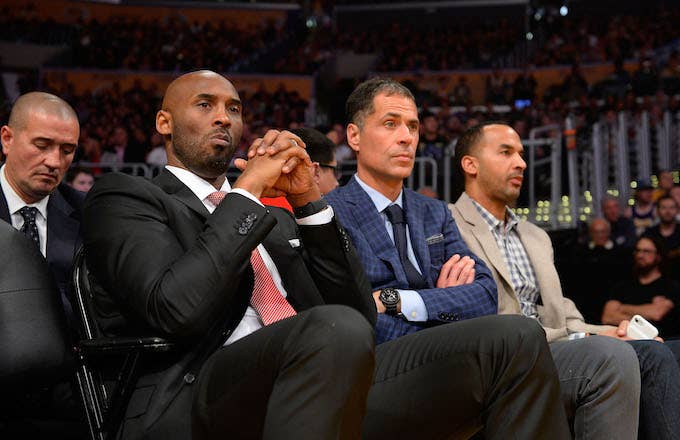 Lakers legend Kobe Bryant was in the building to see his old team take on the upstart Nuggets Wednesday night, which meant he saw LeBron James post his 74th career triple-double with 28 points (11-for-17 shooting), 11 rebounds, and 11 assists in L.A.'s 121-114 win. The unctuous "Kobe" screams were drowned out when LeBron hit his lone three-pointer of the night.
Such is the atmosphere in the traveling carnival that is the 2018 Lakers. While the Kobe stans might still be befuddled about how to handle this whole LeBron thing, Kobe was hyped about James' presence on the team after the game:
During the game, Bryant sat next to his agent—Rob Pelinka, who is now the general manager of the Lakers—courtside and basked in the cheers while joking with team president Magic Johnson during breaks in the action.
Jeanie Buss made the lunch date-inspired move to fire former GM Mitch Kupchak and former executive vice president Jim Buss to make the front office more amenable to LeBron, but perhaps no retired player has his former team wired as much as Bryant. That said, LeBron's presence this season continues to make covering the Lakers a special treat.