J.R. Smith Reportedly Almost Left the Cavs After His Demotion (UPDATE)
J.R. Smith was in such a funk when he was taken out of the Cavs' rotation, he allegedly almost quit the team for a while. Cooler heads prevailed, though.
Getty
Image via Getty/David Liam Kyle/NBAE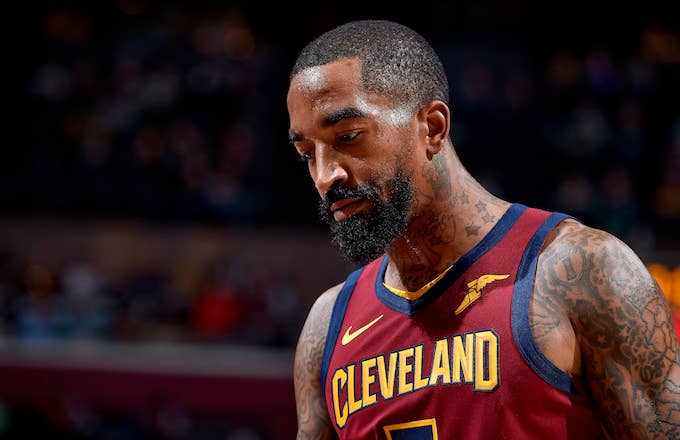 Updated 3:25 p.m. ET: J.R. Smith hopped on Twitter to respond to reports that he considered putting distance between himself and Cavs.
See original story below.
It's been a tough year for J.R. Smith. His Game 1 blunder in the 2018 Finals likely cost Cleveland their best chance at making that a real series, and LeBron James then left this offseason. His new Supreme tattoo might cost him some money, and an opportunity to play with a contender came and went with no trade. He was even explicitedly mentioned by a racist cop in Milwaukee before having to turn himself in to the NYPD.
All this is to say that Smith is in a bad head space, which might explain why he allegedly thought about leaving the Cavs this season after he was removed from the regular rotation, per an ESPN report on interim Cavs coach Larry Drew:
While that situation plays out, the Cavs had to manage another issue on the team Tuesday with veteran guard J.R. Smith. For the second time this season, Smith was informed he would be removed from the rotation and not receive guaranteed playing time, sources said. Smith was upset by the news and considered taking some time away from the team, sources said. Smith decided to stay for the time being, but he didn't play in Tuesday night's 136-114 win over the Atlanta Hawks.
Smith stands to make $14.7 million this season, and another $15.6 million next year. Now is not the time to bail, even if the firing of Ty Lue and also-rans leftover after LeBron's departure makes life a little harder than it used to be. Smith's Instagram feed has started to resemble that of the emo kid from high school getting over a bad breakup.
We're rooting for J.R. Smith.