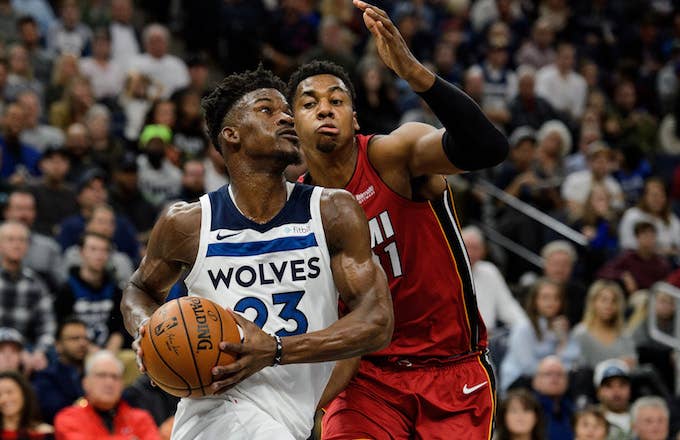 The Jimmy Butler saga continues to flit through NBA corridors, echoing off the walls in owner Glen Taylor's office, but trapped in the presence of team president and coach (for now, at least) Tom Thibodeau. 
After initial reports claimed Butler sought a trade to the two New York teams and the Los Angeles Clippers (LeBron's presence on the other L.A. team allegedly led to their omission), the New York Times' Marc Stein says Butler's agent, Bernie Lee of Thread Sports Management, has informed the team Miami is his preferred destination:
Miami's interest isn't new, but Butler's reciprocation was; although, an ESPN writer confirmed the interest from Butler's camp, and claimed it's always been the case:
Miami has a ton of assets to unload after team president Pat Riley emptied the coffers to dole out big deals for Goran Dragic, Tyler Johnson, James Johnson, Dion Waiters, and Hassan Whiteside. As previously reported, Justise Winslow is on the block because he's due a hefty extension by mid-October, but Josh Richardson (a severely slept on stud) and second-year big Bam Adebayo, aren't for sale. The Heat would also need a very good reason—we're guessing Butler, a four-time all star, qualifies—to part with Kelly Olynyk. 
As for other assets, Miami has this summer's first-round pick to entice, though Thibodeau is in win-now mode. Because any team getting Butler in a deal would retain his Bird rights, they'd be able to offer him a five-year, $190 million supermax extension, something that may have played a role in why he's asking out now.
However, the dual decision-making paths the Timberwolves appear on, with owner Glen Taylor fielding phone calls about a trade outside the purview of Thibodeau and GM Scott Layden, adds an extra layer of confusion to an already muddled process. Thibs still thinks he can convince Butler to stay, and it's in his best interests to do so because of how valuable he was to their success last season; The Timberwolves were over 12 points better per 100 possessions when Butler was on the court. That wedge between ownership and management will have to come together to get the trade done, though. 
For the older fans, this whole scenario feels like the inverse of what we used to see, with the player now possessing agency over his departure and destination, rather than the team. As off-kilter as it feels in comparison to the past, and as poor the timing has been on Butler's part (why couldn't he have told Thibs he wanted out sooner than the week before training camp?), if you have any socialist sensibilities, you'd still rather see a player control his destiny over a billionaire owner.
So huzzah for the proletariat, but sad trombone for Timberwolves fans.