Timberwolves Coach Tom Thibodeau Reportedly 'Not Giving Up' on Jimmy Butler Rejoining Team
Tom Thibodeau tried to get Jimmy Butler to stay with the Timberwolves again on Monday, but now that JB's got the owner Glen Taylor on his side, chaos reigns.
Getty
Image via Getty/Gary Dineen/NBAE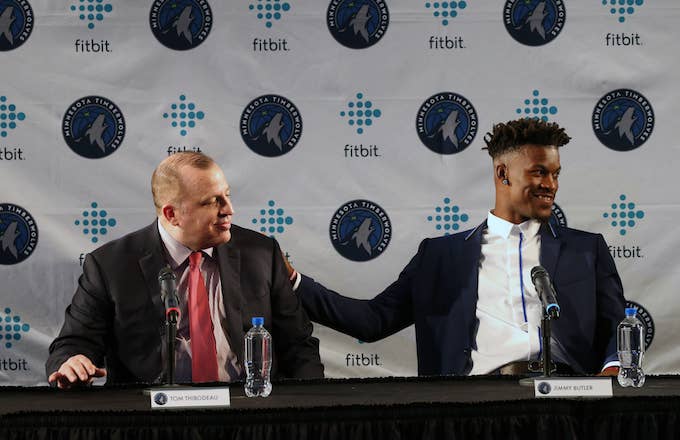 Timberwolves coach and president of basketball operations Tom Thibodeau is stuck. His attempt last week to bring star Jimmy Butler back into the fold failed, as did a secondary attempt to sell him on the team on Monday, reports ESPN and confirmed by The Athletic: 
Now Thibs has little leverage as teams try to acquire Butler for a quarter on the dollar, and he knows this. "We're not going to make a bad deal," he said on Monday. The development has fractured the front office and ownership, with Thibodeau and general manager Scott Layden on one side slow-playing trade talks, and owner Glen Taylor on the other trying to get a deal done sooner rather than later.
Layden and Thibodeau started out saying they wouldn't trade Butler and then didn't relay phone calls or the outline of deals to Taylor, hoping they could still convince Butler to stay. But now that Taylor has been so explicit, Layden is asking about stars, draft picks and cap relief as part of a package to get Butler, sources told ESPN.
Teams are trying to capitalize on that confusion by bypassing Thibs and dealing directly with the owner. There's a belief that Thibodeau is still trying to prevent a trade from going through because he remains hopeful Butler will change his mind and suit up, even after Jimmy reiterated to him on Monday that he's unwilling to ever put a Wolves jersey back on. "He's not giving up," a source told ESPN of Thibodeau's commitment to keeping Jimmy. 
The coach knows that he might miss the playoffs again without Butler, and it could cost him his job, with the Timberwolves failing to make the postseason in two out of this three years as coach. For now, the Kings are the most likely third-party suitors with $11 million in cap room to take on bad contracts to alleviate the discrepancies in a deal, should it happen. Butler's former foes in Miami have expressed interest, as well as the Clippers. But with a coach and GM opposed to a trade the owner and player supports, look for the turbulence to continue as Butler sits at home and awaits his fate.