Old Jimmy Butler Interview Dissing the Heat Surfaces Right as Miami Shows Interest in Him
The Heat are determined to acquire Jimmy Butler in a trade, but the 2013 version of him wouldn't be happy about it.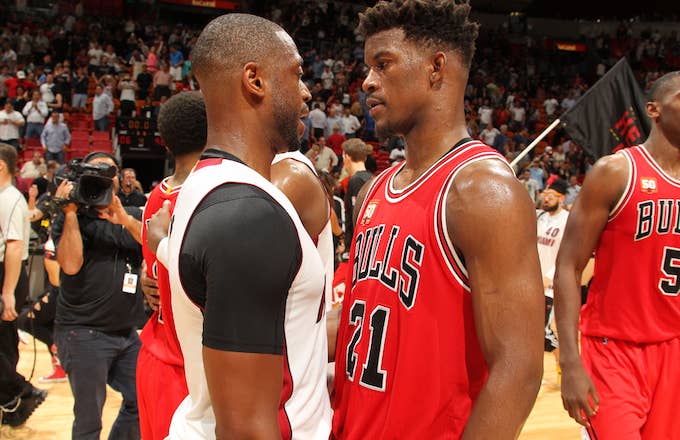 Getty
Image via Getty/Issac Baldizon/NBAE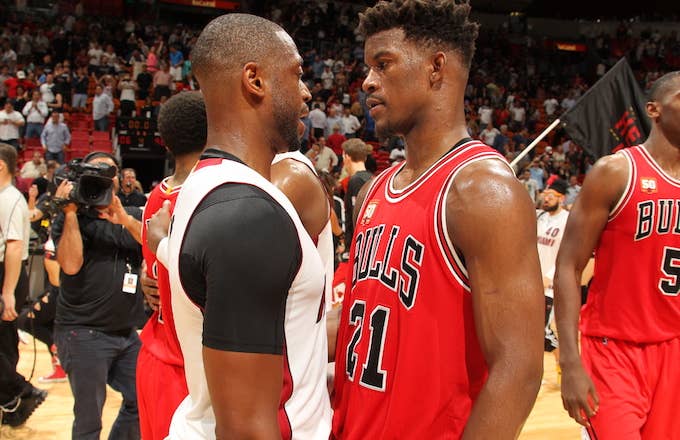 It's been almost a week since Jimmy Butler met with Tom Thibodeau in Los Angeles and told him he wanted to be traded away from the Timberwolves. While there's been some pushback about that narrative from some, his social media output seems to support the narrative, and the NBA's most connected journos are eagerly attempting to get the scoop. That, and the guy who signs Jimmy's checks wants him gone sooner rather than later. However, the newest team reportedly in the running for his services, might be dead on arrival if a five-year-old interview proves prescient.
After the Clippers, Knicks and Nets—in that order—were leaked as three of Butler's preferred destinations, places where he'd agree to a five-year extension (if he signs elsewhere in free agency it's a four-year deal worth substantially less), the Miami Heat emerged in recent days as a possible trade partner:
The Miami Herald's reporting backs up Woj and adds that pretty much everyone is on the table in a possible swap, including Justise Winslow—whose extension deadline is mid-Oct.—as well as Goran Dragic, Hassan Whiteside, James Johnson, and whomever else Riley overpaid the last two summers. Three players the Heat are almost surely keeping: Josh Richardson, second-year big, Bam Abedayo and Dwyane Wade. They also hope to keep Kelly Olynyk, but it's unclear if his inclusion submarines a deal for the All-NBA forward.
However, an old interview Jimmy gave to the Chicago Splash in 2013 has been making the rounds on Reddit and it's the final question and answer that is giving some people pause:
Before you give this any credence, remember it's directly related to Jimmy's then-rivals at the time of the interview, when he was still with the Bulls: LeBron James, Dwyane Wade and Chris Bosh and the platter of role players on the Heatles. The only one leftover is Wade, who is back in Miami for his farewell tour. Plus, he and Jimmy are buddies now, as long as Gabrielle Union doesn't get ogled. Pat Riley isn't likely to have scrolled through the r/NBA Reddit forum recently, so we doubt this is even on his radar.