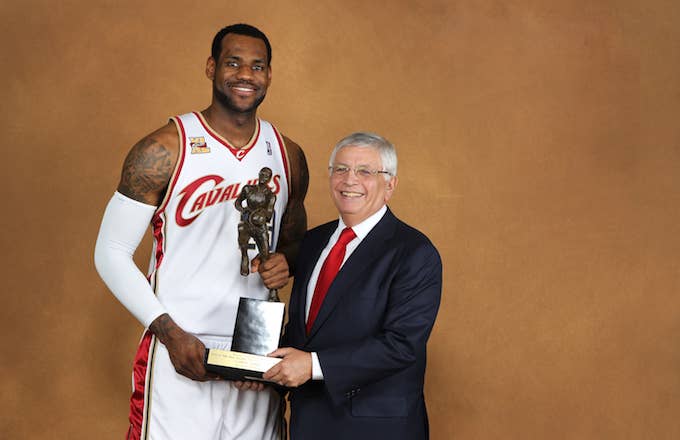 Since retiring as NBA commissioner, David Stern has leaned into the savagery hinted at whenever you saw him smirk, or when he reveled in the cacophonous boos that rained down on him during the NBA Draft. But fans no longer have to speculate about the darker side of the former commissioner now that he's unencumbered by his duties as the league's gatekeeper. His blunt assessments about his tenure to Sports Illustrated's Chris Ballard were a refreshing respite from the canned cliches we normally get from sports executives. Like when we found out he accurately read the tea leaves on LeBron's decision to join the Lakers.
"I always thought it was going to happen that way," he said. "Someone tells me [LeBron's] son is enrolled at Crossroads [in Santa Monica, California]. He wants to be with his family. It was a family decision. I mean, Maverick[Carter, James' business manager] moved there. C'mon! C'mon, guy!"
While that was a solid case of guesswork, his explanation about the infamous vetoed Chris Paul trade to the Lakers, and the real rascal who should shoulder the blame—current New Orleans general manager Dell Demps—is where the gloves really came off.
"I didn't do a great job of explaining [the veto] at the time," Stern tells Ballard. "There was a trade that Dell Demps wanted us to approve and I said 'heck no,' but he had told Daryl Morey and [then Lakers GM] Mitch Kupchak he had authority to do it and he didn't. I said 'no.' We just settled a lockout and you want me to approve a basketball trade?"
Stern continues to malign Demps' role in ordeal, even speculating that he'll lose franchise cornerstone Anthony Davis: 
"[Demps] had agreed to [trade Paul to the Lakers for] Kevin Martin and Luis Scola or something, and I said we can do better than that....And the next trade was [to the Clippers for] Eric Gordon and Al-Farouq Aminu and what we thought was a really great draft pick, the 10th pick, which turned out to be Austin Rivers. At least those three and someone else [center Chris Kaman]. But Dell Demps is a lousy general manager and none of those players are currently with the team anymore, and he may lose Anthony Davis."
But the best part of Stern's diatribe about the nixed CP3 trade comes when he juxtaposes his decision to veto with Golden State's signing of DeMarcus Cousins and basically tells the whiny, "unwashed" hordes of NBA twitter to grow a pair: 
"I did it because I was protecting the then Hornets.... To this day everyone always asks me, 'Well why did you keep Chris Paul from going to the Lakers?' I didn't keep him. I didn't approve the trade. No team sells or trades a future Hall of Famer without the owner signing off, and I was the owner's rep. But I wasn't going to hand up Dell Demps.
"Now when DeMarcus Cousins signs with Golden State, then the great unwashed Twitter says, 'Adam Silver should be like Stern and stop him from going.' Oh, O.K., guys, that's great! Right? That's ridiculous. Step up, strap on a set. It's stupid."
Stern simultaneously blames Demps, and extols his own moral backbone for not offering him up as a sacrificial lamb at the time of the decision when everyone was angry at him. That's some A-plus trolling. God bless retired David Stern. He's the unfiltered old man the news cycle adores.