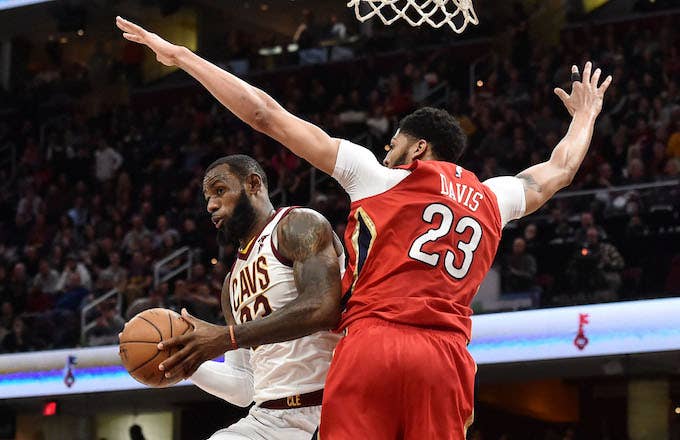 We're tired of talking about Anthony Davis' future, so we can only imagine what it's like for the three-time All-NBA First Team selection. On top of that annoyance, the best player in the game is making noise about wanting to play with him. LeBron James's overt comments this week effusively complimenting the Pelicans big man and openly pining for him to join him in purple and gold, are "cool," according to what Davis told ESPN, but he's got bigger things to think about—like getting the Pellies back into the Western Conference playoffs, which got a little harder after they fell to the Bucks, 123-115, on Wednesday night.
"I don't really care," Davis bluntly informed ESPN when he was asked about Bron's comments. "Obviously, it's cool to hear any high-caliber player say they want to play with me. But my job is to turn this team around. If we're 15-17, that means I'm not doing my job."
The Pelicans can offer Davis the most amount of money as early as this summer, despite the fact his contract doesn't expire until the summer of 2020. The newest collective bargaining agreement included a new designated player rule, a.k.a. the supermax, implemented to help smaller-market teams just like the Pelicans. It allows them to offer Davis a five-year, $239 million contract that dwarfs what any other team can pay him and adds an extra year. When he was asked about the extension after the loss in Milwaukee, he deferred and didn't say anything of note except to continue complimenting life in Crescent City.
"When that time comes, of course we will see," Davis said. "I love my teammates. I love New Orleans. I love the fans. I talk their slang. I love their food."
But all hasn't been peachy in the Big Easy. Last month, Davis said he had to play "almost perfect" for the Pelicans to win, and his decision to accept the supermax extension this summer will test whether he thinks they're a legit title contender while doubling as a referendum on the designated player rule implemented precisely to protect teams like New Orleans, who would be forced to investigate trades if he declined the supermax extension. 
If that happens, it'll send rival general managers on tilt as they scramble to make their pitch to Dell Demps and the Pelicans (that's what former NBA commish David Stern thinks will happen, for what it's worth). Right now, it's clear Boston and Danny Ainge have the deepest well of talent and draft picks to offer New Orleans, even if Davis' new agent, Rich Paul, also reps LeBron. 
But today, Davis only cares about getting the Pelicans into the playoffs. Should he fail in that endeavor—and they're tied with Utah for 13th place in the West after falling to the Bucks—the league might very well spiral into the same sort of delicious anarchy LeBron inspires when he's available, as teams try to acquire one of a handful of guys who can get you a chip as the best player on a team. Just not yet this Pelicans team.