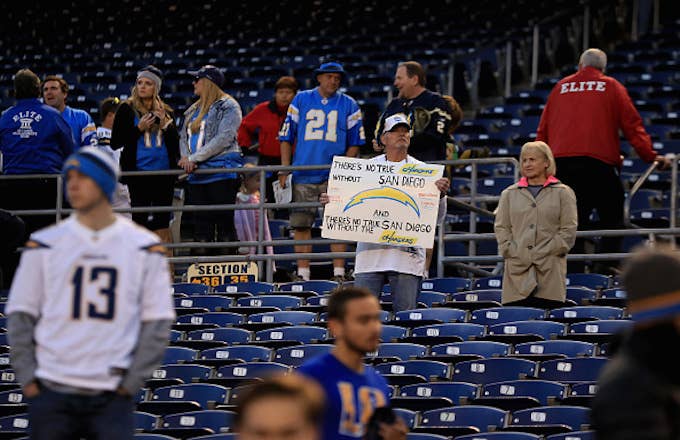 UPDATED 1/12/17, 11:10 a.m. ET:
Chargers owner Dean Spanos confirmed that he will be moving his team to Los Angeles in a letter released on Thursday morning:
The team also changed their Twitter name immediately after the letter went out:
See original story below.
After five and a half decades, the San Diego Chargers will be in San Diego no more. ESPN is reporting that the NFL team will announce on Thursday that they are moving to Los Angeles.
Team chairman Dean Spanos has been trying to get a new stadium built in San Diego for over 15 years. A ballot initiative that could have funded a stadium, along with a convention center, was roundly defeated in November. It got only 43% approval from voters, far short of the 66.7% it needed in order to pass.
The election defeat seemed to leave Spanos feeling like he had no choice. Reporter Adam Schefter was the first to break the news:
There were also reports that the team called an early-morning staff meeting on Thursday, presumably to discuss the move.
If the move does in fact happen, it will mark the second NFL team to move to Los Angeles in recent months. The Rams moved back to L.A. in 2016, having left the city after the 1994 season. Many are speculating that Spanos made the move now because the Rams were quickly gaining popularity in their new market, and he didn't want the Chargers to be left out in the cold.
Almost immediately after the news broke, Chargers players began reacting on Twitter, in ways ranging from polite to playful to surprised:
Some former Chargers weighed in as well.