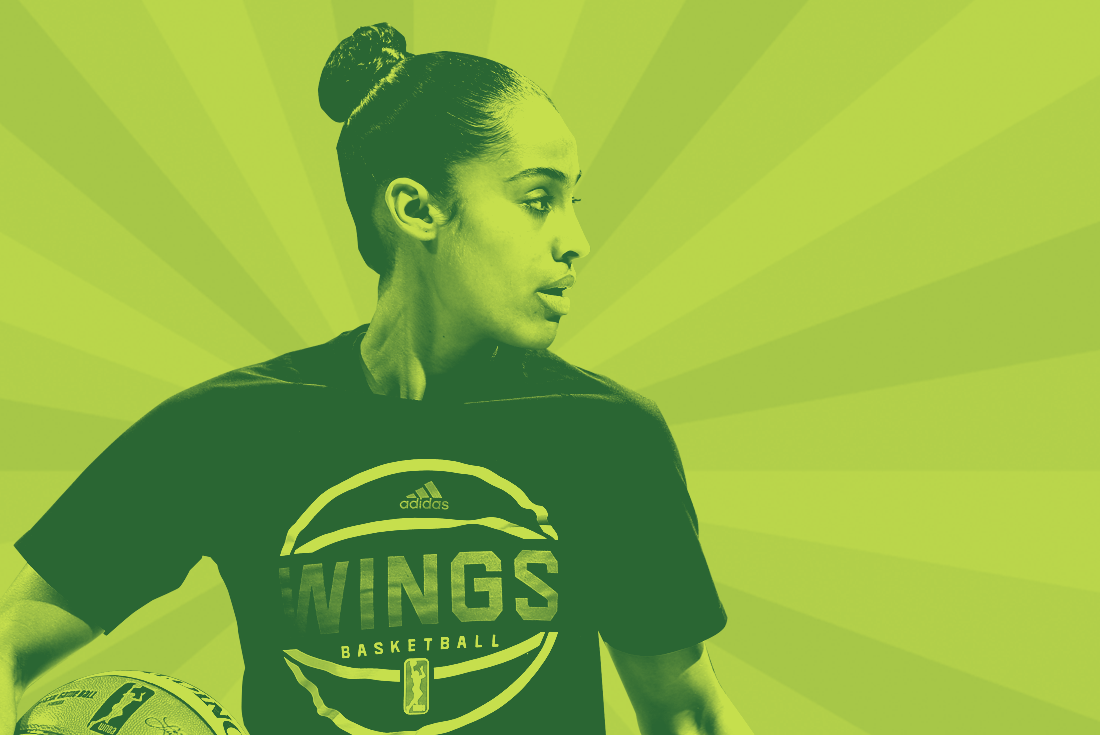 Most would say that Skylar Diggins-Smith is competitive. But anyone who's spent time with the Dallas Wings point guard knows that's an understatement. She's always going hard. It's a Monday evening in Las Colinas, a suburb northwest of Dallas, and Diggins-Smith is bowling with a group of friends, which includes her husband, Daniel Smith—a former wide receiver at Notre Dame—and Wings head coach, Fred Williams. Growing up in South Bend, Indiana, "You either do skating or you bowl," she says.
We're in the VIP section of Pinstack, one of those all-in-one entertainment complexes where aside from bowling, you can climb a rock wall, ride in bumper cars, play arcade games, or drink at the bar. To start, Diggins-Smith and her husband play on separate air hockey tables because the newlyweds—who just celebrated their first wedding anniversary—decided it's healthier for their relationship if they don't compete against one another. But the habit is hard to break.
When it's time to bowl, Smith goes first, knocking all the pins down and scoring a strike. Diggins-Smith looks over, pinches her lips, and gives a look like, "See, I told you." When it's her turn, she smashes seven pins. "Okay! Okay! Okay!," she exclaims repeatedly, before taking off her jacket because it's time to get serious.
The bowling remains mostly lighthearted (it probably helps that Smith bowls a 0 in one frame), but the game is punctuated by Diggins-Smith clapping her hands and saying things like, "That's okay," after rolling another seven. "We all gotta step it up."
In those moments, it's easy to imagine the 27-year-old's intensity on the court.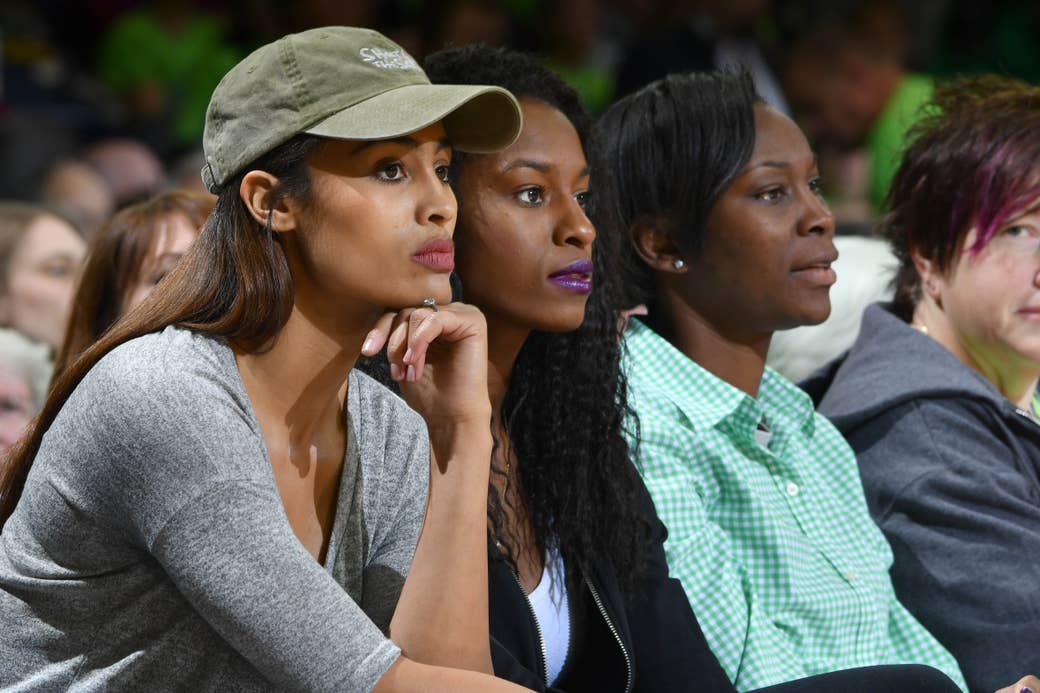 Diggins-Smith is going into her sixth WNBA season, with opening night kicking off tomorrow. Last year, she played in her first postseason, alongside Karima Christmas-Kelly, Glory Johnson, and Theresa Plaisance—other veterans on the team. The Wings lost to Elena Delle Donne and the Washington Mystics, and since the first round of the WNBA playoffs is one-and-done, that was it.
Assessing the team's performance over the last couple of seasons, which included a move from Tulsa to Dallas, Diggins-Smith says, "We had to go through some stuff, and I'm just happy we are as an organization where we are now, standing on two feet firmly planted."
Diggins-Smith is accustomed to greatness on the basketball court. It's been that way her entire life. Growing up in Indiana's Hoosier Hysteria, she reflects, "As soon as you can walk, you have a ball in your hand. I just always remember having a basketball."
She played up; a 5th grader on a team with kids five years her senior in a 10th-grade showcase. It was around that time colleges started reaching out to her, and in 8th grade, she met Notre Dame head coach Muffet McGraw.
"She got the championship trophy right here, the Coach of the Year trophy. The nets from the national [championship]," Diggins-Smith says, recalling her first trip to McGraw's office. "It's just so big." It was then that McGraw told Diggins-Smith she wanted her to play for Notre Dame and the school was offering her a scholarship. "I was too young to understand what that really meant," she says.
Diggins-Smith played lights out in high school and eventually won a state championship. In 2008, ESPN described her as "a consummate pro," declaring, "She plays every single possession like it's her last." During her four years at Notre Dame, Diggins-Smith helped the team win 130 games, make it to three Final Fours and two national championship games, and clinch two Big East titles and one Big East tourney title. She is also a two-time winner of the Nancy Lieberman Award, which is given to the nation's top collegiate point guard.
The accolades continued rolling in as a pro. In 2013, she was the third overall draft pick by the Tulsa Shock, who relocated to Dallas in 2015. She's also been selected as a WNBA All-Star three times.
But it hasn't all been smooth sailing. In June 2015, Diggins-Smith went down with an ACL tear near the end of a game. She was leading her team in scoring that season with 18 points per contest and had put 31 down the night she injured her right knee. The injury was her first real break from basketball, and southpaw claims it made her "stir crazy." So, she spent a lot of time in rehab, doing the necessary work to get better. "I'm going to start this day off positive," she says she'd try to think every morning. But admits there "was a point in time in there for three months straight, I cried every single day in rehab."
Going through the recovery process made Diggins-Smith realize the mortality of her basketball life. "I really, really, really am going to miss the game when I have to be done playing," she reflects.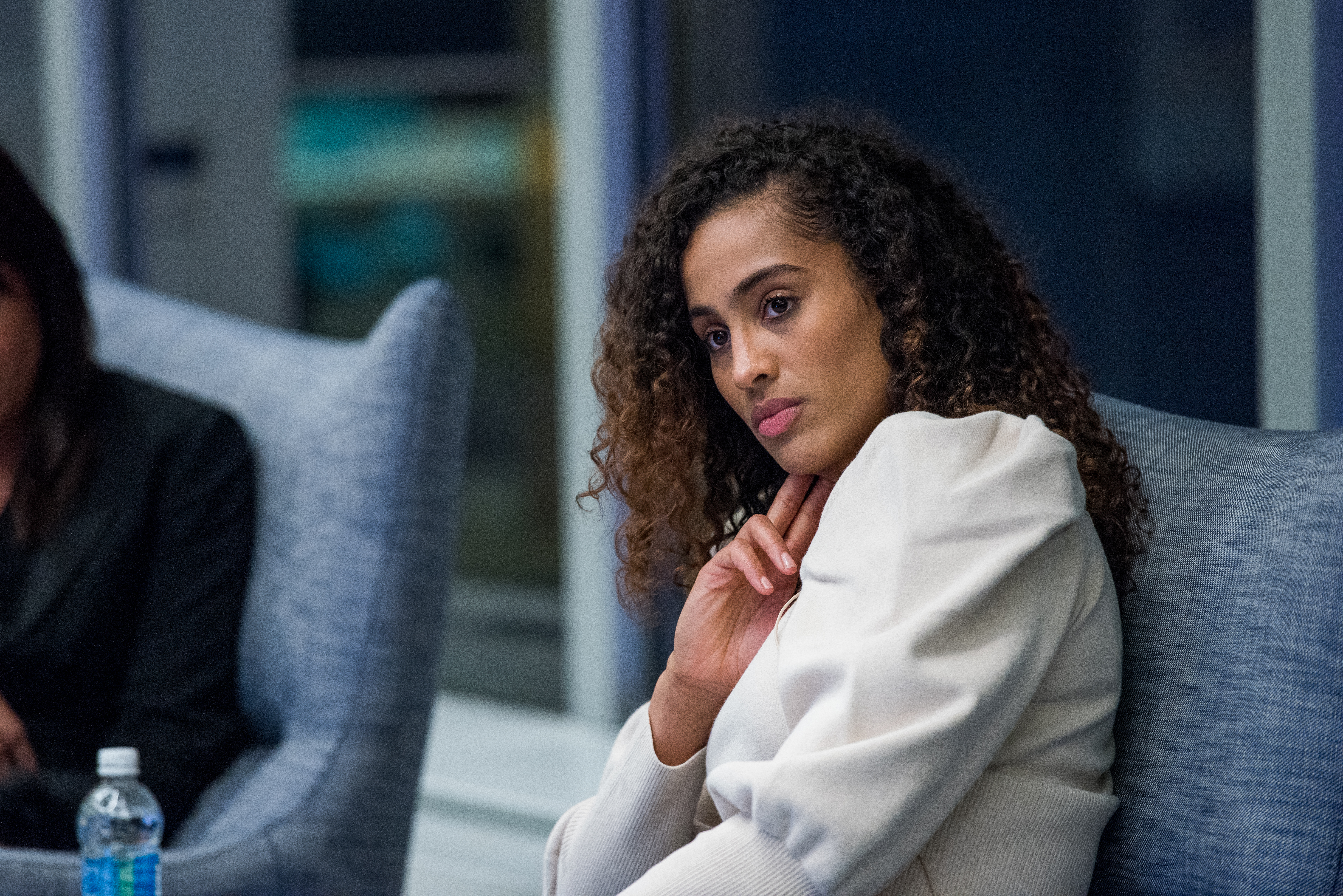 In the off-season, Diggins-Smith trains four days a week, lifting for an hour and 15 minutes, and then working out in the gym for another hour and 30 or so. When we met for lunch earlier in the day, she had already spent the morning laboring through one of her intense training sessions. In fact, later that night, she and her coach were laughing about a man she spotted in the gym trying to emulate her routine. At one point, he ran for the exits, and they're all convinced he left to go throw up.
When Diggins-Smith is asked what it is, beyond just working hard, that makes her such a talented basketball player, she responds with a soliloquy: "Yeah, you work hard, but do you go game speed every rep? Do you take off reps? What's your mentality? Not just physical. What's your mental like? Are you mentally tough? Are you a leader? Do you watch basketball, or do you just play? Do you study the game? Do you watch film? Do you rest and recover? Do you lift? Do you ice your knees every time?" Even her answers are intense.
She returned from the torn ACL early in the 2016 season, missing only seven games. But it wasn't until last season that the point guard really got her swagger back. She played in every game, led the league in minutes per contest, and averaged 18.5 points and 5.9 assists.
Diggins-Smith has the popularity to match her game, with over 618,000 followers on Twitter, and more than a million on Instagram—that's more than double the follow count the official WNBA account has. She's repped by Jay Z's agency, Roc Nation Sports. She was a Nike sponsor for a while, but is now on board with Puma. In fact, she showed up to our lunch in decked out in Puma gear from head to toe, and was rocking a Puma shirt and sneakers that night for bowling. Above all, Diggins-Smith is keenly aware of the platform she has and is quick to speak her mind, following the footsteps of other popular professional athletes.
"I'm not afraid to shout sometimes," she says. "It's just so much bigger than us."
What about, "Just shut up and dribble?" Sitting up straight in her chair and looking right in my eyes, she says, "We're people, too. We are citizens, we are taxpayers, we are voters. We are from these communities. These people look just like me. And I'm not afraid to say, if you act right, you are right." She adds, "However it touches you, speak on that."
"You can't be what you can't see. We need more images of our women playing so our girls can see these images."
Beyond social media clout, Diggins-Smith has seen her popularity reflected in how much more media coverage she gets than her peers, but she's quick to explain the disparity. It's easier to find profiles of her than other WNBA stars, but when that's brought up, she immediately responds, "They're also not here to endorse a product."
She doesn't say it as a judgment on anyone's choices, but rather as a statement of fact—a reality of what it means for her colleagues and for the game of women's basketball. The WNBA has a shorter season than the NBA and a lot of women in the league travel overseas during the WNBA offseason because it helps them subsidize their salary, which is par for the course considering top WNBA players reportedly earn about 20 percent of an NBA players' salary. Unequal pay aside, a significant downside of this tendency, she notes, is "We don't have players year-round in the city," whereas the Mavericks "go to different events in the community and get to be seen more because they are [in Dallas]."
Diggins-Smith is, no surprise, passionate about the coverage (or lack thereof) her league gets. When I ask how she would fix the problem, she shoots back, "You think if I knew the fix, that it wouldn't be fixed?" But as she continues talking through it, she lands on some ideas. "We need more women telling sports stories, because 90 percent of these sports stories are curated by men. We have no diversity in who writes for the WNBA. It's kind of all white men... People have stories to tell, and our league is so diverse."
The issue matters to Diggins-Smith, due to its present day and future ramifications. "You can't be what you can't see," she says. "We need more images of our women playing so our girls can see these images."

She knows the importance of this firsthand. "If it wasn't for me getting to see the 'We Got Next' campaign in 1996 with Rebecca Lobo and Lisa Leslie and Cynthia Cooper, Sheryl Swoopes... If I didn't get to see the Dream Team win in '96, if I didn't see that on TV... If I didn't get to see the WNBA on TV when it first started," she suggests that perhaps she would have taken a different path. She saw it and now she is it.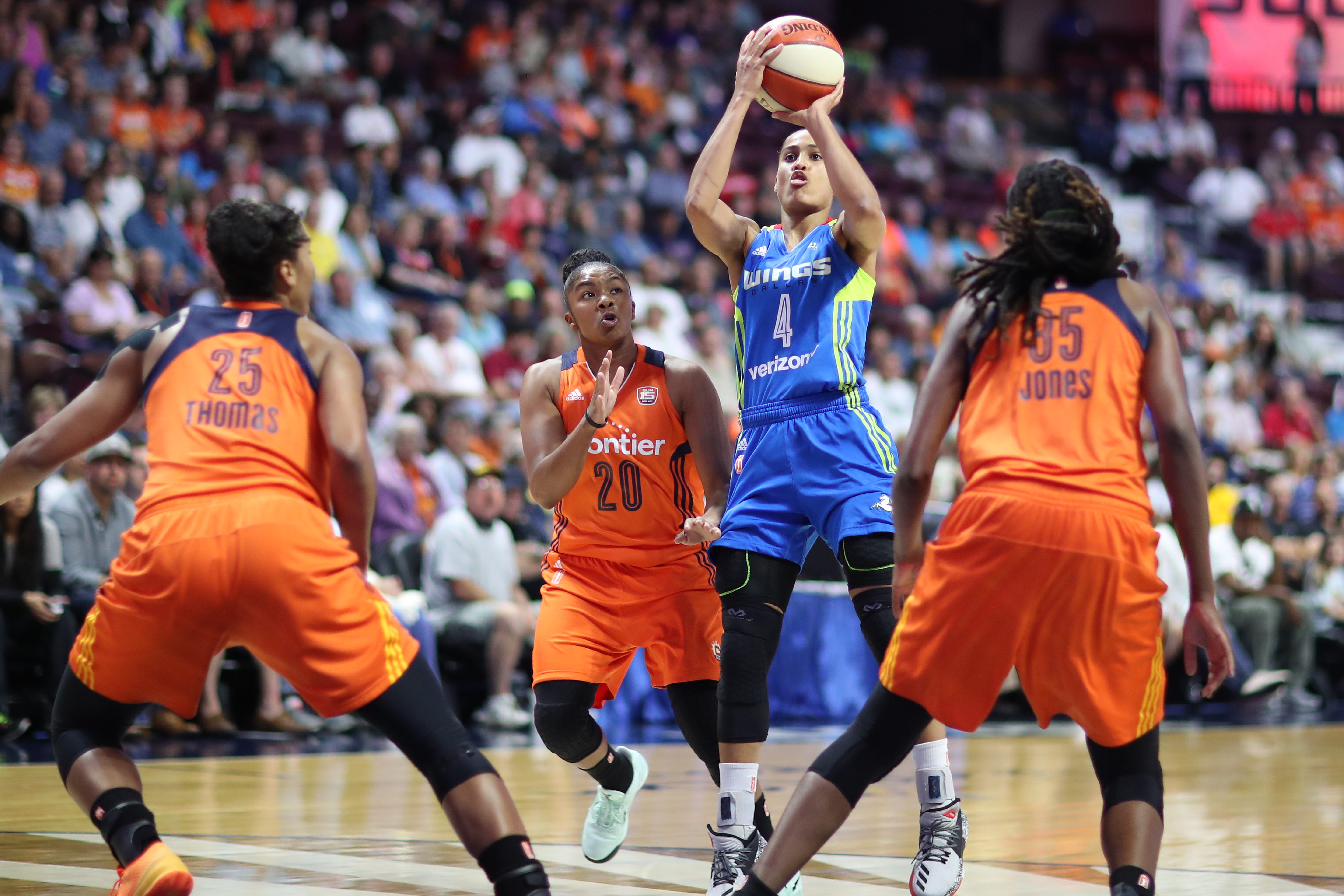 Where this path takes her post-career remains unclear, at least for the time being. Diggins-Smith is a connoisseur of the game and has an encyclopedic knowledge of it, but when asked if she'll go into commentating, she replies, "No," without skipping a beat. "Everybody's doing it," she quips, and then adds, "But I will say, I'm not against coaching. I watch a lot of games and I had a Hall of Fame coach, so I got to learn from the best."
For now, she's settled in Dallas, a city she describes as sports-centered and supportive. Diggins-Smith and her husband bought a house, and she says, "I am so excited about the opportunity of starting a family."
Plenty of other players have done this, including her teammate Glory Johnson, who's the mother of twins. "It's so important... for my kids to see me play because they [will] see a dedication to something, a commitment to something," Diggins-Smith explains. "They're going to learn [about] working hard for something and they're going to see the emotion." Since working hard is her natural state of being, both on and off the court, her future kids will have an excellent model.
Back at Pinstack, waiting for her turn to bowl, Diggins-Smith picks up a prize her friend won from one of those claw machines that every arcade has. She nearly won one as well, but the claw dropped the prize before it made it over to the chute. "I'm still upset about this," she announces to no one in particular before dropping the prize back on the table. It should be noted this was at least an hour after she lost at the claw machine.
If Diggins-Smith was that bothered by a game rigged for failure, there's no doubt she's still stewing over how far her team made it last year, only to get booted in the first round. Looking ahead to this season, she can't help but look back. "We need to turn it up to where we're trying to get a bye in the playoffs this year. We ain't trying to be in them one-and-done games," she says. "I cannot stand [it.]"
Look out, WNBA. Skylar Diggins-Smith has taken off her jacket. It's time to get serious.