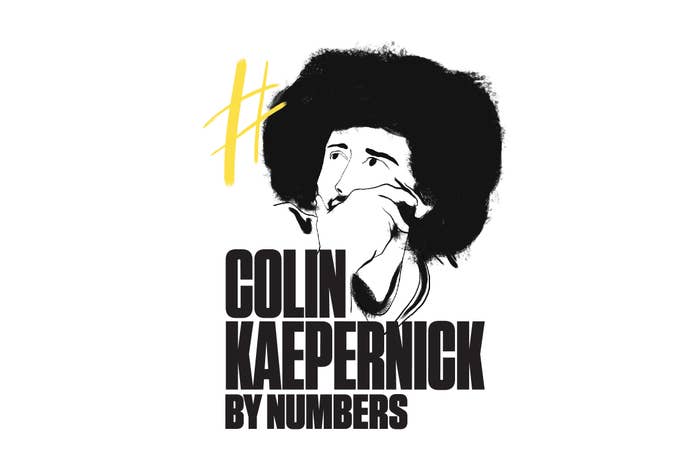 In professional sports, production is often measured by a player's ability to fill up the box score. Stats can also help in the case of maligned quarterback Colin Kaepernick. As the start of the 2017 season looms, a review of quarterback statistics from 2016 reveals an interesting story.
Kaepernick and his current situation do not need an introduction. While most believe his acts of protest have forced him to the sideline, there's still a contingent that attempts to use his performance on the field as ammunition. His 2016 numbers not only refute that stance, but are better than many of the starters and backups suiting up throughout the National Football League.
Kaepernick's stat line from 2016 may not leap off of the page, but it's far from a poor productive year. He appeared in 12 games, starting in 11. In that group he completed 196 of 331 passes for 2,241 yards, 16 touchdowns, and 4 interceptions. Kaepernick is known for his ability to run the ball, and 2016 was no different as he earned 468 yards on the ground for 2 additional touchdowns. These are strong numbers and some will wonder what he would have been able to do if he played all 16 regular season games.
Regardless of his stat line, the 2016 Niners struggled; the team finished the year with a 2-14 record. Kaepernick's protest only fed the flames of blame—some labeled him a distraction or worse. On March 3, 2017, Kaepernick opted-out of his contract, which led to his becoming an unrestricted free agent. That was five months ago, and the Milwaukee native has yet to be signed to another team.
But what do the numbers tell us? In those 12 appearances how did Kaepernick's stats compare to those of his peers? In many ways they hold up and show that he's a player who can still compete in this league. 
When compared to both starters and backups the trend is very clear: Kaepernick's stats are stronger than many men who are scheduled to suit up this season. His completion percentage of 59.2 percent is higher than Jay Cutler, Blake Bortles, Ryan Fitzpatrick, and Cam Newton. His completion percentage also compares favorably against backups, as only Case Keenum, Matt Barkley, and Trevor Siemian recorded better percentages while appearing in at least six games.
In 11 games Kap's total yards (passing and rushing) sum out to 2,709, which is higher than only Cutler when compared to all starters. But when that number is compared to all backups, he put in the third highest total in yards behind only Siemian and Brock Osweiler, both of whom played in three more games. When it comes to the rushing aspect of that tabulation only Tyrod Taylor earned more yards on the ground than Kaepernick last season.  
Another interesting stat comparison comes in the form of touchdown to interception ratio. Kapernick ended 2016 with 16 touchdowns and four interceptions, doing so without a "star" receiver on the roster. His touchdown to interception ratio is among the best in the league, regardless of starter or backup. Only Tom Brady, Dak Prescott, Aaron Rodgers, Matt Ryan, and Derek Carr have a better TD-INT ratio in 2016. All of them played at least four more games than Kaepernick last season.
Whether in agreement with Kaepernick's political views or not, it's clear he has the skills to help a team win games. Seattle Seahawks Coach Pete Carroll explained it in plain language after deciding to pass on signing Kaepernick back in June.
"He's a starter in this league," Carroll said. "We have a starter, but he is a starter in this league and I can't imagine somebody won't give him a chance to play."
It seemed like that chance would come when injuries hit players such as Alex Smith, Ryan Tannehill, and Joe Flacco, but decisions were made to sign the likes of Cutler, Josh Woodrum, Dan Orlovsky, and others, which left fans and media scratching their heads. Cutler, for example, is returning after retiring earlier this year. In 2016 he suffered multiple injuries, including one to his labrum in his throwing shoulder that ended his season after only five games. Kaepernick offers more reliability than Cutler, who was prepared to walk away from the game a few short months back. Orlovsky has started a combined 12 games even though he's been in the league since 2005. Woodrum was waived by four teams in less than one year and has yet to appear in a regular season game. These stand as examples of where Kaepernick is being overlooked for players who haven't produced as well as he in the recent past.
Colin Kaepernick's place as an unrestricted free agent creates questions around what is important in the NFL. Kaepernick remains on the sideline regardless of the fact that he can help multiple teams as either a starter or backup. The numbers in the box score prove this point.