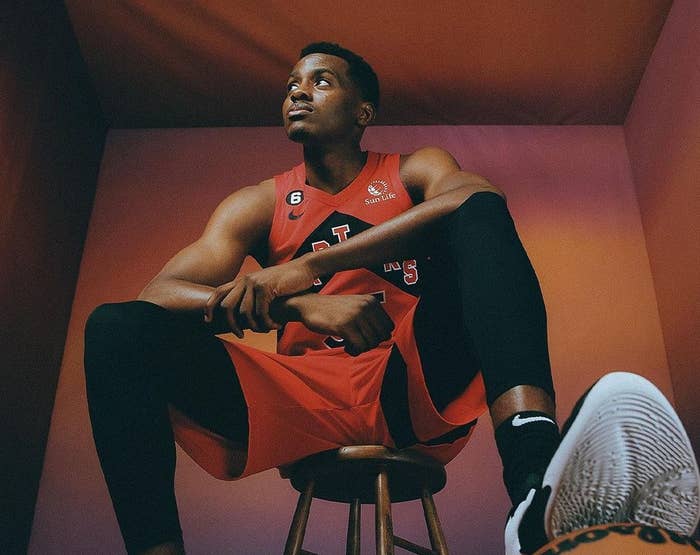 The NBA is becoming a global game. And while the league's best players are from all over the world, most of the 120 international players come from a few specific hot spots. One of them is Canada, with a record 22 players this season. The continent of Africa is well-represented, with 15 African-born players in the league and more than 35 players with at least one parent from an African country.
And we're witnessing just the tip of the iceberg. 
Twenty-two year old centre Christian Koloko is the latest African player to emerge. The Toronto Raptors second round pick in the 2022 NBA draft is originally from Douala, Cameroon, the same city as teammate Pascal Siakam. Last week, the two of them shared the court with Philadelphia 76er star Joel Embiid, who is from nearby Yaoundé, marking the first time in NBA history that three Cameroonians shared the court. 
"I think the most important thing is, I hope that the next generation is seeing that [growth] and I think for them, hopefully it means something," Siakam said about playing with Koloko and Embiid. "Just having that representation that for us, we don't really get to have most of the time… I didn't really see a lot of people that were from where I was from [growing up]. So just seeing that in one game, three people from the same place, that is huge."
Embiid thinks of the three Cameroonians as a "collective," saying: "That's why I do it… coming from over there where you don't have a lot of opportunities, I want someone to look at me, I want someone to look at us and believe that if we made it, they can also do it. It's not easy. It's not gonna be easy. You gotta be extremely lucky. But you know, it is possible… [and] more people are gonna keep coming."
As players like Embiid and Siakam set new standards, reaching All-NBA status and winning an NBA championship, the expectations have changed: African NBA players are ready to stand out. And nobody demonstrates those growing aspirations better than Koloko. 
Growing up in Duala, Koloko played soccer almost every day after school. He only started taking basketball seriously at age 16, but by that time he was already 7-foot tall and noticeable enough to earn an invitation to the NBA's Basketball Without Borders Africa camp in South Africa in 2017, a program that both Siakam and Embiid participated in when they were younger. It was Koloko's first time leaving Cameroon, and when he was named to the all-star team despite being one of the youngest players there, it became obvious that more basketball-related travel was in his future.  
That was Koloko's first time meeting Embiid, who was volunteering to coach the camp. It was a surreal moment for Koloko, who used to watch Embiid upon learning that a Cameroonian was drafted to the league in 2014, keeping a close eye on him because Embiid similarly came to the game at an advanced age and improved rapidly. 
Koloko had to stay up late to watch those games, which were often on at 3:00 am local time. "Sometimes you gotta go to school at 6:00 am, but you stay up late," Koloko recalls. "You watch the game from like 3:00 to 5:00 and then you get like 30 minutes of sleep. Sometimes you don't even sleep because you know if you sleep you're not gonna wake up, so you just go to school, your eyes are red, and it's just for the love of the game."
In 2017, When Koloko was 17, he moved to Southern California in order to pursue a basketball career while living with his sister, Stephanie, who already lived in the state where she received her MBA from Cal State Fullerton. Koloko attended high school at Sierra Canyon School before going to college at Arizona from 2019 to 2022.
It was during that period of his life when Koloko learned about a different Cameroonian in the NBA, Siakam, who was drafted in 2016. They met each other in Los Angeles one summer a few years back when Siakam was there working out, and since becoming teammates, their relationship has continued to grow. 
"He's like a big brother for me," Koloko said about Siakam, who assisted on his first NBA bucket in the preseason. "He's always trying to help me on the court. And when I make a mistake or something, he just pulls me to the side and is just trying to tell me what I did wrong and how I can do better."
"It's crazy, it's weird, it's just a proud moment," Siakam says of being teammates with Koloko. "Being from the same hometown, I can only think of all the kids back home thinking, 'Damn, we have two people!' What are the odds we're both from the same place and we're both from Africa?" 
"…For me, personally, it's just kind of my job to bring him along, make sure I'm there whenever he needs me. I'm definitely not one of those vets who's all over the players just talking — I wanna give him space but also wanna make sure he understands he has someone who's gone through every single thing he's going through at every single level. I understand everything he's going through. So, I'm here. Whenever he needs it, he can talk to me if he needs it. Also, if I see something, I can tell him."
"So I knew I had to work twice as hard as them every day. And that's what I did." -Christian Koloko
Koloko has quickly become a sponge in the Raptors organization, leaning on veterans like Siakam for help. It's a big part of the reason that Koloko has been able to grow so quickly from the end of his college season in April to the NBA Summer League in July until now, cementing himself as a key part of the Raptors rotation as a rookie centre.
"I like a lot of things about him," Raptors head coach Nick Nurse said about Koloko. "...He's got a pretty big engine or gas tank or whatever. That means he's able to go to work on a daily basis for an extended time or two-a-days or sometimes even three times working on his game. You don't see any let up on his facial expression, his body language or his energy that he's doing. That one is a huge one for me because he's going to get better. If he can come in the gym every single day and have that motor running, he's gonna get better."
Koloko attributes that work ethic to his upbringing. He got a late start to his basketball training, and was behind his teammates when he arrived in the United States—many of whom started playing AAU basketball from as early as 8 years old. "So I knew I had to work twice as hard as them every day. And that's what I did," Koloko said. 
In college at Arizona, Koloko remembers working out before and after practices, pushing his body to the limits. Coaches at Arizona often brought up the example of another player with African roots, Giannis Antetokounmpo, who came in the NBA as a raw 18-year-old and worked his way to win back-to-back MVPs and an NBA Championship. "And I think that's why I set that mindset of working hard," Koloko said.
It paid off, with Koloko's averages jumping from 2.3 points in 8.3 minutes minutes per game as a freshman to 12.6 points in 25.4 minutes as a junior, when he was selected 33rd overall by the Raptors. Now, he's averaging 15.3 minutes per game in the NBA.
"When I came here and I see guys like Pascal—he's always here, the first one in a gym working," Koloko said. "And him being the star of the team and having that work ethic, I think it just pushes you, it just motivates you and just shows you how to be great basically because after everything he's already accomplished, him still being probably the hardest worker on the team, that just pushes me."
Koloko came to the United States with the goal of making it to the NBA. But as soon as he achieved it, his aspirations grew. Now, Koloko wants to be a "longtime NBA player and a good player." He wants to help push the sport of basketball forward in Africa by representing Cameroon on the biggest stage. And he has the blueprint of how to do it sitting right beside him in the locker room.
(Siakam) still being probably the hardest worker on the team, that just pushes me."
"Basketball really evolved in [Africa], that's for sure. I think it really evolved and people started paying more attention to basketball when Pascal won the championship," Koloko said. "After Pascal won the championship and he went back home with the trophy—as well as [Raptors President of Basketball Operations]Masai Ujiri with his non-profit Giants of Africa and his own camps—I think that's when people started realizing that yeah, we got something in basketball. And more people started playing basketball and they got more interested in it."
As the game continues to grow throughout Africa, Ujiri and his team of scouts will be watching. After all, the Raptors are the most international team in the league for two years running, with eight international players and three Africans (including Nigerian Precious Achiuwa). That's no coincidence.
"Our scouts in Africa, they're constantly watching these guys," Ujiri said. "...And maybe we have some kind of cheat sheet because we follow that. This is something we do with pride and our scouts do with pride. And we're not hiding it from anybody. We do it because I believe in those young players on the continent.
"Globally, the game is coming. It's not going to be a surprise when we see the Christian Koloko's and Precious Achiuwa's appear on other teams and in different organizations. It's coming."
On the Raptors, it's already here.