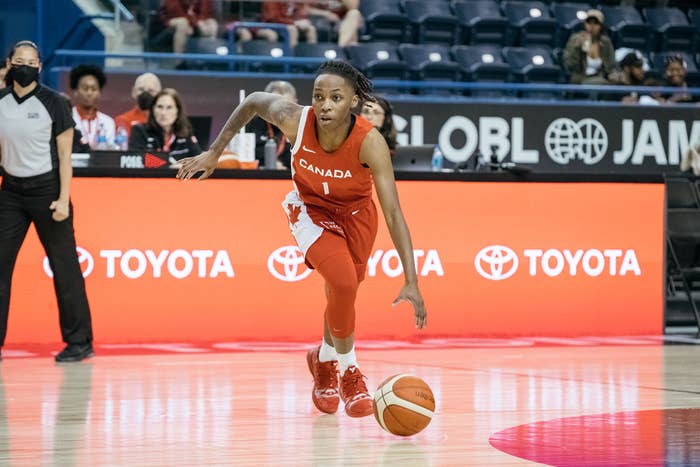 The Canadian women's senior national basketball team is ranked No. 4 in the world, yet they haven't medaled at an international competition since 1986 and have never medaled at the Olympics. 
There has been a ton of buzz about Canadian women reaching the highest levels of the sport in recent years—highlighted by Hamilton's Kia Nurse starting at the WNBA All-Star game in 2019—yet only three Canadian women currently play in the WNBA, fewer than each of the United States, Australia, and the same amount as Hungary. 

Mississauga native Laeticia Amihere just led her South Carolina Gamecocks to a national championship in the 2022 March Madness tournament—which had a record 20 Canadian women participating—and is projected to be selected in the 2023 WNBA draft. But ask the average Canadian basketball fan about Amihere, and odds are they've never heard of her.
If all of that sounds contradictory, it only goes to show the push and pull that Canadian women have been dealing with over the last few years as they try to propel the game of basketball forward, with every two steps forward being preceded by one step back.

Still, there has been slow and steady progress towards women's basketball entering a golden age in this country despite the inequity these women face—and the businesspeople and government stakeholders refusing to invest in the sport. This is the story of those Canadian women and the next generation of girls who are building off of the foundation that has been set for them to take Canadian basketball to new, previously unthinkable heights. 
From WNBA players like Natalie Achonwa and Bridget Carleton; to the next generation of stars like Shy Day-Wilson, Laeticia Amihere, Yvonne Ejim, and Aaliyah Edwards; to the grassroots organizers and coaches promoting and developing athletes like Victor Lapena, Carly Clarke, Lee Anna Osei, and more, we talked to those who are most invested in growing women's basketball in Canada in order to find out how we got here, what's holding our women back, and where we can go from here.
The State of Play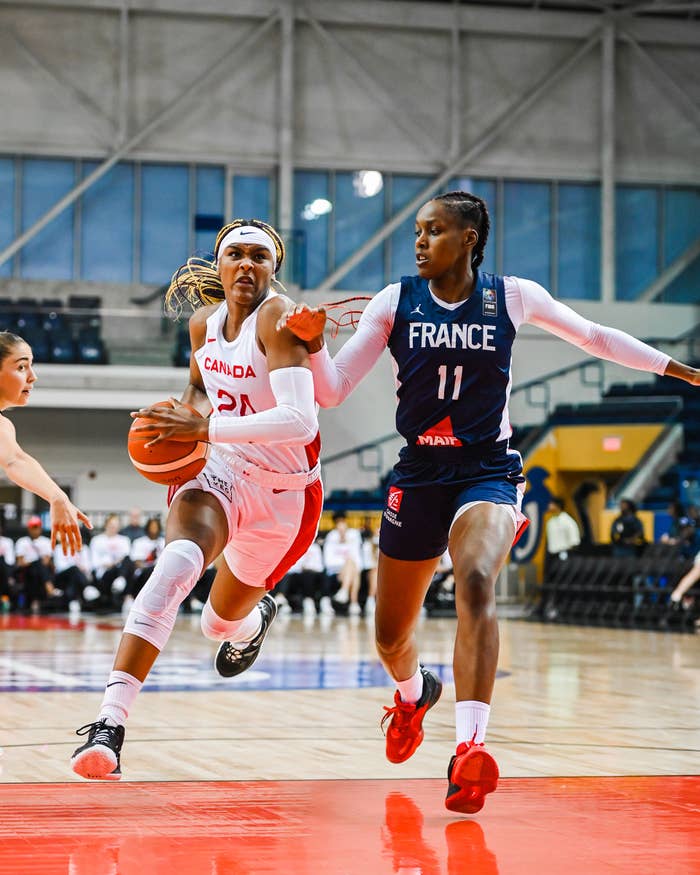 While the ascent of women's basketball hasn't been quite as straightforward as it has been for the men in Canada, make no doubt about it: this is the golden age of women's hoops in this country. That No. 4 ranking is the highest the national team has ever reached, and it has taken years of hard work and commitment from the best players to get here. The three Canadians in the WNBA are joined by hundreds of Canadian women who have made a living playing professional basketball overseas such as Stephany Skrba, Tamara Tatham, Kayla Alexander, and Nayo Raincock-Ekunwe, paving the way for the next generation to do the same. And the roots of Canada's own pro league have been planted by HoopQueens, Canada's first paid summer league for women. Plus, the Canadian girls rank No. 8 in the world at the youth levels and there are a record number of Canadian women playing at the top Division 1 NCAA schools, with three college athletes in Amihere, Edwards, and Shaina Pellington already playing for the senior national team and many more are on their way. 



"Even just one of us playing in the WNBA should give the next generation of Canadians hope that they could be me or they could be Bridget Carleton or Kia Nurse and keeping that mentality is what's gonna get you there."
The current pipeline of Canadian talent is deep, and there are few reasons for that. The first is representation, because in order to put your mind to doing something as difficult and all-encompassing as playing professional basketball, you have to believe. And for a while, Canadians didn't have role models that they could look to and see themselves in. But the growth of the WNBA and Canada Basketball has enabled Canadians to witness their compatriots succeeding at the highest levels. 
"I feel like it's just a rise in inspiration that has come from the few players that have been in the WNBA or in higher-level basketball overseas. I feel like more girls are just getting inspired by those stories," 20-year-old Yvonne Ejim, who plays at Gonzaga University and has four years of experience with the national team, says about the growth of the game. "Being set on: I want that to happen for myself and actually going out and doing it. We're no longer just trying to just get by or play high school basketball and let that be an accomplishment for us anymore—we're trying to achieve the goals that we've seen other women accomplish."
"Representation matters," Minnesota Lynx forward and two-time Olympian with the Canadian national team Natalie Achonwa says. "Even just one of us playing in the WNBA should give the next generation of Canadians hope that they could be me or they could be Bridget Carleton or Kia Nurse and keeping that mentality is what's gonna get you there."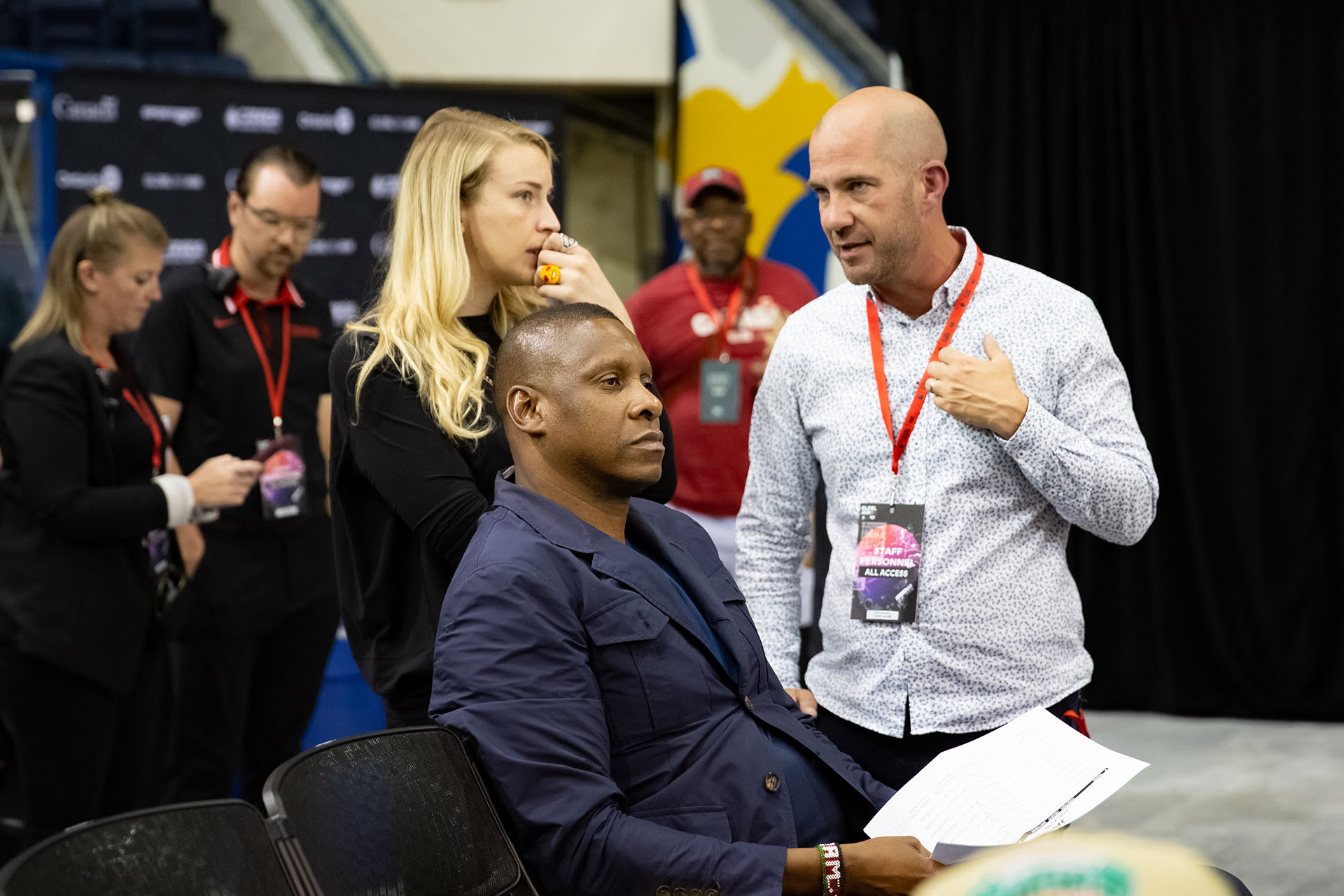 Seeing yourself in people that have made it and building the confidence to do so is important, but it will only get you so far. The other reason that Canadian women are thriving is because the developmental systems they have at their disposal are far better than they were in the past. Between high school prep leagues like the Ontario Scholastic Basketball Association (OSBA) starting in 2016 for women, the pathway that Canada Basketball has laid out from provincial teams starting at U14 to youth level national programs starting at U16 to the senior team, the best female athletes in Canada are now starting to play from a younger age and being given the tools to develop and be thrive. But it wasn't always this way.
"I used to travel from Mississauga to Toronto, finish school at 2:30 and have to be in Toronto by 4:00 for weights. And then I'd have to drive to Scarborough to do basketball training after that. It was a lot," 20-year-old Amihere says of her life before the OSBA, when her family was practically living out of their car. "The league provided a kind of a program where I was able to do my schooling, my basketball, my weight, all in one area. So that level of eliteness definitely brought me to another level."
The OSBA has been huge for providing women with opportunities to be scouted as well, according to Crestwood Prep head coach Marlo Davis. He explained that prior to the OSBA, high school basketball would end as early as November, but the league extended the schedule to lend itself to more media coverage and scouting opportunities. He added: "Several coaches at the NCAA level have told me that the OSBA is a top-three high school league in North America." Because of the league's growth, Canadians from all over the country are coming to Ontario to play against the best competition and give themselves the best opportunity to be seen.
Canada Basketball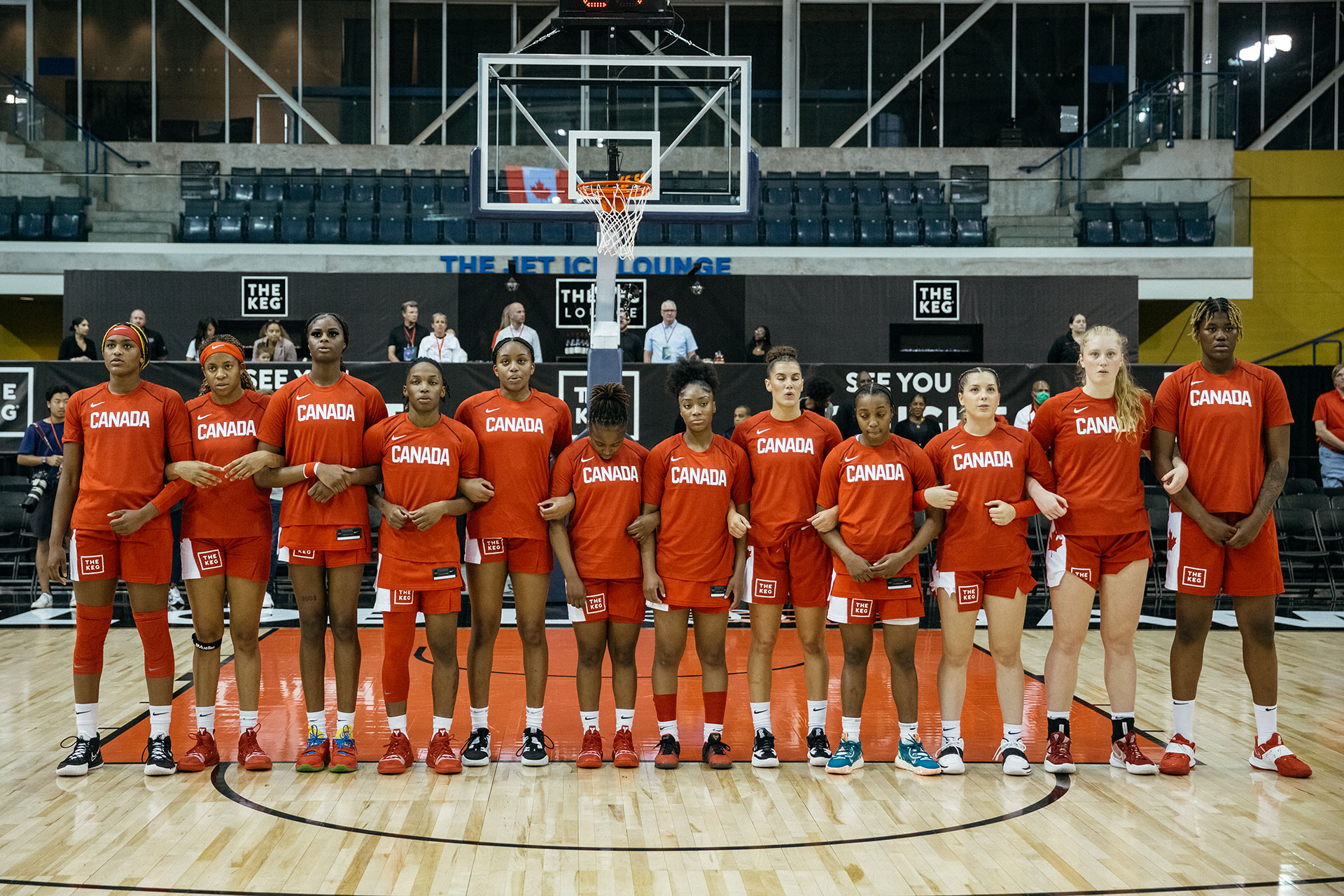 The other part of that development for Canadian women comes from Canada Basketball, the governing body that has taken on the responsibility of developing Canadian women from young ages and giving them opportunities to represent their country on the biggest stages. 
Ejim is a great example. She grew up in Calgary, Alberta and therefore didn't have the good fortune to play in a prep league like the OSBA, instead playing high school basketball against weaker competition. However, Ejim started playing for Team Alberta at the Under-15 level and made her way up the ranks to Team Canada youth teams, currently playing for the Canadian U23 team at GLOBL JAM. 
"Those programs have been super helpful to me, honestly. I feel like if I didn't go to Team Alberta I really don't know where I'd be right now," says Ejim, who has learned a lot from the coaches and different styles of international play. "I'm so thankful for them for taking me under their wing and seeing the potential in me. Along with developing my skill set and stuff like that, just getting me on the national level and competing against other high-level athletes around the country that I probably wouldn't get to compete against otherwise."



"Now that I'm here and have had the opportunity to see them, there is too much talent coming up… now I realize that we have a very good future."
Ejim isn't alone in crediting a lot of her development to Canada Basketball. While Canadian men have more high-level AAU programs and training facilities at their disposal, the women have almost no choice but to rely on Canada Basketball to develop them because there are so few other options, especially in cities outside of Toronto. And as a result, unlike the men, all of the best Canadian women commit to the national program whenever offered the opportunity. 
"I was called up to the senior national team at 16 years old, and that's really when I got into high-level basketball was through those programs," Achonwa says. "At the time of growing up, women's basketball wasn't that prevalent. You couldn't see it. It wasn't televised. So I didn't even know the WNBA existed. And it wasn't until I started playing with the senior national team that I was able to even develop female role models in the game. And like I said, 16 playing on that team with grown women, they were the ones that led me and taught me the game and that were really my heroes at the time."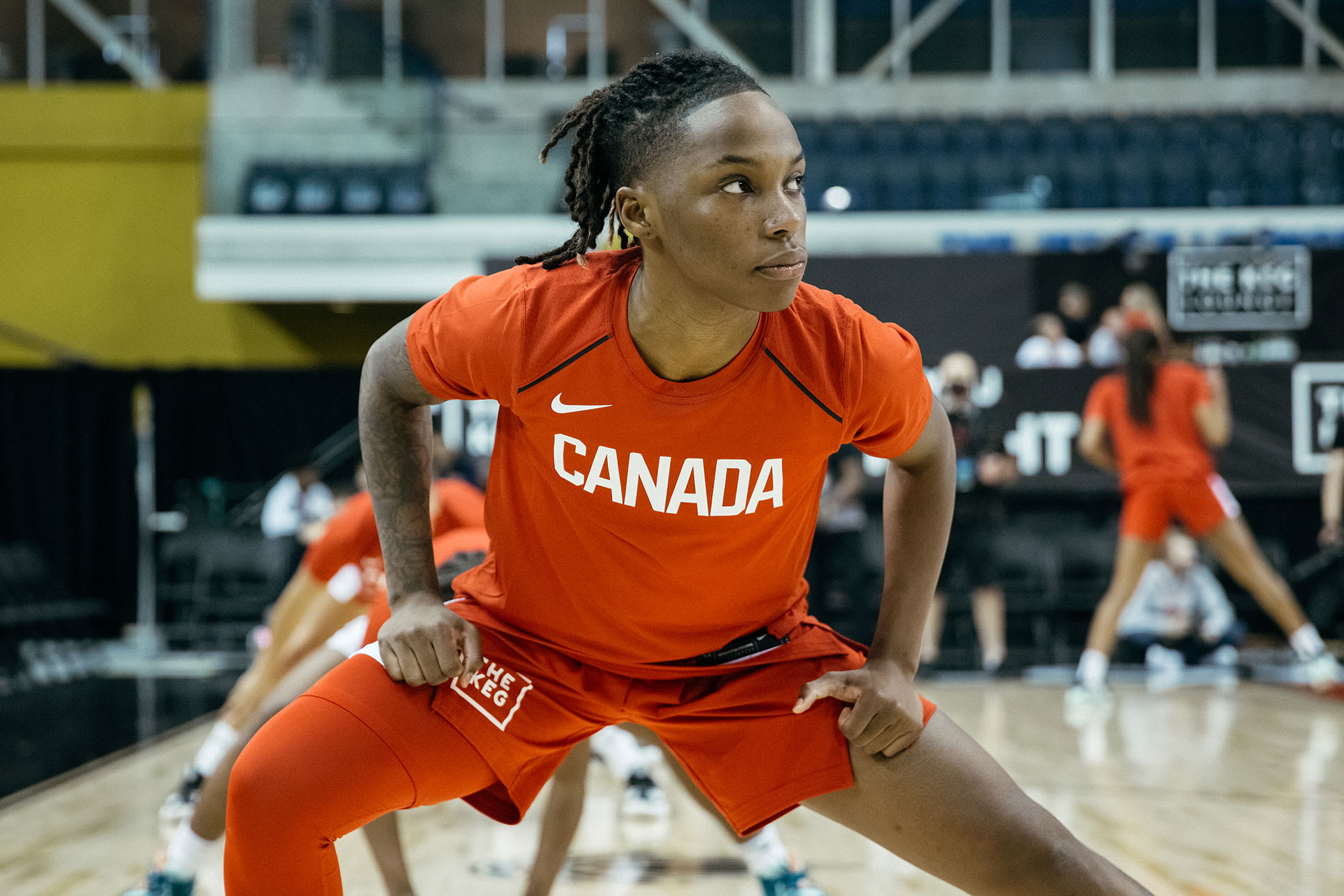 In part because of the commitment Canada Basketball has shown them, almost every female athlete that I talked to in Canada has the exact same goal at the top of their career bucket list: to represent Team Canada at the Olympics and to finish on the podium. Their next step on their journey to medaling at Paris 2024 comes at the FIBA World Cup in September.
"It's something that we feel like we've been so close to," Achonwa says of winning gold. "I mean, we rank fourth in the world right now and it's not been an easy feat to get here. So I never want to take away from the work that we have put in for our program to get to this point. But I also have so much faith and belief that we can do so much more. I've had this goal and this dream for our program and I feel like I've been holding on so tight this time around… I'm putting the work in the process and I'm trusting the work in the process in hopes and aspirations that the medal will come."
Victor Lapena was hired as the head coach of the women's senior national team at the beginning of 2022 to help them do exactly that. The Spanish international comes from a basketball culture of discipline and competitiveness in Spain, and he sees the same qualities in Canadian women, along with a lot of built up chemistry at the senior level. But when Lapena took the job, he had no idea how much talent was coming down the pipeline. Watching the GLOBL JAM under-23 team in training camp from the sidelines, he's taken aback by the likes of Amihere, Edwards, Day-Wilson, Ejim, Lattimore, Pelington, Merissah Russell, and more.
"I didn't know at all. Especially because I have been out of the youth programs in Spain for many years, since 2016. But I know that the Canada Basketball coaches were pushing really, really hard for the development of our young athletes," Lapena says. "Now that I'm here and have had the opportunity to see them, there is too much talent coming up… now I realize that we have a very good future."
The Struggles of Being a Female Baller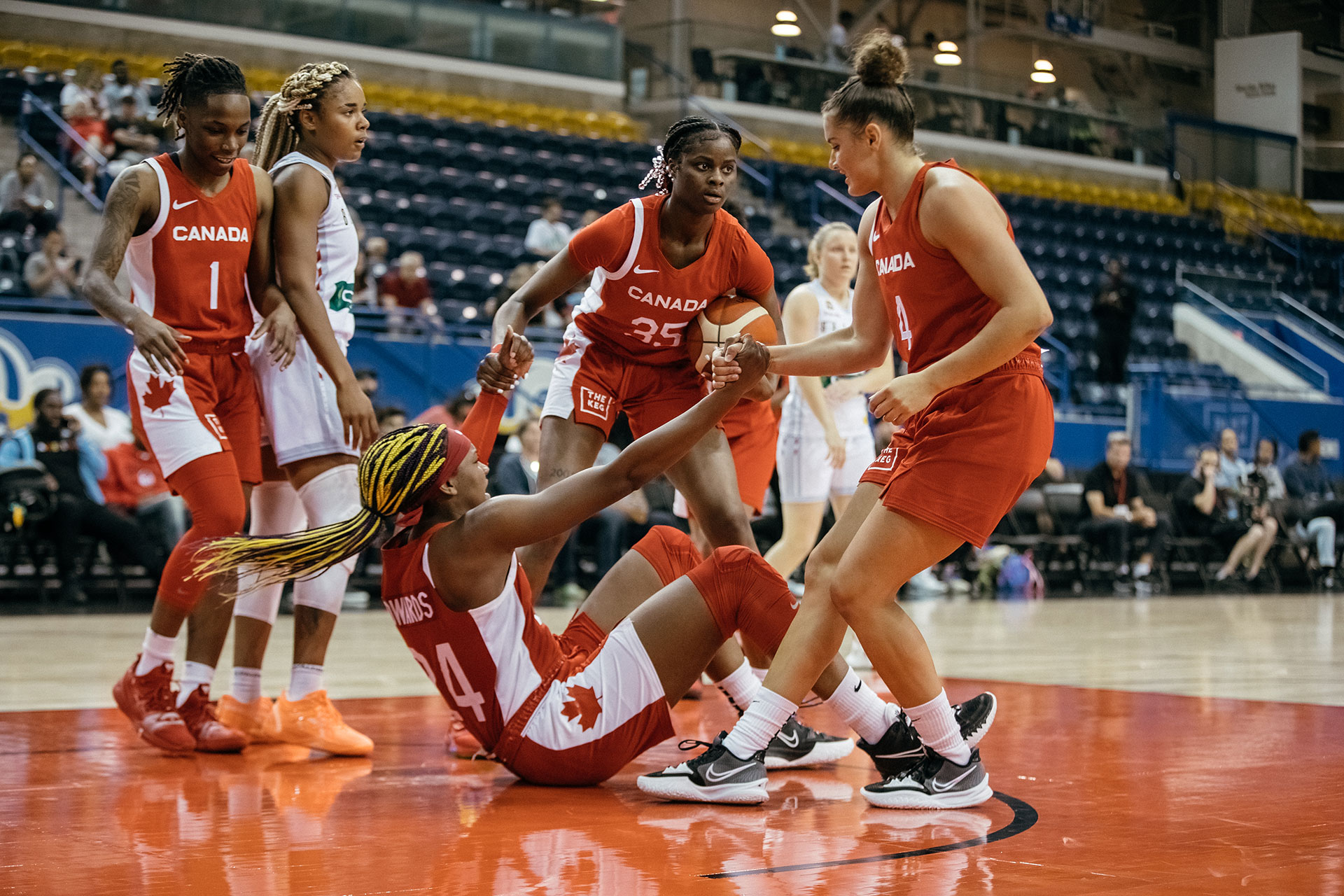 When Oregon basketball player Sedona Prince got out her phone and recorded videos displaying the stark contrast of weight room amenities between the men's and women's basketball teams at the NCAA tournament in 2021, she revealed what every female baller from Canada already knew: that things are not equal between men and women, with women having to work twice as hard just to get the same level as respect.
That gender inequity shows up in all levels of the sport, from high school basketball programs prioritizing men's teams to Canada Basketball failing to give the women the same equipment as the men in the past to the WNBA's inability to pay women a living wage and forcing them to supplement their income abroad. 
It's no wonder that one in four Canadian girls don't plan to return to organized sports after the COVID-19 pandemic, and that even before COVID, one in three Canadian girls left organized sport by late adolescence compared to only one in 10 for boys. Whether it's the lack of media coverage, lack of opportunities, job security, and basic comforts at the professional levels, or just the double standards under which female ballers are expected to adhere to, the deck seems to be stacked against Canadian women. 



"What a lot of people don't understand about the WNBA is you fight so hard, that's your dream... But you kind of get snubbed and you get robbed, because you could get drafted in the first-round and still get cut from the team just because they don't have enough teams."
Amihere remembers starting at Canada Basketball six years ago and the women not getting the backpacks that the men got. It was only after the women complained that they weren't being treated equally that Canada Basketball got them the same equipment, which Amihere believes had a material impact on their play, saying "when you look at you feel good. If we're not out there wearing the right stuff, or we don't have the same stuff as the men, it's kind of discouraging. So, being able to have that kind of brought us to another level." Canada Basketball has learned from their mistakes and are creating equity-driven programs, including events like GLOBL JAM and campaigns such as "Mad Love."
Ejim has a different story. Playing at Gonzaga, her family in Canada can't access the games on television and they often run into problems streaming her games online. After Ejim showed out in the WCC championship this past season, she found out that her mom could only see the box score and wasn't able to watch the games, but did notice that the Gonzaga men's games were on TV that same day. Ejim was frustrated, saying, "My mom should be able to watch my games. My other international teammates, their parents should be able to watch their games. I don't see why there has to be a problem with that. I think that's just stupid."
Day-Wilson has never understood the arcane double standards that come with the female ballers compared to the men, including structural rules preventing women from taking the same route as men take to the professional ranks, such as the one requiring women to play at least three years in college before going pro, unlike the men who can play just one. Day-Wilson says that women should have that same opportunity to go pro if they think they're ready.
Kareem Griffin has been coaching women's basketball for practically all his life and co-runs Canletes with coach Lee Anna Osea, a recruiting and events platform for Canadian female hoopers. He thinks that all of these problems come back to not enough people truly believing in women's sports, because if they did, they would treat it equally with the men's game. He has seen some of the people closest to the sport including coaches, players, referees, parents, and fans all adhering to double standards that take the women's game less seriously and stunt its growth.  
"I feel almost like you're alienated when you do take women's sports seriously because the response is like, 'Wow, wow, what are you doing here?'" Kareem says. "And I get confused all the time. I'm like, 'Is this not supposed to be competitive? How are you going to tell me not to do this when you wouldn't tell a men's coach that? Or how are you going to tell a female player not to do something that a male player can?'"
"A guy blocks a shot, yells in a guy's face: it's all good. A girl blocks a shot, yells in a girl's face: technical foul. It doesn't make sense."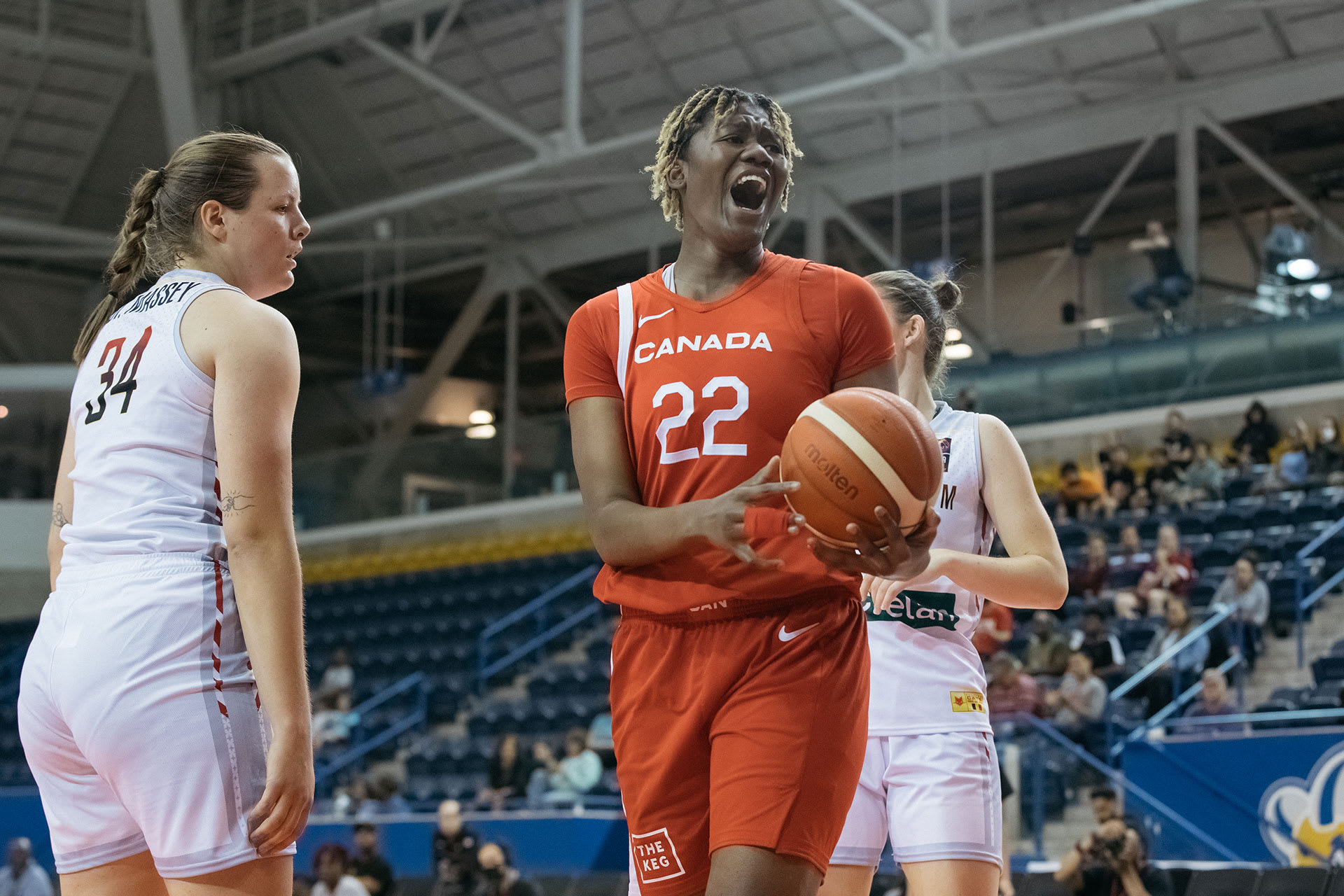 Even at the pro level, where there are only 12 teams and 144 jobs in North America's only pro league, the WNBA, the players are making mediocre salaries, flying commercial rather than private, staying at unglamorous hotels, and getting less coverage than men not because the product is bad or because the audience isn't there, but because companies are failing to see the long-term vision and invest in the future of women's basketball. Where a high-level male baller knows that if he invests his time into the sport he will likely be able to carve a decent career either in the NBA, in the CEBL, or overseas, a woman doesn't have the same job security, and that turns a ton of Canadian women away from the sport to instead focus on their studies or other careers. 
"What a lot of people don't understand about the WNBA is you fight so hard, that's your dream, that's your aspiration, that's something where you want to go. But you kind of get snubbed and you get robbed, because you could get drafted in the first-round and still get cut from the team just because they don't have enough teams," Day-Wilson says. "So I just feel like a lot of things just need to change there."
"We need more jobs, we need more opportunities for people to play because the talent is there. And also the development aspect of having a domestic league in Canada—think about how many more women might continue to play basketball if they don't have to go overseas," Achonwa says. "Because as someone that's played overseas in multiple different countries, multiple different leagues, you have to be built different for it. It's a different kind of lifestyle and it takes years off your career."
Achonwa plays on three teams a year—the WNBA, overseas and the national team. She is one of the 144 best basketball players on earth, and she has to grind nonstop. No wonder it's so difficult for other Canadian women to aspire to do the same. 
The Next Step Forward