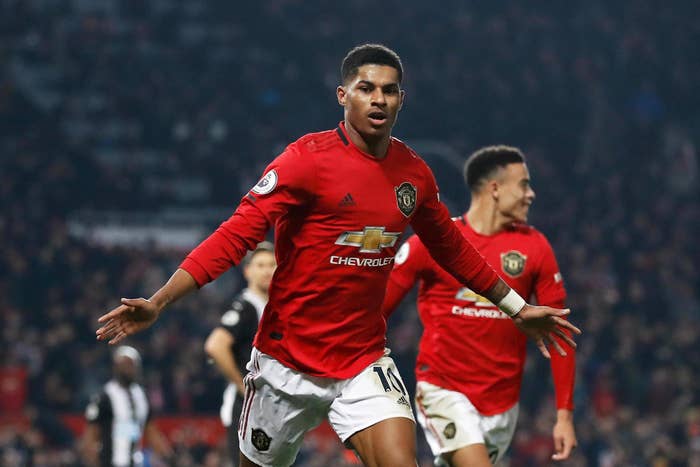 It has been announced that students in the UK taking GCSE Media Studies will study Manchester United player Marcus Rashford's role as an activist and social campaigner.
Students will explore the 23-year-old forward's philanthropy, specifically how he utilises social media to shine a light on pressing social issues such as structural racism, poverty and the school meal crisis. 
The AQA board has praised Rashford for his proficient communication skills and how he casts his follower's attention to pressing social issues. "Marcus Rashford is one of the most influential and inspirational young people in the UK, so students can learn a huge amount from how he uses social media to make a real impact," Sandra Allan, Head of AQA's creative arts curriculum, told The Guardian. "It's not just an opportunity for them to learn about social media—it's also a great way to learn about important social and race issues as part of our commitment to equality, diversity, and inclusion in the curriculum."
Rashford has been in the public spotlight over the past 12 months as he's questioned PM Boris Johnson and Tory MPs over their failure to adequately feed hungry children during the COVID-19 pandemic while on school holidays.
Addressing MPs last year with an open letter, Rashford wrote: "My mum worked full time, earning the minimum wage, to make sure we always had a good evening meal on the table—but it was not enough. The system was not built for families like mine to succeed, regardless of how hard my mum worked."
This year, Rashford raised £20 million for child food poverty and used his Burberry partnership to aid London and Manchester youth clubs and charities. 
Additional topics added to the GCSE Media syllabus include Marvel's Black Widow character, Heat Magazine, the fantasy drama His Dark Materials and the Kiss radio Breakfast Show. With the British education system often criticised for its lack of diversity and representation, adding Rashford's activism into the curriculum is a step in the right direction. 
The new GCSE syllabus will land nationwide next September.