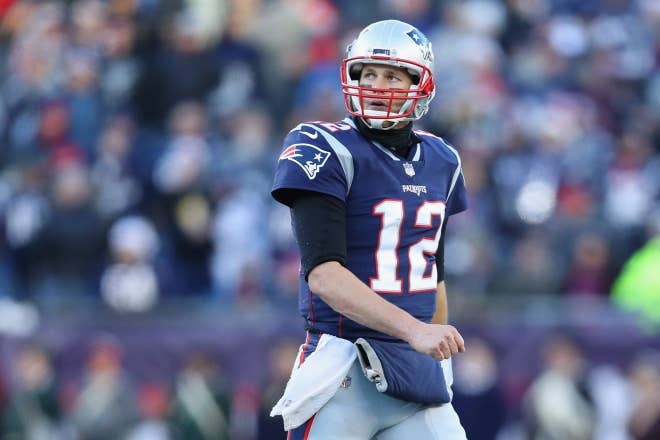 As much as people want to keep insisting that Tom Brady is getting "too old" to play quarterback in the NFL, the 41-year old legend keeps proving that he still has what it takes. It's no wonder he has no plans on retiring anytime soon.
In his latest weekly interview with Westwood One's Jim Gray, the future Hall-of-Famer talked about extending his career beyond 2019. "I absolutely believe I will. I know I've talked about it for a long time: I have goals to not only play next year, but beyond that," he said. "I'm going to try to do it as best I possibly can. I'm going to give it everything I have, like I always have."
However, the five-time Super Bowl champion did acknowledge that accomplishing that goal certainly won't be easy. "It will certainly be a challenge," he explained. "I don't take any of these things for granted, but I hope I can keep playing, and I hope I can keep playing at a championship level."
While Brady's stats this season haven't been eye-popping, he's led the Pats to a 10-5 record and another AFC East title. Still, the team's overall performance seems to lack the usual dominance we've become accustomed to seeing from Bill Belichick's squad for almost two decades. Brady's personal production has also dipped slightly from his 2017 campaign that earned him MVP honors, partially due to some lingering health concerns, another topic Brady made sure to address during the interview.
"I'm feeling really good," he said. "It's been 15 weeks of football and there's always bumps and bruises you deal with. But I'm feeling great for this time of year."
While Brady might have plans to play next season, it will be interesting to see where he goes from there. His current contract expires following the 2019 season and the Pats signing a 43-year old to a new deal seems pretty unlikely. Sure, another team in need of some QB help could pick him up too, but do we really want (or need) to see Tom Brady suiting up in a different team's uniform to end his career? Not really. 
Listen to the interview below.