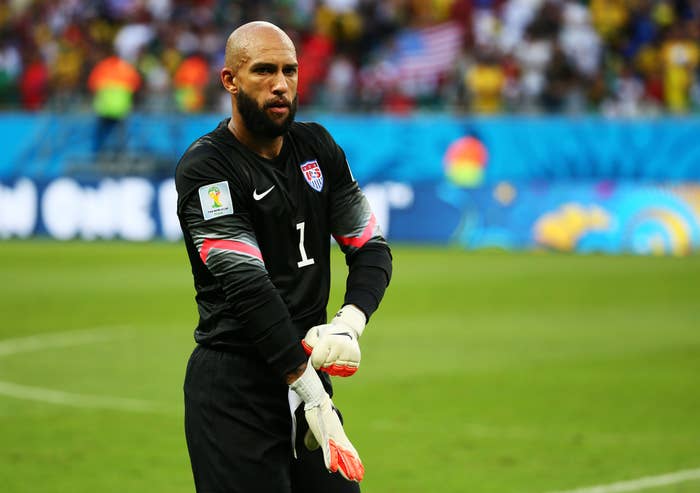 The U.S. didn't make the World Cup this year, but they're guaranteed a spot in the 2026 tournament thanks to the joint bid by Canada, Mexico, and the U.S. winning FIFA's approval last week.
It's the first time the tournament will be held in the U.S. since 1994, and a lot has changed for soccer in America since then. The MLS was founded in 1996. There are multiple tiers of club soccer in the States. There are a handful of Yankees playing in England, Germany, and France, amongst other European countries. The world finally knows we can play.
There still are a lot of questions about the three biggest countries in North America hosting the World Cup in 2026. Will the U.S. be a real contender? What will travel be like between the three territories? Will fans be able to get tickets?
To find out the answers to these questions, we asked a player any soccer fan would want to hear answers from: U.S. Men's National Team legend and goal keeper Tim Howard, the same man who almost single handedly got the U.S. past Belgium in 2014 with a mind-blowing 16 saves. Here's what he had to say.
(This interview has been edited and condensed for clarity.)
How excited are you for the World Cup returning to the States?
It's coming full circle for me. I was starting out as a young teenage player  when we got the World Cup in '94. We didn't have a league yet. Soccer wasn't fully grown yet in our country. In 2026, we have everything and can showcase ourselves to the world.
Eight years from now, what do you think the state of the sport will be here?
It's going to be incredible. We're going to have more teams in the MLS. More new stadiums. The National Team, as it is, will be thriving, and there will be some exciting new players that are coming into their prime. Seeing our young players now, they'll be eight years older and ready and ripe.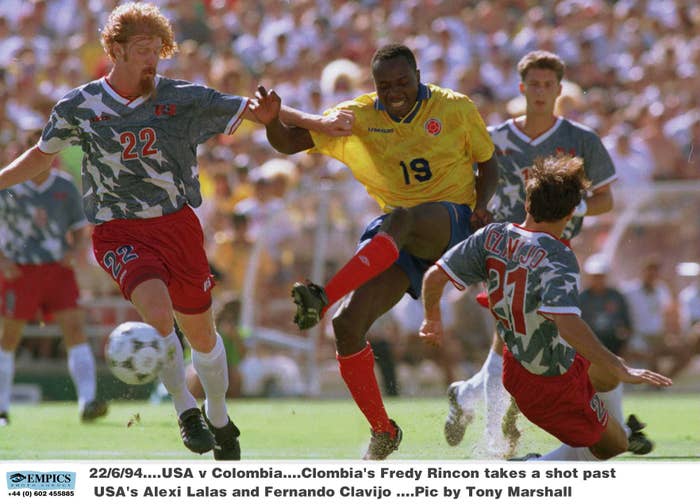 A lot of people have been joking online, saying, "Well, at least the U.S. will automatically qualify for this World Cup."
I don't think there's any jokes. World Cup qualifying is difficult. Players have created an excellence, where the U.S. fan thinks, "Oh, the U.S. is gonna qualify," 'cause that's what we do. We got kicked in the teeth. We learned some lessons from that. I think the lesson is that it's not easy. For us to have qualified for so many World Cups in a row, you realize how special it is.
We're going to be having the World Cup in three different countries. As a player, is that too much travel?
For the organizers, that's going to be the challenge. It's making sure that some of the groups are regionalized, so you're not flying from Mexico City to Toronto to Orlando, as an example. America's a big country. Brazil is a big country. South Africa is a big country. There is a lot of travel involved when you have World Cups in such big places.
Best World Cup memory?
I'm fortunate that I have so many. The Belgium game was special, but not because of why everyone thinks. We went up against a powerhouse. We were a ridiculous underdog. At the end we still had a chance to dig it out. To put ourselves in that situation, where we were in touching distance of going to a quarterfinal against Argentina, it's fun to imagine that.
How'd it feel to become a meme?
I was disappointed that we lost. The memes are fun. My friends showed me them. I took it in stride.
A lot of people are worried that the World Cup in the U.S. will be such a corporate event that average fans won't be able to go to the match.
I imagine that a certain amount [of tickets] will be regulated. Look: the Olympics, the World Cup, and all these other things are major corporate events. That's why they are as big as they are. The casual fan needs a chance to watch the game and enjoy the environment. There's a fine balance there.
What's the key to success for the U.S. in 2026?
The key for the U.S., or any team that goes into this as a minnow, you hope your key players are in their prime, are leaders, and have the tournament of their life. You hope they reach the pinnacle of their careers at that point in time. For the coach, we need to play tactically and astutely. We need some luck on our side. Home field is huge in the World Cup. You saw that with South Korea in 2002 and France in '98. Playing at home is a special thing.
Can you compare '94 to this?
Yes and no. We've come so far with our league and with soccer in America. It was special, too, because we didn't have soccer in America like we have it today. We had some teams. We didn't have a first-division league that was thriving. It was the first time the world came to our backyard. It was special.