The world came crashing down for the U.S. Men's National Team when they lost 2-1 to Mexico on November 11, then it got worse when the side dropped a match to Costa Rica four days later. The fallout was so bad that the team's manager, Jurgen Klinsmann, lost his job. The team hired its former manager, Bruce Arena, to take over for Klinsmann and help save the U.S.'s World Cup chances for 2018 in Russia. With a match against Trinidad and Tobago tonight at 8 p.m. in Colorado and an away match on Sunday versus Mexico at Azteca, there's a lot on the team's plate right now.
We got the chance to talk to Fox Sports analyst and former U.S. Men's National Team star Alexi Lalas about the country's chances of playing in Russia, if youngster Christian Pulisic is future for America, and whether tensions from President Donald Trump wanting to build a wall to separate the U.S. and Mexico will spill over into the match this weekend. 
The U.S. Men's National Team has a big match tonight. What do you think the odds are they get three points?
Alexi Lalas: If I had to give it a percentage I'd put it at 97.3 percent. This is a must win game for the U.S. This is a must win game that they're playing at home against an inferior opponent. I remain confident, and comfortable, with the prospects of getting three points. Let's be honest, three points within these two games this week is mandatory. You have to get these three points with what's going to happen over the weekend in Mexico. 
What's your feeling about the U.S. actually qualifying for the World Cup now?
I think if they continue the way that they're going, they're gonna qualify for the World Cup. I think if you look at this week and these two games three points, is mandatory. If they find a way in these two games to get four points, then that is a pleasant surprise. If they somehow find a way to get six points, and the soccer gods smile down upon them, they're as good as going to Russia next summer. So, it's a big week for Bruce Arena and for this team. So, I still remain confident this team is going to find a way in, despite the poor start that they had.
What do you think was the biggest problem towards the end of Klinsmann's tenure?
I think it got stale, and I think that's not necessarily an indictment on Jurgen Klinsmann, because I think it's difficult to do multiple cycles. I'd argue the change should have been made after the 2014 World Cup. It happens to the best of them. I think the message and the motivation was dissipated and at times lost. I think there was a level of confusion as to how they wanted to play. When you look at the Mexico game, it's not a great result. Then you follow it up with a horrible performance in that second game, and it just looked like the proverbial team that the coach had lost. It probably ran its course a little bit earlier, but the Federation looked at this situation and said, "Look, this is an emergency situation. We're in jeopardy of not qualifying for the World Cup, which would be disastrous," and they needed to make a change. And they did. They brought in probably the only person that was available that could come in on short order, flush it out very quickly, and right the ship.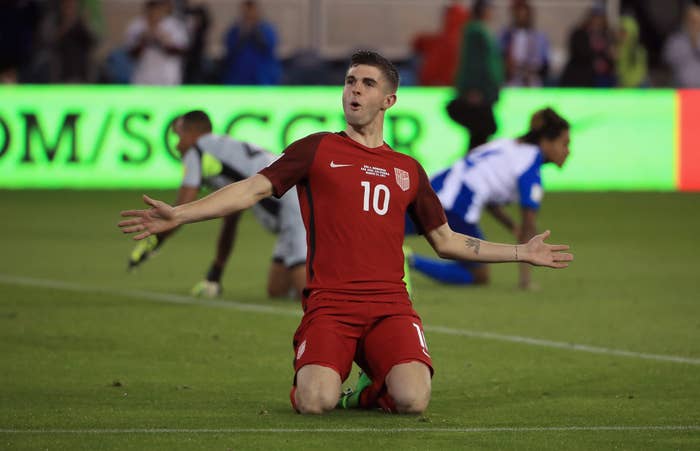 Do you think Bruce Arena is a long-term situation, or do you think he's just kind of there to keep things going?
This is a short-term fix. He understands that. The Federation understands that, and, quite honestly, the public understands that. He has not been brought in to develop young talent. He has not been brought in to play pretty soccer. He has been brought in for an emergency capacity to get the points to qualify for next summer's World Cup in Russia -- by hook or by crook. It doesn't matter how he does it, and I think you've seen a very pragmatic approach, an organization, a renewed confidence if you will, of the players and of the team collectively. And at least for the first two games, it translated to success and a rightening of the ship. There's still work to do. 
Do you think that mentality looking for the short term kind of hurts football in the states?
Yeah, but I think you balance the effect, impact, detrimental effects, and impact of not making a World Cup every four years. U.S. has an opportunity to have a platform for a lot of people to tune in, and to give a good account of themselves, and show people the game is improving. But with very little time left before next summer, I don't think it was appropriate. I don't think we are at a point where we can afford to dismiss or push away an opportunity at a platform like that. So, I understand your question, and it's valid in terms of development and progress, and that's why I think they made it very temporary with Bruce Arena. They are going to hire somebody after Bruce Arena this summer who I think will be tasked not just to get results, but to do it in a more evolved and progressive type of way. That's not easy, and you need time. I just don't think they had the time at this point, and in doing so risk possibly not going to a World Cup.
Do you think it's finally at the point where Christian Pulisic finally just gets the reins to do his thing and be the future?
I think that's already happened. So, if you want to look at that, in terms of development, I think he's been given the keys to the kingdom. Even at the ripe young age of 18, there's a complete confidence and maturity that he possesses that justifies that anointing. I think he's going to be somebody, for many years, that is charged with leading the team from a tasking, creative, central type of position. As he grows and as he gets better, I think the team is going to grow and build around him.
Do you think there might be any tension with the Mexico match coming up given Trump's proposal? The last time they played there were American Outlaw guys around yelling, "Build that wall."
The game on the field often is an extension of what's happening off the field, and our incredible history, rivalry, and competition with Mexico is now historic and legendary, and it's obviously because of the proximity, the incredible connections, and intertwining that we have with both of our countries and cultures. The language. All of that kind of stuff. It's bound to reflect, and be impacted by what goes on from a political standpoint, and from a cultural standpoint. That's nothing new. We've been dealing with that for years. Because they are our biggest rival, and because of the political situation, that's something to be expected. I don't think it's necessarily something to fear or worry about. Inherent in an international game is a pride and nationalistic type of fervor and feel, because you are representing your country. We have very few moments in our country when you actually are able to do that. The different views, the different good and bad that we have. I expect that to manifest itself in different ways going forward, not just in this game Sunday, but certainly going forward as we get into the World Cup, and Russia, and what that means, all that kind of stuff. It gives me much more to talk about. I think it's fascinating how often sports reflect what's going on in culture and politics. It's been going on forever, and will continue to be that way.
There's a lot of animosity with Russia coming up, and what happened at Euros with the football violence. Do you think that's a legitimate fear that's going to recreate itself during the World Cup?
This is nothing new. This isn't something about Russia. There are certain fan bases that you know are going to be much more militant, violent, and difficult to deal with, and that's all about preparation, understanding, and the gathering of information. Believe me. Europe understands that, and has done that with regards to soccer for many years. So, I don't worry about it.