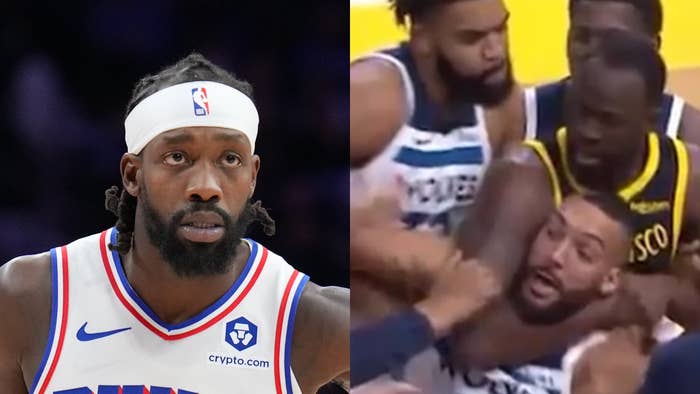 The NBA said the length of Green's suspension was partially determined by his "history of unsportsmanlike acts."
Draymond's ejection sparked discussion on social media about how the four-time NBA All-Star has shown a propensity for committing "dirty plays" throughout his career.
According to Wojnarowski, Green will lose $769,970 as a result of the suspension. Klay Thompson, Jaden McDaniels and Rudy Gobert were fined $25,000.
Green will begin serving his suspension on Thursday, when the Warriors take on the Oklahoma City Thunder.
See original story below.
Patrick Beverley called out former teammate Karl Anthony Towns for not defending Rudy Gobert from getting choked out by Draymond Green.
On the latest episode of The Pat Bev Podcast, Beverley reflected on the scuffle that occurred in Tuesday's game between the Golden State Warriors and Minnesota Timberwolves, where Draymond Green choked out Rudy Gobert.
"Man, I seen Draymond choked the shit out of a muthafucker today," Beverley said. "KAT bogus as hell...and Ant was back there too like for real you see somebody choking your teammate out, it would have been a choking line. Every muthafucker would get choked."
He added, "Draymond knew too. I know Draymond, Draymond knew, 'Ok, yea, this the moment right here.' Don't nobody like Rudy anyway. That was a perfect moment to do it like fuck it 'Let me choke Rudy ass.' You know Draymond going for the biggest muthafucker. That was very strategic how he did it."
Beverley said for someone to choke another person like that means there was a lot of pent-up aggression. He made sure to say he was not promoting violence, but he did say that teammates are supposed to stand up for each other.
"I seen Kat make a mean mug face but then you ain't doing shit," Beverley added. "Choke Draymond back. If I'm Draymond, 'Yea, I choked their center and their homies didn't do nothing.' That's how I'm looking at it, straight up."
He continued, "You can't even try to get your get back. It's over with the whole world done seen it...KAT, nah fuck that. I taught you better than that."
Beverley and Towns were teammates on the Minnesota Timberwolves during the 2021-2022 NBA season.