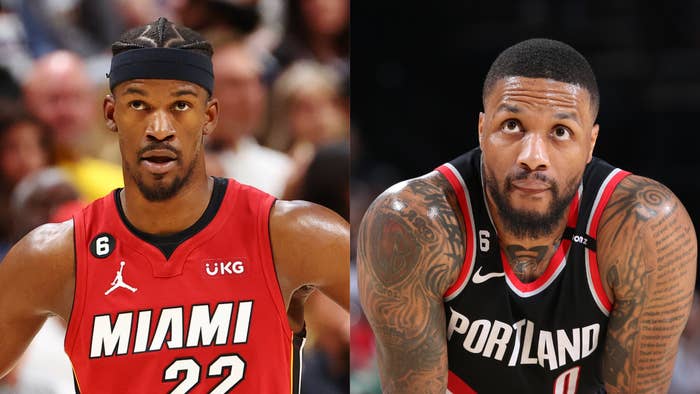 Jimmy Butler has questions about the Milwaukee Bucks acquiring Damian Lillard in a blockbuster three-way trade, and he thinks the NBA needs to investigate the team for tampering.
Minutes after ESPN's NBA insider Adrian Wojnarowski announced the trade via Twitter, Jimmy Buckets took to his Instagram Story to stir the pot regarding the Bucks possibly tampering to land Dame.
"Yo, NBA man, y'all need to look into the Bucks for tampering, y'all do," Butler said. "I'm just going to put that out there. Y'all didn't hear it from me, but I heard it through somebody. Y'all look into them for tampering."
The Miami Heat was the seven-time All-Star's first choice for a trade destination, and he wasn't shy about making that request known. The Heat and Blazers were engaged in serious trade talks, and all seemed well until those conversations died down after both sides couldn't find a mutual deal.
In a tweet unrelated to Butler's message, Lillard addressed the commotion around the trade and wrote that he'll only give the Portland faithful an answer, not the "casuals."
"The casuals won't be addressed but the trailblazers fans and city of Portland that I love truly will be … and they will be addressed truthfully. Stay tuned Excited for my next chapter! @Bucks," he tweeted.
Tyler Herro seconded Butler's hope that the NBA looks into the nature of the deal.
The Bucks were far from Dame's first choice, so it seems as though Butler is trying to figure out how Milwaukee ended up landing the All-Star
According to Wojnarowski's report, Lillard will be shipped to the Bucks while the Blazers receive Jrue Holiday, Deandre Ayton, Toumani Camara, a 2029 Milwaukee unprotected first-round pick, and 2028 and 2030 first-round swap rights with Milwaukee. The Suns will receive Jusuf Nurkic, Grayson Allen, Nassir Little and Keon Johnson.
Butler has a long history with the Milwaukee Bucks. The Heat and Bucks faced each other in the playoffs three times in the last four years, with the most recent being their 2022-2023 first-round postseason matchup.
The Heat won that series four games to one, thanks in large part to an incredible game-tying shot from Butler to force overtime in Game 5.