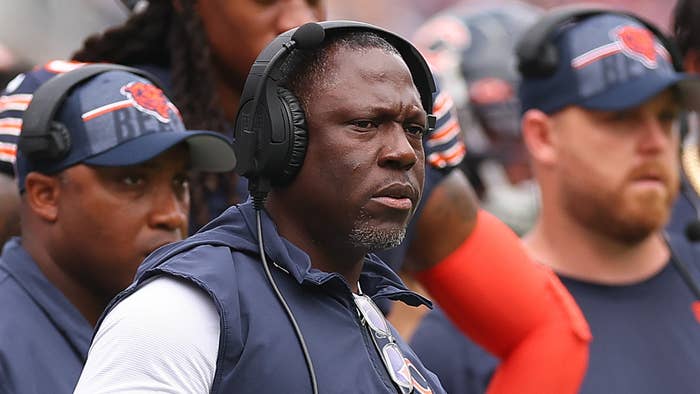 Alan Williams has resigned as the defensive coordinator of the Chicago Bears, the team announced.
On Wednesday, Williams stepped down from his position after being away from the team since last week for what he described as personal reasons. In a statement, Williams revealed he's moving on to take care of his health and be with his family.
"I am taking a step back to take care of my health and family. I appreciate the opportunity to work with the Chicago Bears, a storied NFL franchise with a rich history," Williams said in a statement. "I value the NFL shield and all that it stands for and after taking some time to address my health, I plan to come back and coach again."
Bears head coach Matt Eberflus handled defensive playcalling in Sunday's game against the Tampa Bay Buccaneers and explained on Wednesday that if there was no solution for Williams' case, he would continue running defense this weekend against the Kansas City Chiefs.
A Twitter account under the name MLFootball initially reported that the FBI had raided the home of Williams over "some very serious allegations." MLFootball claimed officials found "extremely sensitive 'content'" in Williams' home and he would probably never coach in the league again.
People scattered to figure out what happened, and things got more interesting when a guy named Jon Zaghloul claimed Chicago Bears legend Charles "Peanut" Tillman broke the news about the raid to Eberflus, Bears general manager Ryan Poles, and Bears president and CEO Kevin Warren.
The allegations about the raid were debunked by NFL Network insider Ian Rapoport who tweeted, "Clarity: --The FBI did not raid Halas Hall today. --The league is not involved. --Peanut Tillman is not involved whatsoever in this matter."