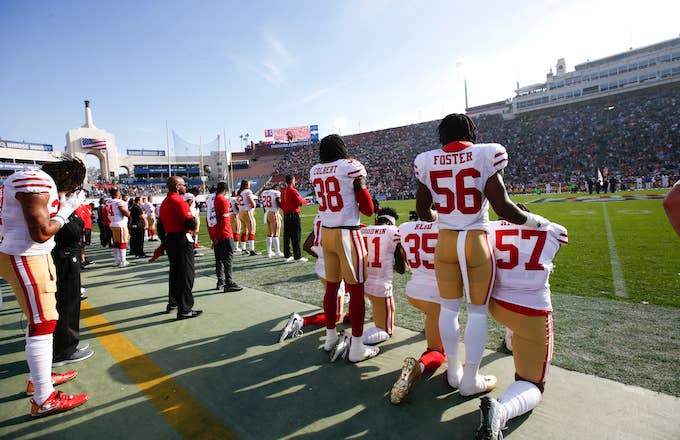 The Great National Anthem Kneeling Debate continues. According to Sports Illustrated, NFL owners met in Atlanta Tuesday for a three-hour meeting that largely revolved around how to dissuade players and teams from kneeling during the national anthem before games. 
If you've somehow remained unaware of this controversy, Colin Kaepernick decided to kneel during the anthem in 2016 in order to publicly protest how black people are treated by the police and U.S. government. This divided the country into supporters and detractors, with Donald Trump recently lauding NASCAR fans for their upright stance and thereby throwing some shade onto the unruly, dangerous NFL players who dare utilize their human right to free speech.
As for the newly discussed rules, NFL owners are considering giving home team's the choice on whether or not both teams should come onto the field for the anthem—and if so, a team that kneels during the song would be handed a 15-yard penalty. 
While it seems utterly insane that the heads of a sport are this involved in the peaceful, legal act of putting a knee onto the ground, American Football has always been this country's "bread and circus," and ensuring that everyone remains staunchly supportive of the government certainly seems like a priority for these wealthy white men behind the scenes.
As for Kaepernick, who's become a national symbol of free speech, black empowerment, and patriotism, he's currently suing the NFL alongside Eric Reid for alleged collusion that has left the two free agents unable to secure further employment in the league. Hopefully, these absurd considerations—should they be implemented—will lead to a mass exodus of any and all players employed, to show the world who's boss, and that this will not stand.